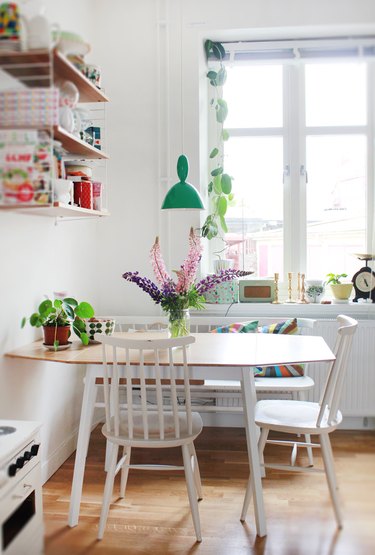 As far as we're concerned, small space dwellers are some of the savviest design enthusiasts around. After all, it's difficult to fit your belongings in a place where square footage is limited to say the least. And to do it all with style? Now that's a feat worth celebrating.
Want to make the most of your place? We're sharing five small kitchen table ideas — and where to buy great, affordable styles — below:
Small Kitchen Table Idea #1: Fold 'em
Ready to put your DIY muscles to work? Consider incorporating a pullout table into your built-in cabinetry. It's out of sight (and out of mind) when you need extra floor space but can turn into a desk or small kitchen table in a moment's notice. Let Katie and Eric from Mountain Modern Life show you how it's done with their stylish home on wheels.
Small Kitchen Table Idea #2: Float On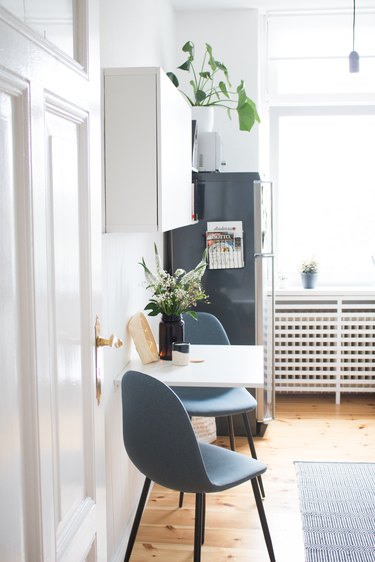 Depending on the style, some small kitchen tables have bulky bases that ultimately take up a lot of space. Lisa from It's Pretty Nice dares to defy gravity by installing a floating kitchen table. The open space will make it seem like you have more room. Or you can place storage bins or stacks of retro cookbooks where the base should be, too.
Small Kitchen Table Idea #3: Pint-Size Nook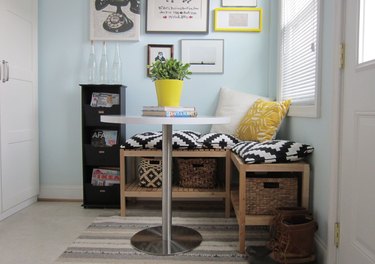 A breakfast nook has been on our wish list for as long as we can remember. (You know, along with an open-concept floor plan, bay window, and exposed brick walls.) But just because you're working with a small space doesn't mean you have to kiss your design dreams goodbye. Create a compact dinette with a bistro table and slim benches. Bonus points if your seating has a dedicated space for storage á la this setup belonging to Chloe Joy from Little House Big City.
Small Kitchen Table Idea #4: Neat Nesting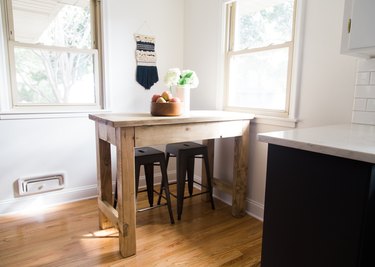 For every space-wasting kitchen table there are a handful of chairs taking up even more precious real estate. If you're looking to decrease your dining set's overall square footage, purchase chairs that can comfortably nest under your table. Kitty Cotten's rustic, multimedia combination gives the space a modern farmhouse look while remaining incredibly functional.
Small Kitchen Table Idea #5: Get Leafy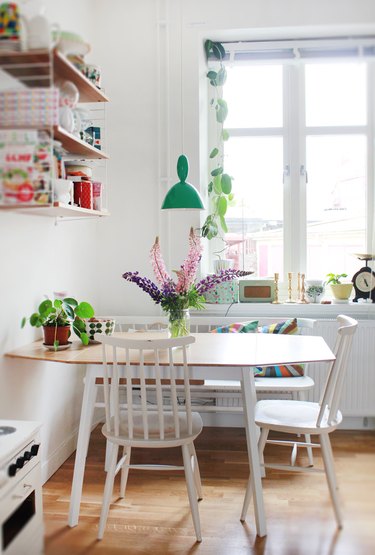 If you want a convertible small kitchen table — but aren't looking to start a DIY project — take a cue from Madeleine over at Bonjour Vintage and invest in a drop-leaf option. Known for its space-saving powers, this style takes up less real estate than most dining room tables. And when you have guests over, you can extend the leaf to make room for your loved ones.
Where to Shop for Small Kitchen Tables
Ready to buy your own small kitchen table? Here are five trusted shopping destinations to get you started.
West Elm: You know and love West Elm for its sleek, midcentury-inspired pieces, so it shouldn't come as a surprise that the store also has an extensive array of drop-leaf tables — the perfect piece for anyone who loves to host family and friends.
IKEA: From floating surfaces to folding kitchen tables, IKEA always brings its practical, Scandinavian A game to the world of small spaces.
Wayfair: With hundreds — if not thousands — of small kitchen tables and regular discounts, you'll have no problem finding a style that appeals to your budget and design aesthetic.
Article: Yes, there is such a thing as too many options. Thanks to its ultracurated inventory and direct-to-consumer business model, Article streamlines the entire shopping process from start to finish. You can shop these sleek, small kitchen tables from the comfort of your sofa — and have your pick delivered right to your doorstep in no time.
Home Depot: While you may think of Home Depot as a one-stop shop for your latest renovation project, the truth is that the mega-retailer has an impressive home decor section, too. From drop-leaf surfaces to bistro tables, and everything in between, there's bound to be something for your home.
---
Kelsey Mulvey is a freelance lifestyle writer and editor. Her work has been featured in Lonny, Apartment Therapy, and Wallpaper*, among others.
View Work