Obsessed with Chip and Joanna Gaines? Yep, we are too. And that's why we're lusting after a kitchen done up in signature Fixer Upper style. While renovating a kitchen is often one of the most expensive home improvement projects out there, that doesn't mean you have to spend a fortune.
Check out our seven tips for budget-friendly farmhouse kitchen ideas, from adjusting the color scheme of your kitchen to incorporating wood (or faux wood) elements for some rustic flair.
1. Paint your cabinets white.
This simple change should be step one when it comes to bringing farmhouse style into your kitchen. White cabinets open up the space to make it lighter and airier — two tenets of modern farmhouse style. Painting the cabinets yourself is an affordable way to make a big change. You can paint your walls, too, keeping them neutral and bright.
2. Remove cabinet doors to create open shelving.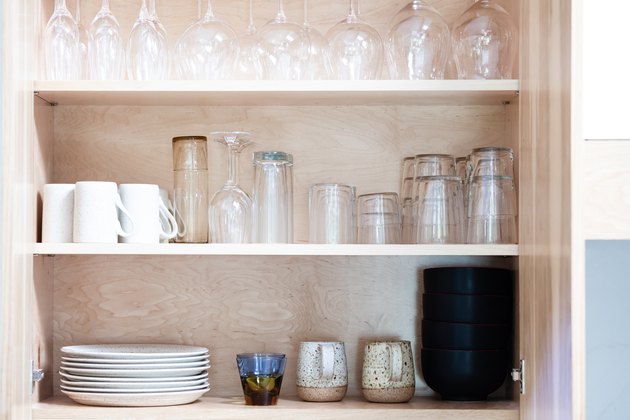 credit:
Stephen Paul for Hunker
Open shelves on which to display ceramic pieces, plants, or even photos are all the rage in farmhouse kitchens. But instead of tearing out your current cabinets to replace them with brand new ones, simply remove the doors to create the illusion of open shelves. Cost: $0.
3. Install a subway tile backsplash.
Subway tile backsplashes are a staple in many farmhouse style kitchens. If it's not in the budget to cover your entire kitchen with them, focus on the two key areas where you'll want to protect your walls: behind the sink and behind the stove. You can also save some money by buying a peel-and-stick version of subway tiles. Retailers like Target carry them for around $34.99 for 27.5 square feet of coverage.
4. Create an accent wall with shiplap — or a sneaky imitation of it.
If you've ever watched an episode of Fixer Upper, you know how much Chip and Joanna love shiplap. While it might not be feasible to source and install shiplap within a modest budget, you can invest in some affordable peel-and-stick shiplap or reclaimed wood wallpaper.
5. Lay down an area rug or runner.
6. Hang an industrial-chic pendant light over your island.
If you already have lighting installed over your island, change it out with some new hardware. Farmhouse style lighting often incorporates industrial elements that you might find on a working farm — think wrought iron, brass, or even a bell jar.
7. Add wood elements wherever possible.
In an ideal world, you'd be able to install butcher block counters for some rustic vibes. Unfortunately, they can be pricey to install and maintain. Bring other wood elements like cutting boards, cake stands, or kitchen utensils to add some wood into the room. You can also install peel-and-stick rustic wood wallpaper to your cabinets or even your island to give the illusion of reclaimed wood paneling.