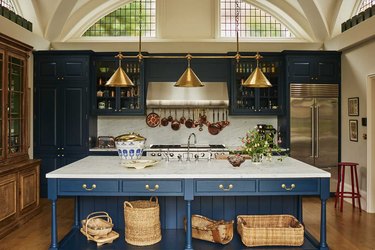 Looking for cooking space inspiration? If you're a fan of good design, natural materials, and handcrafted elements, arts and crafts kitchens will likely be great reference points for you. Introduced as a reaction to increasing industrialization when machines threatened to take over, the classic style champions traditional features and functionality.
1. Give a nod to heritage.
Not every arts and crafts kitchen is filled with pattern, but English homes often nod to Victorian heritage and include rich tile. This statement design from DeVOL is a lesson in getting the balance just right. The arts and crafts tiles are replicas of original Victorian designs, while the botanical wallpaper adds an ornate touch.
2. Combine form and function.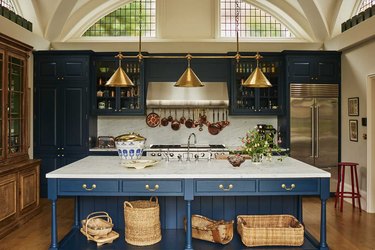 If more decorative accessories are right for you, don't worry. You can inject a little glam in your arts and crafts kitchen. Just make sure to pick pieces that combine function and form, like this brass light fixture and the central island with storage and a stone top.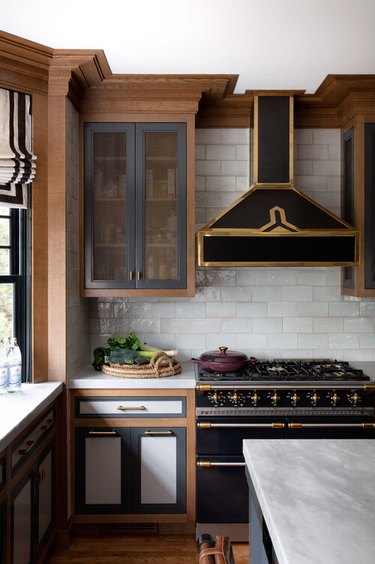 4. Add your own unique touch.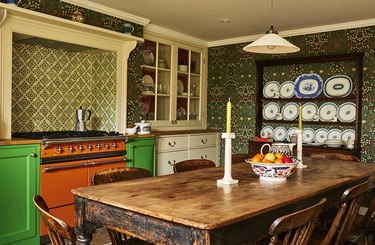 The arts and crafts movement often rebelled against standardized designs. So if you're looking to champion the style in your home, try to keep things unique. Go for the vintage wallpaper; maybe add two different patterns. And splurge on a vibrant gas stove while you're at it. Trust us, it'll just work.
---
Emma Jane Palin is a multi-award-winning blogger and freelance writer with a penchant for design and interiors.