Your kitchen cabinets aren't just meant for storage – they actually play a big role in the aesthetics of your kitchen space. That mix of practicality and style can make them overwhelming to shop for once you decide to get started. We want to talk about one style that might catch your eye, especially if you love farmhouse kitchens: hickory cabinets. Among all the possible kitchen cabinet ideas, this one definitely makes a statement.
Below, we're briefly looking at the pros and cons, along with inspiration.
Pros of Hickory Cabinets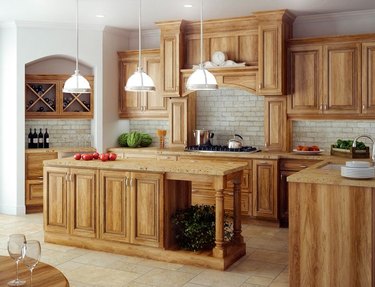 Hickory cabinets are largely known for their durability, making them an investment meant to last throughout the years. They're less likely to dent or scratch compared to cabinets made of other materials, and they can also be more moisture-resistant.
You can find a number of different tones to fit your kitchen's aesthetic style. According to DeWils Fine Cabinetry, "the color of air-dried hickory varies from tan to a brownish-red color, which deepens as it ages." We love this for a rustic kitchen look especially.
Cons of Hickory Cabinets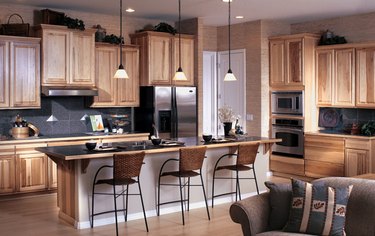 On the other hand, hickory cabinets normally veer toward the higher end of the price spectrum. A base kitchen cabinet made of hickory — with a drawer and two doors — can cost around $233. A base kitchen cabinet with the same configuration made of particle board costs around $169.
Hickory cabinets also require close care when it comes to cleaning. Pay attention to when grease piles up; you can remove it in a number of ways and finish off with orange oil or lemon oil. Just be sure to get wipe off any moisture in order to avoid warping.
If you're ready to start shopping for hickory cabinets but want to get some decor ideas first, here are a few to inspire your search.
Hickory Cabinets Inspiration
1. Try a lighter finish and a dark kitchen island.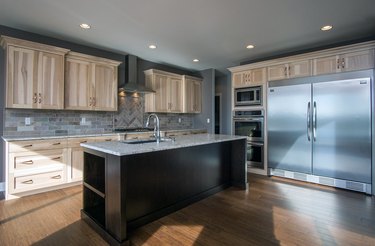 Consider upping the contrast in your kitchen space by choosing hickory with a lighter finish and pairing it with a kitchen island painted a darker color. Silver appliances and a neutral backsplash tie this look together.
2. Add open shelving to the mix.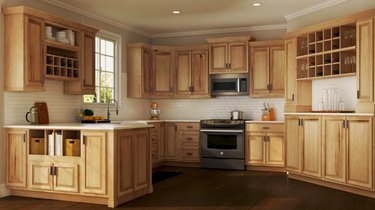 If uniform cabinet doors seem too boring for your style, consider mixing in open shelving throughout. This kitchen space makes use of it in various sizes to add some visual interest.
3. Combine colors and materials.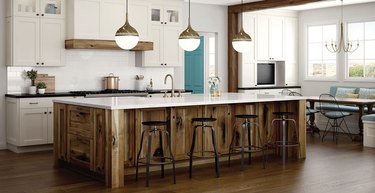 Make things a little more interesting by using hickory on your kitchen island and more sleek white cabinets for the rest of the space. We love the way this kitchen uses a wood trim in its top cabinets to bring both elements together.
4. Show off your dinnerware with glass cabinets.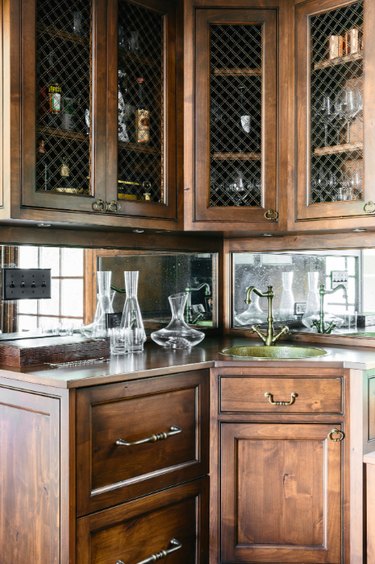 If you want the warmth of hickory cabinets but also love to display dinnerware and wine glasses, opt for a mix of traditional cabinets and glass kitchen cabinet doors. Use traditional cabinet hardware but mix in modern elements like barware.