We love covering the latest trends here at Hunker, but did you know that we also happen to love traditional style, too? Especially when it comes to the kitchen.
So, what is this time-honored aesthetic all about exactly? It's a design approach that's fairly quiet, cool, and expected and doesn't latch onto what's popular. It wraps in plenty of antiques and classic pieces, and it tends to focus on neutral colors that don't rock the boat. For kitchens, think cabinets in non-trendy colors, hardwood floors, and simple lighting.
If you don't feel like updating your cook space in a few years, we highly recommend a traditional kitchen design. Scroll on for seven inspired ideas that'll get you started on the right foot.
1. Give your cabinets a pop of color.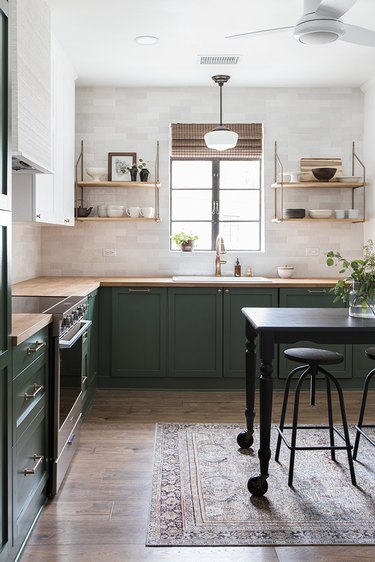 Just because you have a traditional kitchen design that doesn't mean you can't paint your cabinets in a shade other than white. Yes, white is usually a tried-and-true hue, but you can still make things look classic even with colorful built-ins. For example, Jenna of Jenna Sue Design Co. chose forest green for this cook space, and the visuals are still oh-so-timeless.
2. Embrace a natural feel.
A traditional kitchen design leans toward tranquil, unruffled aesthetics, which can be easily achieved if you opt for natural materials and a neutral color palette. The wood cabinets in this setup by Heidi Caillier Design add warmth and depth to an otherwise minimal space.
3. Create a family-friendly atmosphere.
If you have a family, or simply enjoy entertaining, a traditional kitchen design will be a home run. It's simple, unfussy, and budget-friendly since you won't have to constantly refresh it to keep up with the trends. With a large dining table sitting alongside it, this cook space belonging to Rachel Parcell and designed by Alice Lane Interior Design is fit for little ones and adults alike.
4. Stick to classic materials.
When it comes to materials, a traditional kitchen design doesn't typically push the envelope. Instead, it weaves in reclaimed timbers, brass finishes, and shiplap, a look that Jean Stoffer Design has mastered in this lovely space.
5. Go grand when you can.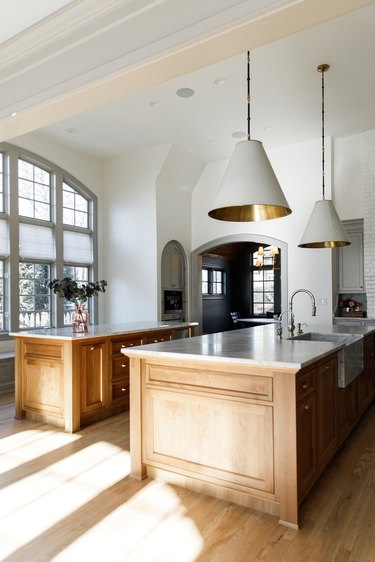 With its roots in European design, traditional style can lend itself to large-scale kitchens with an elegant feel. Consider not one, but two islands, sizable pendant lights, and warm wood finishes. That's exactly what Angela and Danielle of Onyx Studio chose for this culinary headquarters and the result is stunning.
6. Include curated decor.
7. It's OK to include a few surprises.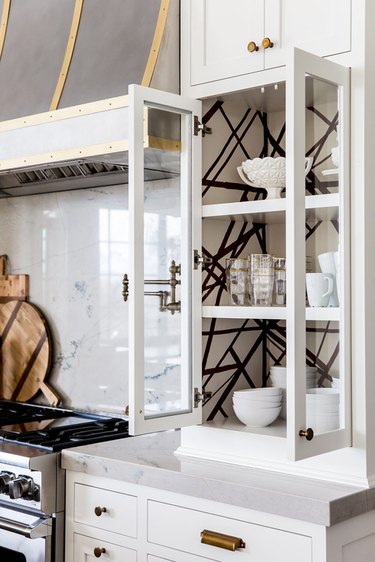 So, there aren't usually a ton of patterns and unique color combos seen in traditional kitchen designs. But that doesn't mean that you can't drop in a few surprises here and there — elements that will add interest without overwhelming. For instance, in this design belonging to Emily of Ivory Lane, modern, graphic wallpaper lines the cabinets for an extra little visual treat.
---
Shelby Deering is a lifestyle writer who contributes to national magazines and websites, including Country Living, Good Housekeeping, Well+Good, and more. When she's not writing, you'll find her shopping flea markets, hiking, and going for walks with her corgi.
View Work