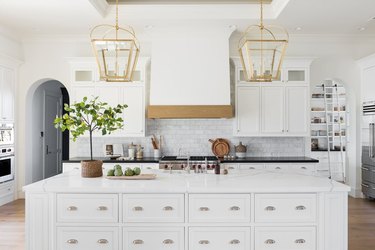 Some design lovers prefer to shrug at new decor trends and embrace a timeless look instead. For these lovers of traditional style, an interior should be largely symmetrical and use muted tones. It should have tasteful antique art and simple decor. No geometric patterns or glaring neon decor to see anywhere.
If you count yourself amongst these traditional tastemakers — or have simply been curious about traditional decor — we're here to give you a brief look at the history of traditional style. When it comes down to it, traditional style often feels elegant and classy. It takes this inspiration from a lot of 18th and 19th century furniture. What we think of as traditional style today is often a combination of elements from Rococo, Queen Anne, and American Neoclassicism.
But before we get into that, let's start with some background. According to the Encyclopedia Britannica, the Baroque style of the 17the century could be seen everywhere from the Netherlands to England to the American colonies. Flemish Baroque furniture, for instance, included "chairs with seats and backs of velvet or leather held in place by nails." In France, furniture pieces got the glam treatment. These pieces were "veneered with tortoiseshell or foreign woods, inlaid with brass, pewter and ivory, or heavily gilded all over." Baroque is important to talk about because it really set the stage for the evolution of traditional style as we know it today.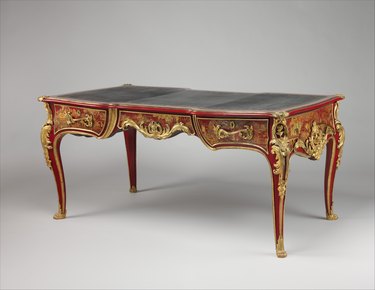 Once the 18th century came around, the Rococo style started to take over. Dating from around 1735 to 1765, it's often described as a much lighter counterpart to Baroque furnishings. It also included lots of curved shapes and marquetry, a form of inlaid decoration where different materials (like wood or ivory) are incorporated into a wood veneer. It incorporated elements of Chinese decor as well.
The American colonies, in the meantime, started to adapt the Queen Anne style, an aesthetic that, according to Christie's, includes the use of "the newly introduced cabriole leg, curving chair crests, and decorative shells and volutes." The style would keep its hold on American furniture making from approximately the 1730s to the 1760s. One of the most important contributions of the Queen Anne aesthetic was the cabriole leg, which adds a curve shape to furniture pieces.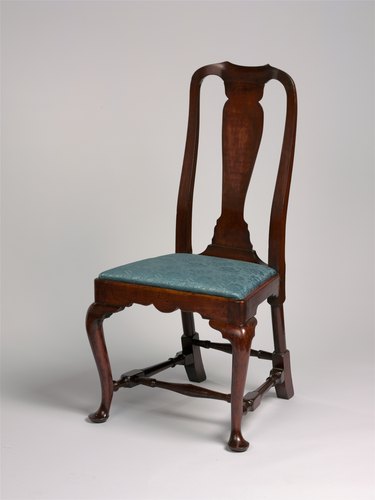 In 1754, cabinet maker Thomas Chippendale published The G_entleman and Cabinet Maker's Director,_ an influential book of furniture designs. This led to Chippendale-style furniture, known primarily for its carved details, particularly using mahogany. They were usually crafted in square frames. The backs of the chairs were carved in patterns and shapes that added visual interest. Cabriole legs were also used in this style, often with more prominent feet.
But around the 1780s to early 1820s (also known as the Federal Period), American Neoclassicism took over. It used elements like clean lines and decorative inlays to make a departure from Rococo, according to Matthew Thurlow's research for The Metropolitan Museum of Art. This view of the drawing room of the Craig House in Baltimore, for example, dates to 1810. You can start to spot some of the aesthetic choices that we still use in rooms with traditional twists today. In a lot of ways, the style served as a reaction to Rococo.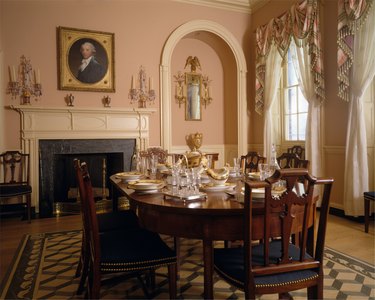 Thurlow explains that as opposed to more sumptuous 18th century spaces, the drawing room of the Craig House uses "decorative woodwork" that's actually "limited to the mantel, the door and window surrounds, and the dado in the recessed alcoves." The room also includes parallel design (as seen in the mantel decor), statement art, lighter color tones, and a central fireplace.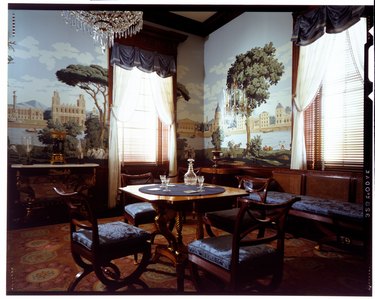 A parlor room from around the same time shows the use of "decorative woodwork and ornate plaster ceilings." It also features a wallpaper that doesn't look so far off from the motifs we see making an appearance in modern decor today.
Many of the elements from these movements now find their way into our spaces. We've seen traditional style show up in bedrooms, bathrooms and staircases on Pinterest, Instagram and our favorite blogs.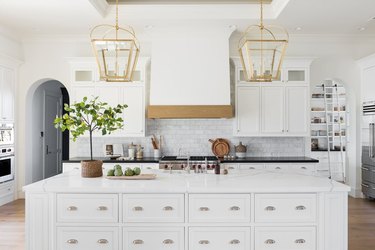 Decor continues to cycle through in some ways, so it's no surprise that traditional style has a lasting influence centuries after it started to develop. In today's design world, it can be seen as a nice change from other trendy aesthetics.
"We went from the all-white paired down farmhouse trend to maximalism where every surface is competing for attention from colorful lacquered cabinets with gilt hardware against vibrant designs," LeeAnn Baker of LeeAnn Baker Interiors, tells Hunker. "Traditional design will be in and out in a variety of forms"
In a post on her site, designer Emily Henderson writes about the idea of "modern traditional" style. She explains that this aesthetic makes use of "very quiet, quaint and subtle" details which also "often have a utilitarian lean to them."
Design lovers are also gravitating towards traditional patterns and motifs, like toile and chinoiserie. While traditional elements definitely contrast with contemporary design trends, you can always combine the two. The history of traditional design shows it's always evolving, so we figure we'll keep seeing the aesthetic pop up in our favorite spaces.