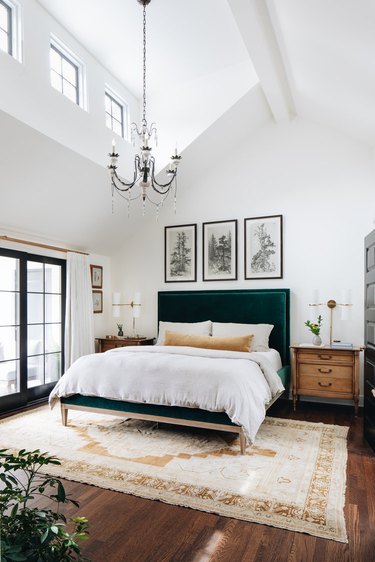 When Joanna and Chip Gaines first launched their show Fixer Upper in 2013, many of us had never considered covering our walls in shiplap or hanging up paint-chipped vintage signs. Farmhouse style emerged as a result, a design approach that many consider to be oh-so classic and traditional.
But in actuality, traditional style is something that's altogether different. With its roots in European design, it existed long before farmhouse became a thing. Traditional style is known for its soft, unassuming color palettes and decor, things that have a long shelf life if you don't want to remodel your space anytime soon.
In the bedroom, these elements can include dark colors and simple neutrals, patterns that have staying power and don't adhere to trends, and bedroom furniture like nightstands and a headboard that feel slightly luxurious and will be in style for years to come. If you're searching for traditional bedroom ideas, you're in luck with these eight chic spaces serving up elegant inspiration.
1. Keep it streamlined.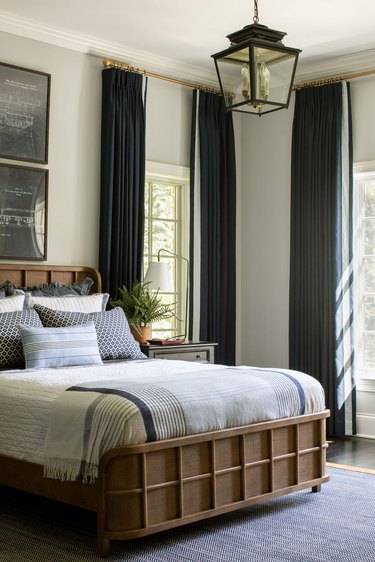 Unlike some design approaches such as bohemian and maximalist, traditional style isn't big on a lot of "stuff," rather keeping visuals simple and uncluttered. In a traditional bedroom, consider adding linear accents to keep the room looking clean and polished. In this space by Bria Hammel Interiors, the bed frame, blanket, curtains, and pendant light all work together to create a streamlined and tailored look.
2. Symmetry lends aesthetic appeal.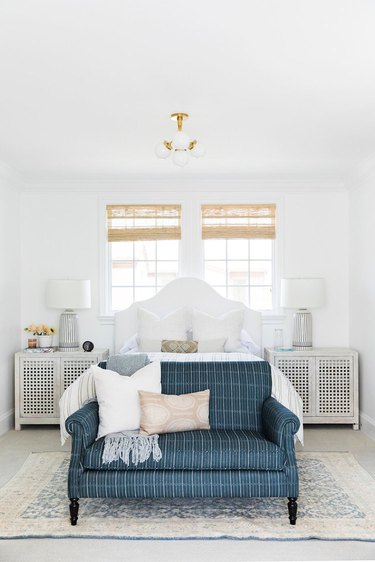 Another way to achieve a smooth and refined traditional bedroom design is through symmetry. Flank your bed with a pair of nightstands, double up on lamps, and include twin throw pillows, something that Shea of Studio McGee mastered in this setup.
3. Choose one or two focal points.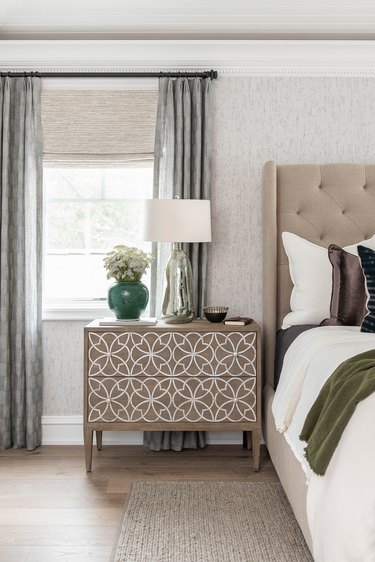 "Simplicity" should be a key word for you to keep in mind as you put together your traditional bedroom. But that doesn't mean the room has to be devoid of personality. Incorporate one or two unique, attention-grabbing pieces, such as the detailed dresser seen in this space by Greg and Wendy of Blackband Design.
4. Don't be afraid of color.
Neutrals tend to be preferred in traditional spaces but they're not necessarily the standard. A traditional bedroom can definitely embrace color as long as it's not loud or overpowering. For example, in this space by Alisa of A Glass of Bovino, the light blue walls and ceiling and gold floor-to-ceiling drapery add a refreshing burst of color without feeling busy or distracting.
5. Pick trend-proof furniture.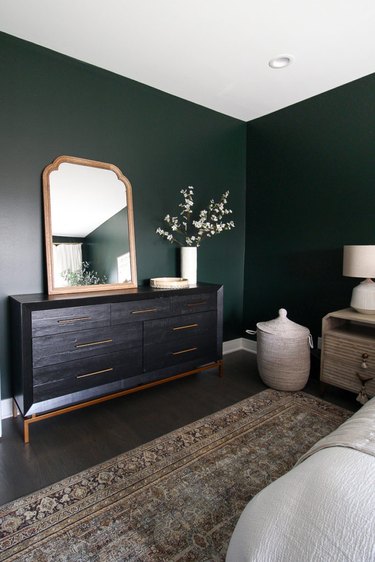 If you're aiming for a traditional bedroom, we're guessing you're not huge on trends. Or, maybe you just don't want to update it anytime soon. We get it. In this case, we recommend choosing furniture that's totally classic, like a black, sleek dresser as seen in this dreamy sanctuary spotlighted on The DIY Playbook.
6. Add luxe touches.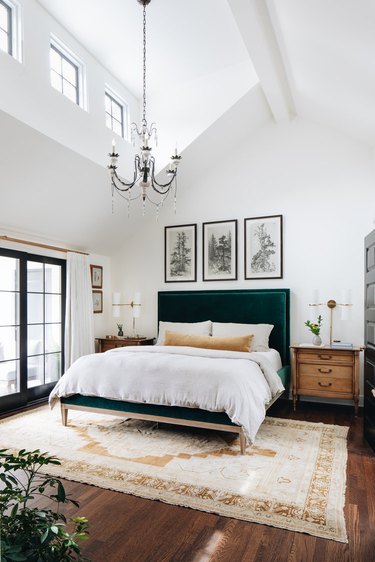 A traditional space has a palpable vibe of sophistication as soon as you step into the room, and a traditional bedroom is no exception. Consider a quietly ornate chandelier, plush linens, and a big vintage rug, items that Jean of Jean Stoffer Design included in this sumptuous refuge.
7. A little patterning is good.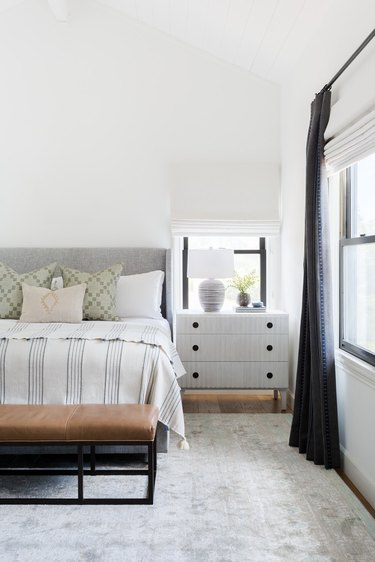 To accomplish a truly traditional look in your sleeping quarters, take it a step back when it comes to patterns. You can include one or two without overwhelming the space — a striped lamp here, a decorated throw pillow there, things that are witnessed in this traditional bedroom dreamed up by Lindsey of Lindsey Brooke Design.
8. Weave in modern style.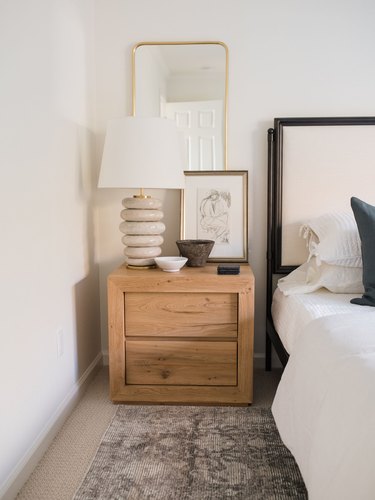 A traditional bedroom doesn't have to look stuffy, boring, and stuck in another time period. Actually, we are all for injecting the space with hints of modern style. For instance, in this design by Aymee and Molly of Light and Dwell, a contemporary geometric lamp and modern artwork jazz up a simple nightstand.