In the design world, it's only a matter of time before what's old is new again, and we're seeing a big resurgence of a vintage trend in home decor: Traditional patterns à la chinoiserie, paisley, damask, toile, and your grandma's finest florals are back and better than ever.
"There's a big trend for classic decorative motifs at the moment," says Tom Puukko, co-founder of wall decor company Feathr. "The 'white box' minimalist look that's been on trend for so long is being replaced by a maximalist pattern-clash style."
But rather than tapping into simple patterns like stripes or polka dots, decorators are digging deeper into the history of design and bringing those patterns into a 21st-century context. For example, you can now find paisley duvets as part of Zara's home collection.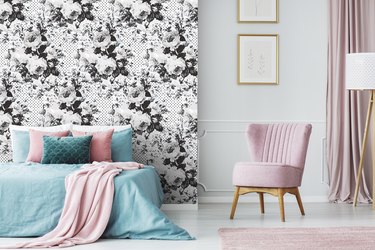 "People are using motifs that span the centuries — from Georgian and Victorian to Arts and Craft and art deco — and mixing them with lush textures like deep velvets and glamorous gold, bronze, or copper detailing," says Puukko. "They're having fun with these motifs, too. They're not just using recreations of them, but they're oversizing them or modernizing them with color."
Take Feathr's Full Bloom wallpaper, shown above, for instance: An old-school flower pattern gets a monochromatic pop art makeover. It's a nod to both the floral motif and the retro art movement.
Beyond wall decor, florals are making a comeback in furniture, too. The Inside just released an entire line dedicated to the pattern in June.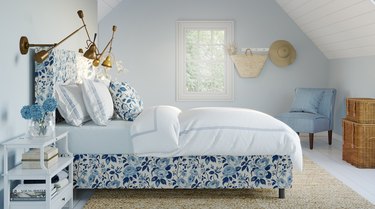 "Chintz has gone in and out of style for more than 500 years," says Christiane Lemieux, co-founder and CEO of The Inside. The pattern, which was printed on glazed calico cloth, originated in India and was brought to Europe in the 17th century to be used for drapery and bedding. It's since seen multiple resurgences, most recently in the 1980s.
"Think Nancy Reagan and chintz in the White House, Princess Diana's wardrobe, and the sets of cult classic films like Pretty in Pink," says Lemieux. "Our chintz can be dialed up or down to match any style, and adds pattern, depth, and color to any space."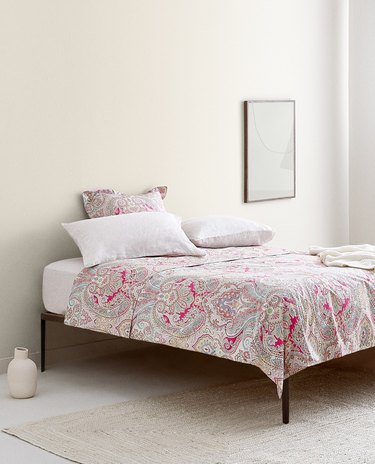 Lemieux agrees wholeheartedly with Puukko as to the reason we're seeing these patterns come back into vogue.
"For the past few years, our social media feeds have been dominated by the pared-back minimalist aesthetic. Interiors have been midcentury inspired and fairly generic, and now the pendulum is starting to swing in the other direction," she says. "As people increasingly celebrate playful experimentation with pattern, color, and texture, retro trends like chintz are making a major a comeback. People want to see something that looks new and feels really visually stimulating."
And sometimes that means going back to the basics.