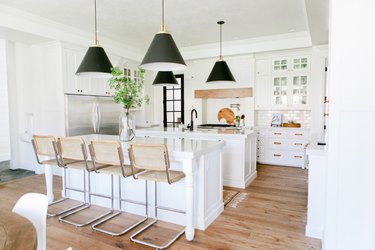 Ever felt as though one island simply wasn't enough for your kitchen? Well, we guess you're in luck. We've all seen the trend for double vanities, but the newest look in town is to mix up your kitchen design by installing dual kitchen islands. If you're lucky enough to be blessed with a larger than life kitchen, or you're just an avid chef or frequent host to friends, this is the way to fill up space and make room for both food prep and entertaining. Watch out, these eight dual kitchen islands will have you seeing double!
1. Store, store, store!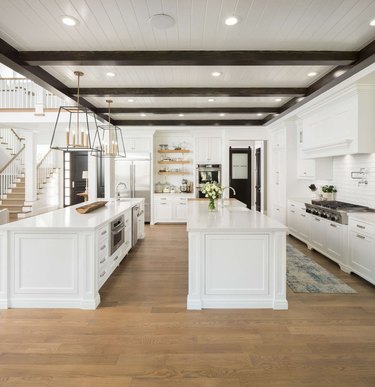 You've got to love some extra storage in a busy household. In this chic design by The Fox Group, both islands are outfitted with a single basin sink, drawers, and extra appliances. Perfect for the home where multiple oven action is required. Plus, clean up will be a breeze...
2. Mix and match.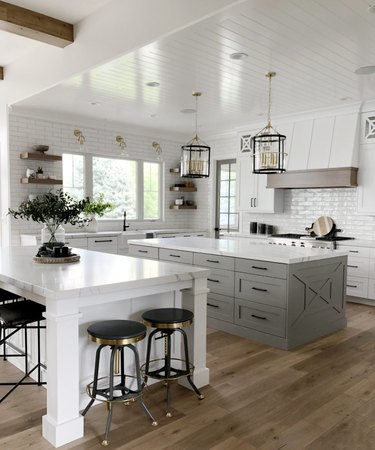 Set your islands apart by opting for slightly different finishes on each. This cozy kitchen, designed by Sita Montgomery, boasts dual islands in different styles and finishes for a less structured look. While the gray island acts as the kitchen's main work core, the white marble-topped counter works as a bistro table to avoid hindering a busy chef.
3. Let us entertain you.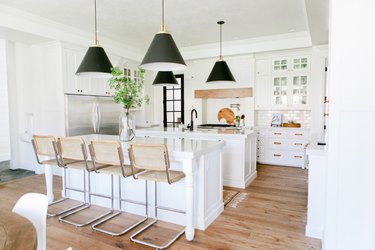 Playing host is one of our favorite things to do, and this kitchen designed by House of Jade Interiors is going straight onto our dream kitchen moodboard. Featuring elongated islands, the extra space provides plenty of room to cook while you chat with friends over cocktails.
4. Chef's kiss.
With a smart layout in a vast space, two islands can improve a kitchen's flow and keep you from piling on top of one another. Cook and nutritionist Louise Keats' kitchen is ideal for her to set out equipment, assemble ingredients, and then photograph it all afterwards.
5. Twinning is winning.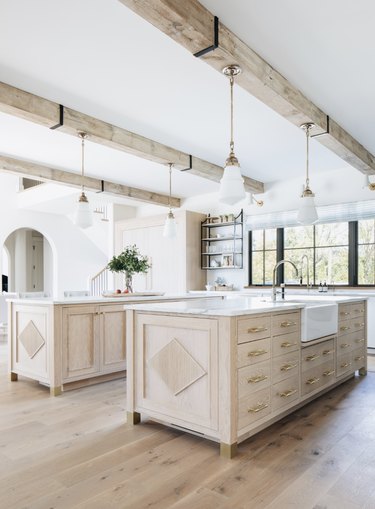 While contrasting islands can look brilliant, matching ones will certainly make more of a design statement. The dual wooden kitchen islands in this farmhouse interior incorporate slightly different fronts, but both work with the marble countertops and woodworked diamond features.
6. Fill the room.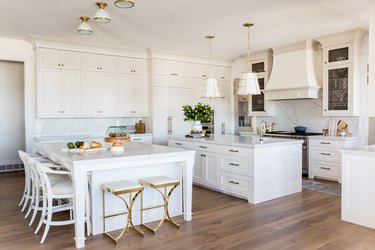 Your kitchen is the heart of your home, and often families will eat meals together here over the more formal dining room. This kitchen designed by Sita Montgomery encourages dining together at the larger island, while the slimmer style is set apart as a food preparation area with pendant lighting.
7. Add a burst of color.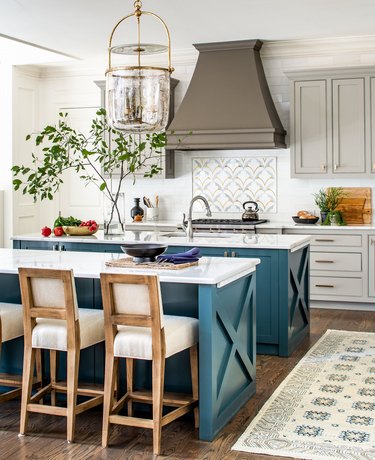 Your kitchen doesn't have to be huge to facilitate double kitchen islands; it may just be a better for traffic to split a larger island in two. Meriwether Design Group have used two blue kitchen islands in this medium-sized space, creating more room for different household members to access each area.
8. Zone your space.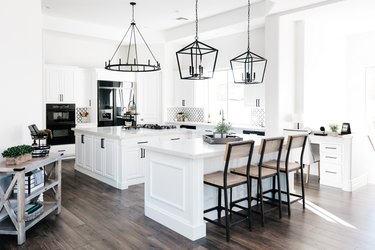 Even a slightly awkward space can work with double kitchen islands; in fact, they may just help to create more of a structure. This bright and modern kitchen by The Tom Kat Studio includes dual islands with white quartz countertops and matte black fixtures that perfectly break up the space.