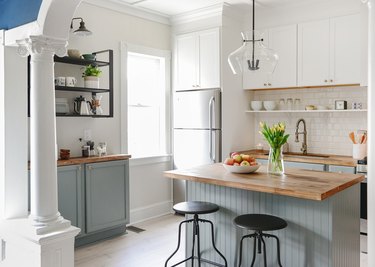 Beadboard is comprised of narrow, vertical planks separated by grooves or "beads," and can add quick visual interest to an island without overwhelming it or looking too trendy. Plus, it's pretty painless to install. A favorite among farmhouse devotees, this type of wall paneling is typically made of wood and has been around for ages.
So, whether you're going for a charming cottage look in your kitchen or want something that won't go out of style anytime soon, this kitchen island idea is for you. Here are seven of our favorite cook spaces that show us how to rock beadboard in a fresh and modern way.
1. Mirror the cabinetry.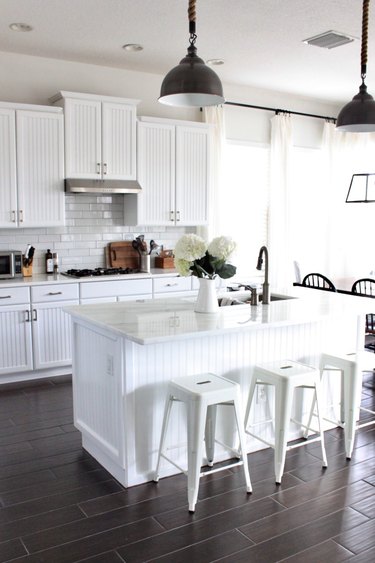 2. Warm it up with color and a wood countertop.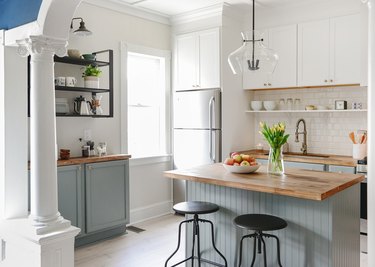 White beadboard is always a timeless choice, but if you're looking to warm things up a bit, add a pop of color and top with a wood countertop. The effect, perfected in this kitchen by Kim and Scott of Yellow Brick Home, will be pleasing to the eye, trend-proof, and full of personality.
3. Give your island the spotlight.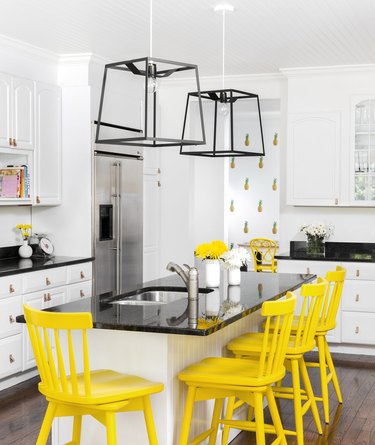 When you opt for a beadboard kitchen island, you probably want to show it off, right? In that spirit, follow the lead of Chango & Co. and draw the eyes directly to it with the help of vibrant counter stools. We love the way that they carried the vibrant color through the rest of the space with yellow blooms and whimsical pineapple print wallpaper.
4. Include a subtle beadboard pop.
OK, so when it comes to kitchen island ideas, you don't need to go all-out with beadboard. In fact, you can simply include a little hint of it by using it as the back panel for some open shelving. The look is just enough, proven in this design by Shea of Studio McGee.
5. Mix it up.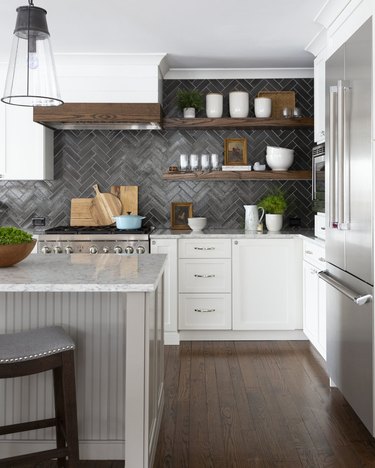 Beadboard is pretty darn classic, but we especially love a beadboard kitchen island when it's partnered up with modern elements. For instance, in this kitchen designed by Lisa Furey Interiors, a greige beadboard kitchen island works seamlessly alongside a black, herringbone backsplash, sleek pendant lighting, and floating shelves.
6. Don't shy away from vibrant hues.
We're convinced that a beadboard kitchen island looks great no matter what color you choose. Sure, you can go with classic white or soft greige, but we're equally fans of beadboard painted in a head-turning shade like royal blue, as seen in this culinary space designed by Charlie & Co. Design.
7. Go neutral.
On the other hand, if you want to play it safe, you can never go wrong with a beadboard kitchen island painted white. It's guaranteed to go with everything, regardless of what color palette you're drawn to in years to come. For example, in this culinary space by Giannetti Home, the white beadboard looks ideal alongside the rustic wood flooring, cabinets, and ceiling with exposed beams.