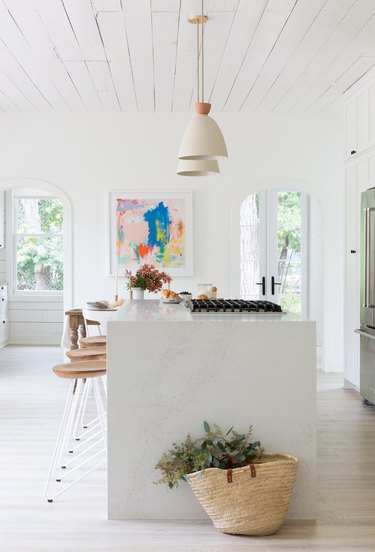 When it comes to our humble abode, it's not just about the size of our space or amenities, but exactly how we put them to use. And when it comes to small kitchen island ideas, there are clever workarounds that allow you to take full advantage of your counter space and turn it into a plus rather than a minus. With just a few tips and tricks, you'll be able to master the art of a tiny island — with no FOMO on a more expansive workstation (phew!).
1. Keep it simple.
One surefire small kitchen island idea relies on keeping the surface area clear. That's right: no sink, no gas range, and no cutting boards. So what else is there? Follow the minimalist vibe in this cook space designed by Shea from Studio McGee with a fruit bowl and a hint of greenery. The island's gray hue and black countertop blend seamlessly with the rest of the kitchen.
2. Make it all about the appliances.
Don't waste space inside your small kitchen island. Take a hint from Emily Henderson and integrate necessities like a dishwasher and trash bins. This will give you more cabinet space throughout your kitchen and keep the floor clear of unsightly waste bins.
3. Feel free to add on.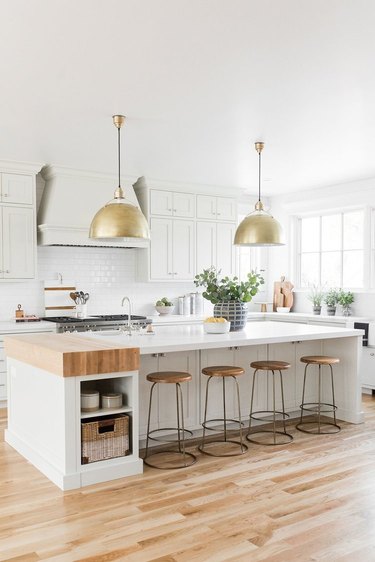 If your kitchen has a tiny island, don't stress. You can always build onto it, or buy a workstation with storage that will blend in, à la this design by Shea from Studio McGee. Open shelving allows you to easily store items that you use on the reg, and a butcher block eliminates the need to store multiple cutting boards. And bonus points if you find a worktop on wheels that you can move in (and out!) of the way as you see fit.
4. Work those angles.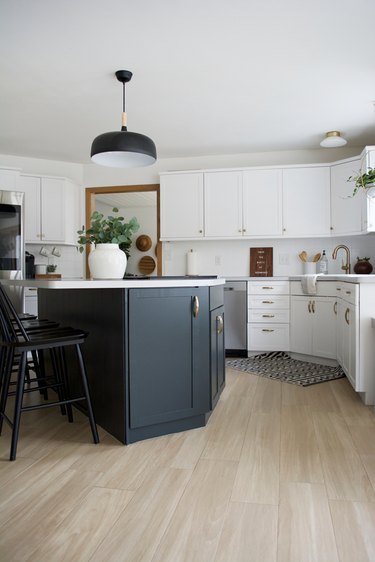 Small kitchen island ideas sometimes mean working with an abnormal shape. Which doesn't seem to bother Bre from Brepurposed one bit! She embraced the angles in this culinary space, opting to paint the base of her island a bold shade of blue among a sea of white cabinets. A single black pendant complements ebony counter stools, further highlighting the star of this show.
5. Add a dining table.
When square footage is limited, every inch counts. Which is why this small kitchen island idea from Amy Sklar Design is pure genius! She added a tiny dinette off to one side of the island, which means between cooking, eating, and cleanup the good times and conversation can continue without missing a beat.
6. Get cooking.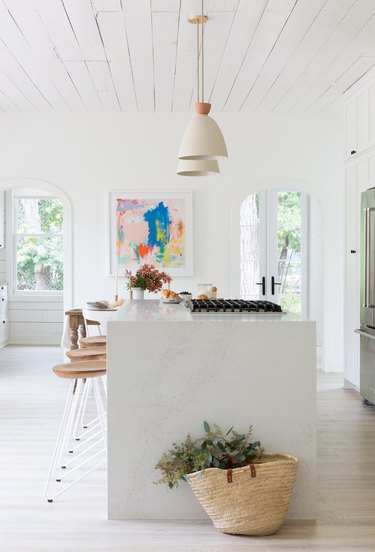 True entertainers will appreciate a cooktop in the middle of their small kitchen island, where mingling and last minute hors d'oeuvres prep can be done simultaneously. To ace this setup, follow the lead of Camille Styles and invest in counter stools so guests can make themselves at home while you put the finishing touches on your culinary masterpiece. Function plus style equals the perfect match.