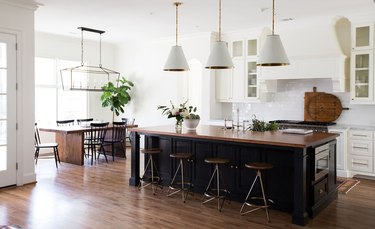 Whether they're creating more storage or completing a look, kitchen islands can make a big difference in your cook space. But what color should you choose? While black kitchen islands might seem like a bold choice, they work surprisingly well in all styles of spaces, from farmhouse chic to minimalist modern. And whether you're into a matte look, a glossy one, or something in between, there's definitely a perfect look for you out there.
1. Try a high gloss paint.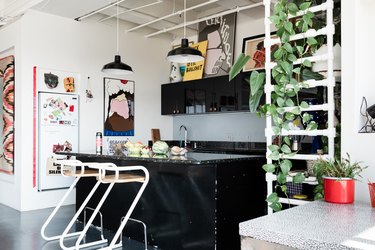 Of the four major types of paint finishes, high gloss is the most reflective. Glossy kitchen islands work well in industrial style spaces like this one. It's the easiest to clean — just wipe it down!
2. Pair a semi gloss paint with a thick white countertop.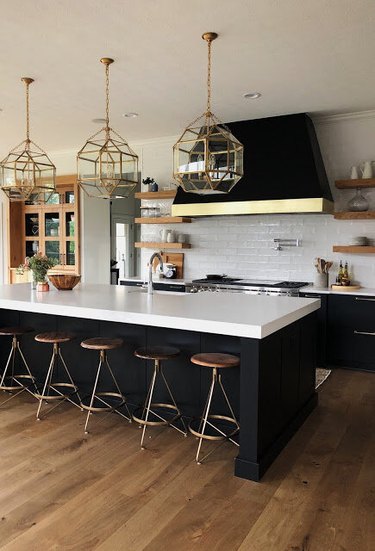 Semi gloss paint is, as you might expect, partly reflective, though not as much as a high gloss paint. In this kitchen by House Seven Design, you can see the slightest reflection on the stools. Like high gloss, this is easy to clean, making it perfect for high traffic kitchens.
3. Combine an eggshell black with black stools for an optical illusion.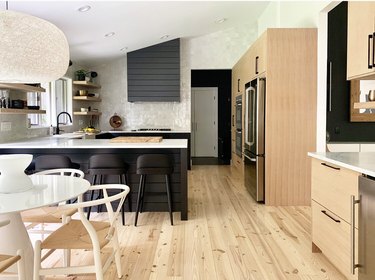 We love the clever decision here to pair an eggshell black hue with black stools that almost seem to disappear into the kitchen island. This works well in both modern kitchens, like this one by Dichotomy Interiors, as well as more traditional ones.
4. Opt for a dark stained wood look.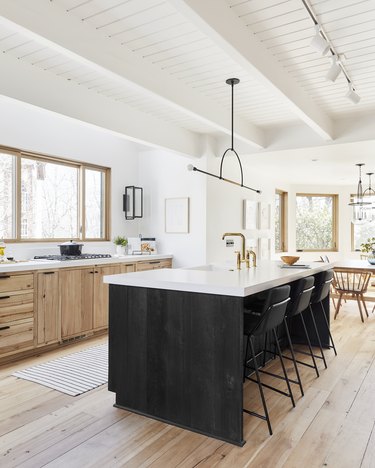 5. Pair black with a warmed wood tone.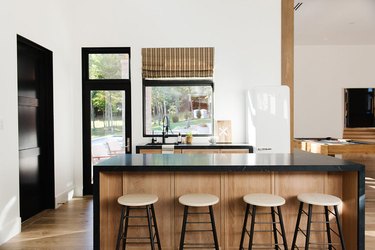 Opt for a black kitchen countertop in a stone like granite or marble — it will pair well with a variety of bases, from painted colors to natural wood. This look combines black with natural materials, even down to the black legs of the stools.
6. Try black cabinets and gold hardware.
In this kitchen by Studio McGee, the pale wood floor and exposed beams help create a farmhouse style kitchen. The island's black cabinets are perfect for extra storage and a chic look. We also love the gold hardware on the cabinets.
7. Choose a black kitchen island with open shelving.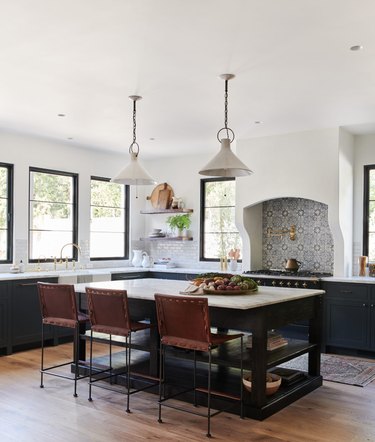 We love this space by Amber Interior Design, which blends classic elements like a colorful mosaic backsplash and leather stools with modern black cabinets and a black kitchen island. The island's open shelving helps creates a more airy atmosphere, and lets you show off your best dinnerware.
8. Incorporate the island into a modern look.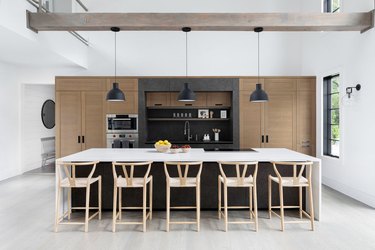 In a contemporary kitchens like this one by Chango & Co., a kitchen island with a hint of black feels right at home. Again, this is a more subtle look than an all-black one but it creates some really great contrast for a chic style.