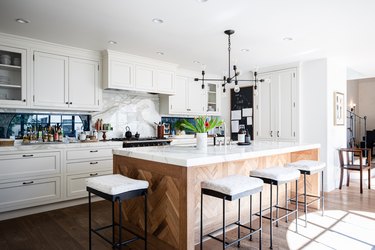 Wood is known for its warmth, organic textures, and character-defining grain patterns, but when it's been reclaimed, it takes on a whole new level of personality, and, most importantly, sustainability to the material. But what exactly is reclaimed wood, and how can it be used?
Reclaimed wood is wood that has been upcycled, or recovered for reuse. It can come from a variety of sources, including old boats, barns, factories and/or warehouses, or even old wine barrels.
But what makes reclaimed wood so unique and attractive? There are visual aspects that make it appealing, like the depth of texture and, as Alan Solomon of Sawkill Lumber and co-author of Reclaimed Wood: A Field Guide, says, the way the wood "retains evidence of the passing of time and feeds the imagination." It's also inherently sustainable because you're reusing an existing material and taking advantage of its low carbon footprint.
But, explains Solomon, it's also the quality of the wood that is important. Older wood often comes from old-growth forests where the trees were able to grow to very old age and thus the lumber they produced was very high-quality, dense, and free of knots and irregularities; today, however, most lumber comes from fast-growing forests and are cut from younger, weaker trees that are more prone to splitting. For Matthew Harkins, owner of reclaimed wood company The Sacred Craft, he "loves the idea of using wood from boats in tropical countries because I know it's really durable and well-seasoned, with unique grains and character."
Let's take a look at a few different ways to showcase the natural beauty, age, and quality of reclaimed wood.
Feature Walls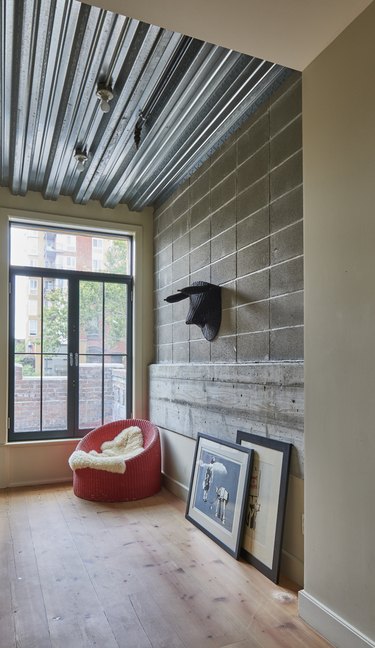 Reclaimed wood can be used in a wide variety of ways once it has been cleaned and any metal fasteners like nails and screws have been removed, advises Solomon. However, because reclaimed wood is rarer and thus has a higher cost, it's often reserved for special projects like feature walls. Consider arranging the pieces in a herringbone pattern or other layout that brings some regularity to the arrangement so that the wall doesn't feel too busy.
Artwork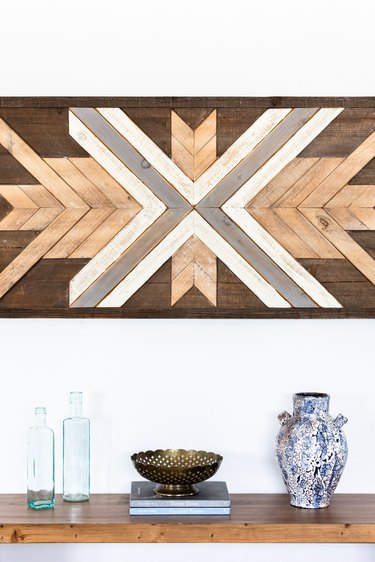 The rich patina of reclaimed wood means it also lends itself well to use as artwork, where its textured surfaces and visible signs of age and use are able to tell their own story. Reusing painted pieces from decommissioned boats or bowling alleys can be a fun way to bring a favorite hobby into a space. Solomon notes that "reclaimed wood, especially heart pine, can veer towards orange hues, so designers often balance it with blue, on the opposite end of the color spectrum, as Van Gogh often did."
Open Shelving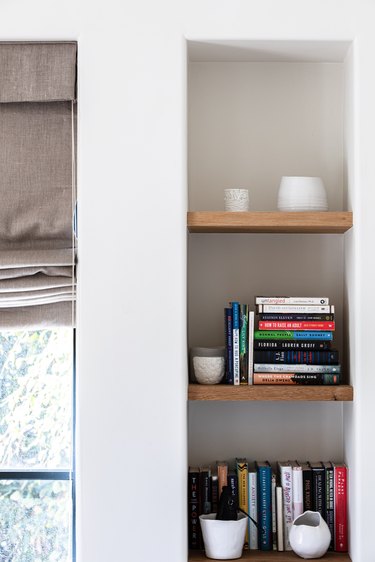 Open shelving has emerged as a popular way to store and display wares in kitchens, and many have turned to reclaimed wood as a way to showcase a special piece of wood. "There are no grading standards for reclaimed wood," Solomon point out, and it can come in a wide variety of species, so if you're thinking about using it in your home, try and see the pieces in person or get lots of photos, especially if you're hoping that it's a close match to other existing wood elements like flooring.
Furniture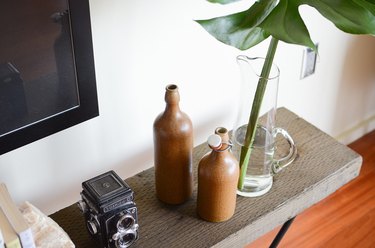 The initial image you conjure when you imagine reclaimed wood might be of a rustic piece of wood that is a far cry from a refined, elegant, and comfortable piece of furniture, but don't be fooled: reclaimed wood can make for spectacular pieces for your home. The lumber can be lightly sanded to remove splinters; other uneven edges might give you just the right amount of character. Or it can be sanded down, stained, and refinished for a fresher, more refined appearance.
Flooring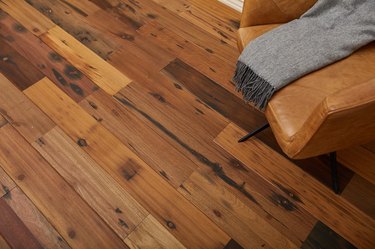 Another common use of reclaimed wood is for flooring. Demolition of old buildings that had hardwood floors is a common source for reclaimed flooring, especially because the wood can be installed and refinished in place after the metal elements have been removed. Other options include engineered wood flooring that has a thinner veneer of reclaimed wood over a plywood base, which can still take advantage of the patina and sustainable aspects of the wood, but won't allow for multiple refinishings.
Exterior Cladding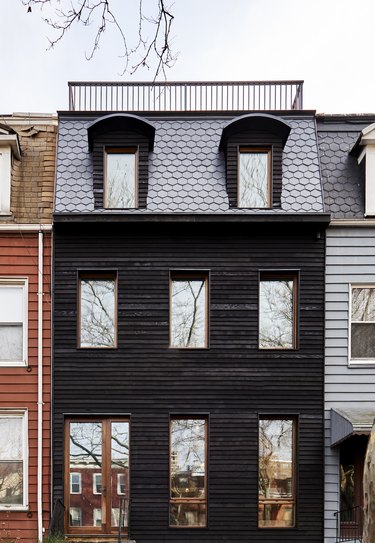 Reclaimed wood also works well as an exterior cladding or for exterior elements like fences or gates. Although reclaimed wood doesn't have to be very old — it just has to be repurposed from a previous use — you should make sure that it's a type of wood that naturally resists rot (like cedar) or is otherwise treated for exterior conditions. Harkins notes that for wood reclaimed from boats, "it's obviously stood up to mother ocean for decades. Add an exterior finish to protect it from the elements and you have a very durable material."
Mirrors and Picture Frames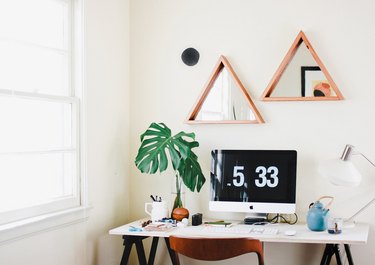 If you're not turning reclaimed wood into art itself, it can always be used to create frames for your artwork and mirrors. Reclaimed wood is such a versatile material that it doesn't always have to make a strong statement; it can be subtle enough and even minimalist to let the art it contains shine after sanding away original stamps or stains and patching holes or dents.