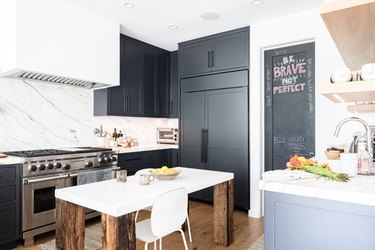 As one of the most high-traffic areas of the home — exposed to perhaps the widest range of elements (insert your favorite meals and sauces here) — the kitchen requires paint that can withstand the mess and chaos that make our culinary masterpieces and fails possible. While this may be a no-brainer, knowing which paint will best survive all matter of splatters, dings, and stains (and daily cleaning) may not be.
Depending on your kitchen's size, your aesthetic, and the number of people (or animals) in your household, certain finishes may be more practical in your home than others. Even the climate you live in and how frequent your kitchen surfaces are exposed should be considered when selecting kitchen paint.
We turned to L.A. designer and restoration artist Kate Hoffman, a longtime color consultant for the popular neighborhood store Jill's Paint, to learn how to choose the best types of paint to use in the kitchen. "Every paint company has its own way of referring to their sheens," such as flat, eggshell, satin, for instance. "They basically refer to how much light bounces off it, with each gloss level giving you a slightly harder finish," she explains. What may confuse consumers is that this terminology is not universal across brands. For the purposes of this article, we are using the most widely used terms for finishes — specifically the ones Hoffman suggests customers limit their kitchen-paint selection to — eggshell, satin, semi gloss, and high (or full) gloss.
For Walls: Eggshell, Satin, or Semi Gloss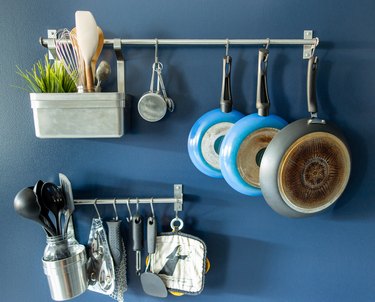 If you have: a large kitchen with little traffic; if you rarely expose your kitchen to outside elements; or if you have a combo kitchen-dining area, eggshell paint works well, says Hoffman. "I've seen people put eggshell on baseboards, and they just get filthy right away. It won't hold up against impacts, vacuum cleaners, and grease. Eggshell is only for walls." When the designer was in Florida, she mentioned that no one painted their kitchens with anything but eggshell or flat paint because most people rarely opened their windows and just had their A/C running, so their walls weren't affected by the climate outside.
If you have: a smaller or busy kitchen; you cook a lot; you have kids and pets; or you open your doors and windows often, a satin paint is a smart choice. "In a wet room where there's grease floating and the windows are open, you want to be able to wash the walls occasionally," notes Hoffman. "Satin is highly washable. It's shiny when it first goes on, but the shine lightens up a bit." You can just wash with soap and water, or she recommends L.A.'s Totally Awesome All-Purpose Cleaner. If you have a cooking area that is semi tiled, which means that the walls aren't as exposed to messes and splatters, semi gloss is a fine choice if you want a bit of gloss.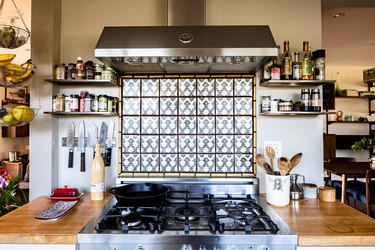 "In California, where we have our windows open a lot during the day and night — and our air isn't that clean — there are particulates that stick to our walls and our ceilings and requires washing down," she says. For her clients here, Hoffman actually chooses a unique alternative to both finishes: Benjamin Moore Aura Bath & Spa Matte Paint. "It was formulated specifically to provide the option of a flat sheen (flat and matte are roughly the same sheen) for customers who wanted that look, but it is still a washable surface. People who want a softer look for the walls will use that in their kitchens."
For Most Cabinets: Semi Gloss and Satin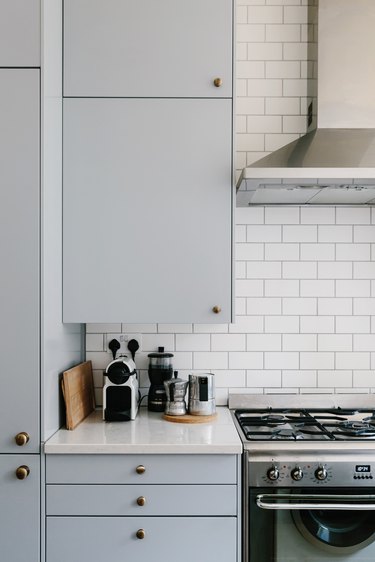 For cabinets around the stove and oven area, Hoffman suggests satin or semi gloss, depending on the style of your kitchen. "If you're rehabbing a kitchen that you inherited, a lot of times you really want to consider the gloss," she stresses. "If you inherited '90s oak cabinets and you put a high gloss on it, they will not look good. It will maximize every imperfection — every ding, every ridge of the grain, every warped aspect. High gloss will put a spotlight on all of it." That is why she suggests satin or semi gloss for both their washability and appearance on cabinets.
For Modern Cabinets: High Gloss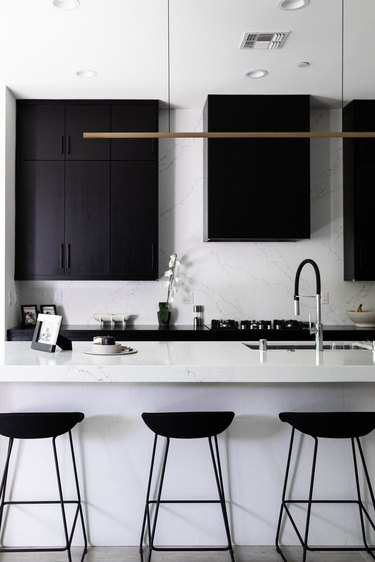 "You only want to use high gloss if you're doing a really modern kitchen, like slab front cabinets that you can keep perfect," Hoffman notes. "A lot of the '90s kitchen remodels tended to be in lacquer. Oil paints are pretty much gone, because of [regulations on] air standards."
For a high-gloss paint, she suggests Benjamin Moore Advance Interior Paint, a hybrid paint which also is available in satin and semi gloss: "A hybrid paint is a water-emulsified oil paint. So you can clean it with soap and water, you don't have to use mineral spirits to thin it. It basically paints as if it was a water-based paint, which is more eco friendly, better for you, better for me," shares the designer. "It doesn't have the powerful smell and doesn't yellow because it doesn't have the heavy oil hardeners in it, and doesn't get brittle because it has an acrylic that prevents this. It wears very well and the color stays very true."
For Low Ceilings: Satin or Semi Gloss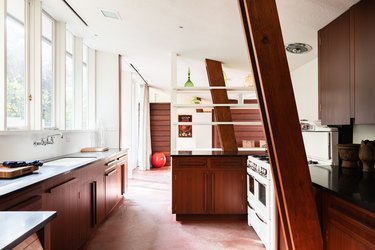 As we all know, when we cook, our food and grease travels — sometimes landing well above us. Have you looked at your kitchen ceiling lately? Not all of us have 10-foot-plus ceilings in our kitchens, so unless you're a serial grease-splatter screen user or really skilled with keeping your spatula under control, there are some remnants of your cooking above. (Especially if you're still throwing pasta on your ceiling to check if it's done.) "Low ceilings definitely need a washable sheen," says Hoffman. "The lower they are, especially if you are cooking a lot and/or don't have a vent in the kitchen, the more that ceiling will grab the floating residue."
Have your paint list all set now for your walls, cabinets, and ceiling? Next step is choosing your kitchen paint colors. Don't worry, we have that covered too.