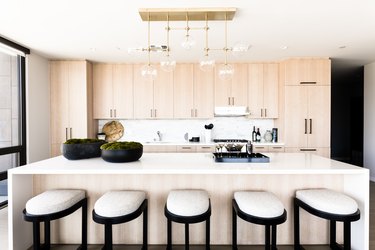 If the first thing that comes to mind when you think of "oak kitchen cabinets" is the '70s-era dark honey oak cabinets with recessed center panel doors (aka Shaker style), that image may bring you some nostalgic wood-grain joy or the complete opposite, depending on your aesthetic. Perhaps you currently have and love those exact oak cabinets that our parents considered fashionable in their day. (If they're in great shape, why wouldn't you keep them?)
Oak cabinet design has come a long way since that distinct look. If you want to update the existing oak cabinets in your kitchen, wondering if they make sense for your home and sense of style, or just want to know the pros and cons of oak, we're here to help as you plan out your reno. (And for more kitchen ideas and inspiration, including where to buy kitchen cabinets, we've got you covered.)
PRO: Oak is an eco-friendly material.
There are about 450 species of oak in the world and an abundance of oak trees in the States, with almost 60 species native to North America. By choosing oak, a hardwood, for your cabinets, you're choosing an organic material, thus, it's biodegradable. And if you go with locally sourced wood for custom cabinets, you definitely get extra points for sustainability!
"It is the most widely distributed tree genus on the planet. Only two are commonly available on the market: red oak and white oak," notes Laura Mays, a woodworker and the program director and lead instructor at The Krenov School at Mendocino College.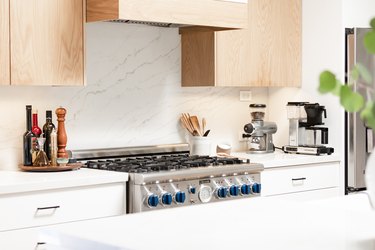 PRO: Oak is a durable wood that is affordable and attractive.
Since oak is plentiful, it tends to be less expensive (especially red oak) than other types of wood that may not be. It also is one of the most popular types of material used for cabinets and furniture in general because of its many desirable properties. "Oak is renowned for its strength and endurance, and will age well. But mostly we use it for its aesthetics — it is a light to mid color, like honey," adds Mays. "It has a linear grain pattern when rift sawn and can have a dramatic pattern of medullary rays (flecks) when quarter sawn."
CON: Because oak tends to be less expensive, installing oak cabinets does not necessarily increase the value of your home.
If you're not living in your forever home and want to add value in your kitchen, the oak won't automatically make prospective buyers swoon — though some oak cabinet designs featured in this article certainly could! There are other ways to bring value to your kitchen, such as splurging on appliances or countertops, to make your home more attractive before it hits the market.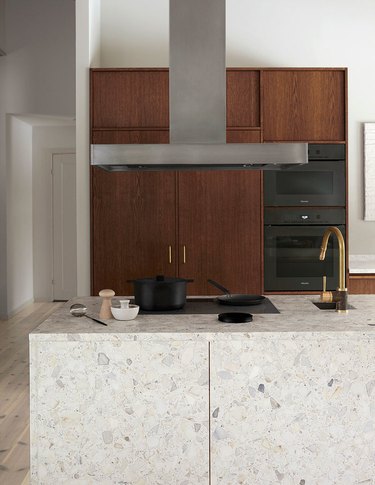 PRO: Oak comes in a variety of hues.
Red oak with pink undertones is a particularly popular choice for traditional kitchen cabinets, while white oak, which has a more honey tone, is often used in custom cabinetry. It is known to be stronger, smoother, and more water-resistant because of its pores.
"White oak has been very popular in furniture and interior millwork for the last 10 years. Its appeal is the light brown color and strong grain, which give it a comfortable, slightly rustic feel," shares furniture designer Michael O'Connell. Both types of oak can darken as they age.
PRO: You can paint and stain oak cabinets to suit your taste.
If you wish to paint your kitchen cabinets, know that the lovely grain pattern will be less prominent (unless that's your intention). To refresh or update your oak cabinets, staining could be a great alternative and preserve the grain. In fact, staining white oak cabinets blue can have a lovely effect.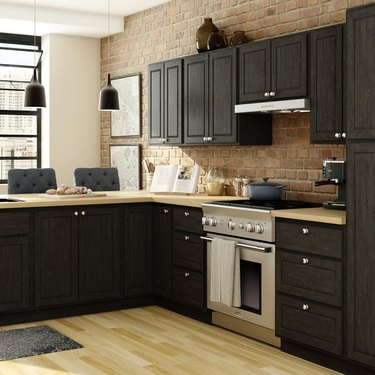 CON: Painting them comes with its own challenges.
While there's no shortage of how tos on painting oak cabinets, Taimi Barty of Wood Joint Studio says, "Painting is difficult because of the existing finish." Stripping the finish can be what she calls "a big toxic mess." For those looking to update their oak cabinets, she suggests changing the hardware and countertop.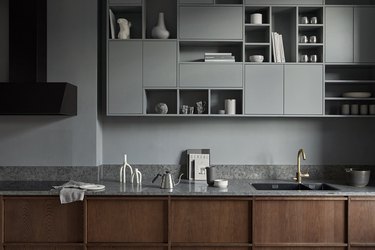 PRO: Oak cabinets are relatively easy to maintain if they have the right finish.
Mays, on the other hand, says, "Maintenance [of cabinets] depends more on the finish used than on the wood. Oak can look nice with an oil finish, which is not as durable as, for example, a sprayed lacquer, but is easy to refresh by a homeowner."
Cleaning your oak cabinets requires some basic care, which is all the more effective if the finish of your cabinets is in good condition. A solid finish means the the oak will resist water well. For daily care, use a mix of a natural liquid detergent and water to wipe them down and then rinse with water and follow with drying with a clean cloth. To treat grease, consider vinegar and water.