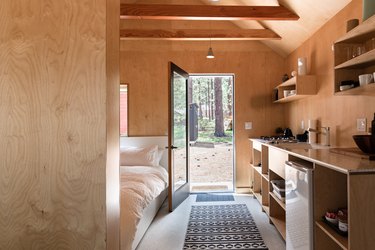 Are you looking into new wall cabinets for a contemporary kitchen remodel? There are so many materials to choose from, but we're especially fond of natural bamboo cabinets. This plant is renewable and high quality, so it can be used in place of hardwood. Plus, it'll give the interior design of your cook space a sleek and unique look with just a hint of midcentury flair.
There are several ways to create bamboo kitchen cabinets and a few different kinds to consider depending on the entire home design budget and your overall needs. For example, if you need to purchase backsplash and countertop materials as well, you have to be smart. So we're going to share everything a homeowner needs to know before taking the plunge. And trust us — when we're done, you'll have the new kitchen of your dreams.
Bamboo Cabinets: Characteristics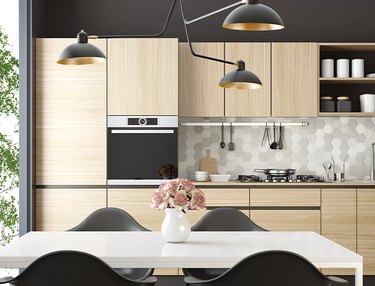 Because it's a type of grass that grows easily and robustly, bamboo can be a sustainable and eco-friendly material for cabinet construction. The top of the plant is harvested every three to five years, which allows the lower portion to regenerate quickly. Bamboo is actually harder than traditional hardwoods, but it's not wood at all. There are essentially two ways to treat the material and make it suitable for cabinet construction: laminated and strand-woven.
To create the laminated variety, heat and pressure are combined to fuse together and form sheets of vertical bamboo slats. The sheets are cut and sanded into boards that resemble dimensional lumber and plywood. You can often see the nodes of the bamboo stalks in the material. There are both solid bamboo panels (which are very expensive) and bamboo plywood in which a surface layer of bamboo is laminated over pieces of traditional wood.
For the strand-woven option, bamboo stalks are crushed into a pulp then shaped, glued, and compressed into planks or sheets. This kind of treated bamboo looks more like traditional wood. It's considered much harder than its counterpart and is often preferred for flooring.
Usually available in slab style, or what people often refer to as European or Shaker doors, with simple straight frames and panels, bamboo cabinets suit more contemporary and minimalist kitchens. Alternatively, drawer fronts with bevels and raised panels are more common in traditional or farmhouse spaces.
The Durability of Bamboo Cabinets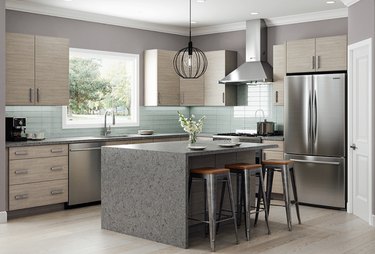 Bamboo cupboards are as strong as, or even stronger, than traditional wood cabinets. The natural material can withstand shifts in humidity and temperature better than wood, and it won't warp. Bamboo also tends to be more scratch-and-stain-resistant than its counterpart, but it should always be treated with a protective layer before staining.
Bamboo Cabinets: Pros and Cons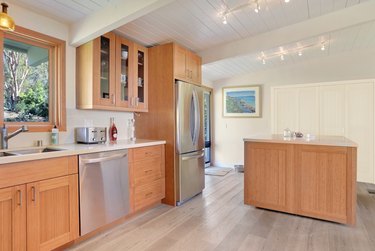 When deciding if you want to go with bamboo upper or base cabinets in your modern kitchen, you'll want to think about the pros and cons to determine what feels best for your home.
Bamboo cabinets are incredibly hard and durable, making them suited for high-use spaces.
The natural hue really only needs a clear coat for a stand-out style, so you can skip the pricey paint colors.
Bamboo is easy to maintain and clean with mild soap. Unlike hardwood, this material doesn't need to be treated with oil.
Bamboo cabinetry can add to the value of your home.
This eco-friendly and sustainable material is good for the planet.
Bamboo rarely warps or shrinks. Consequently, the shelves won't sag, and the drawers will stay aligned.
Bamboo cabinets can be expensive and increase the overall cost of the kitchen design.
Bamboo options are harder to find in stock. Styles and dimensions are limited, so you may have to go with custom cabinets.
The surface can scratch with rough treatment, so you'll need to add a protective coating.
The costs associated with transporting the materials may impact its environmental friendliness and your final price.
Installation, Maintenance, and Repairs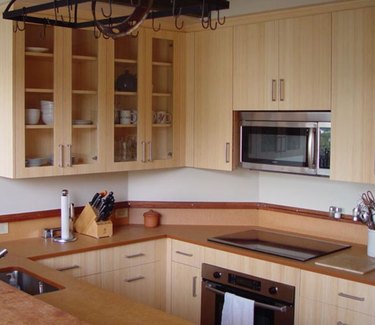 Bamboo is still a somewhat niche choice for kitchen cabinets. So, you may end up spending more on them than on hardwood. And again because the material is so heavy, the weight will likely impact your transportation and installation fees. For an average-size kitchen, expect to spend anywhere between $12k to $20k and upwards of $35k in larger spaces. You can save money by going with bamboo plywood versus solid.
The good news is maintenance isn't that costly. Once your cabinets are installed and treated with a protective coating, you can keep them clean with mild soap and water. Additionally, they typically don't need to be refinished, unlike hardwood, so there's another cost and headache saver.
Bamboo Cabinet Ideas and Finishes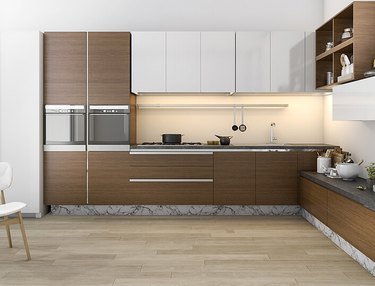 You tend to see natural blonde finishes on bamboo cabinets to accentuate the lovely patterns in the material. But you can get them stained in darker tones as well. Deeper colors can bring out the natural grain and sometimes even result in beautiful dual or tri-toned looks.
Want another design idea to make your bamboo cabinets pop? Use either horizontal or vertical bamboo sheets on the door fronts. A vertical orientation tends to look cleaner and more modern, but we love the look of horizontal grain for a serious style statement. Add in stainless steel appliances to complete the space.
Where to Shop for Bamboo Cabinets: