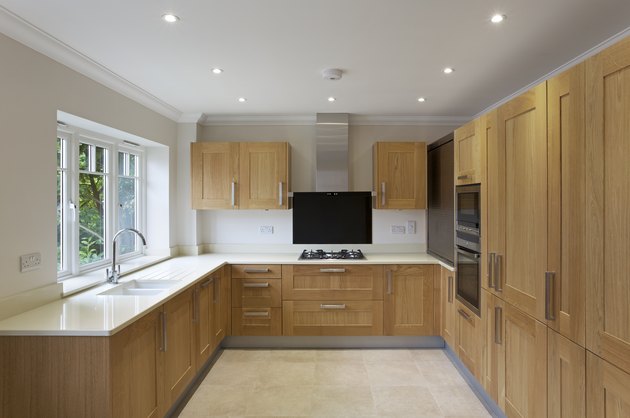 If you have oak cabinets and are thinking of renovating your kitchen, you might be trying to figure out which color countertops look best with oak cabinets. Though there are some pointers an interior designer or contractor might give you, the solutions vary depending on your personal style and the general look of your kitchen. From white countertops for a chic, farmhouse vibe to dark granite countertops with brown undertones, the sky is the limit in your kitchen.
Oak cabinets are standard in many kitchens for their pleasing mid-level tone and tough exterior that is not prone to scratches or dents. Without paint, these cabinets won't cause your dishes to stick to the wood, and they'll hold up well to wear and tear.
Oak also ranges in color and is further impacted by the finish applied. Cabinets made of oak range from warm but light neutrals to very deep, dark browns. This is part of what makes choosing a matching countertop challenging.
Choosing Countertops for Oak Cabinets
The first step when selecting countertops to go with your oak cabinets is to take note of other elements in the room. Do you have dark floors, paint or appliances? If you enjoy that darker look and your cabinets are a lighter oak, you might prefer a darker countertop. However, if you are going for a bright, fresh appearance in your kitchen and you have dark oak cabinets, you might choose a light-colored countertop for balance.
Granite Countertops and Oak
Granite is a popular choice for countertops, thanks to its durability and aesthetics. Granites come in a variety of shades and with numerous veining and patterns, so there is truly something for everyone. If you have a dark oak cabinet and want a lighter countertop to balance your kitchen, you might try a white granite countertop with dark brown veining to tie in the deep, rich browns in your cabinets.
Looking for a sleek, modern aesthetic instead? Oak cabinets in many hues look great with a deep brown and black-veined granite. It's always ideal if the color of your oak cabinet can be found within the veining of the granite countertop you choose.
Ganache granite with oak cabinets is another popular combination. Stone Contact explains that ganache granite is a gray granite, sometimes with brown veining, that is quarried in Brazil. While it's hard to know what the most popular granite color for oak cabinets is, ganache granite is definitely in style now, particularly for light oak cabinets.
Laminate Countertops and Oak
If you are considering laminate countertops, you have several options. Laminates are made to look like other materials in many instances, so you can have a granite-lookalike countertop without the hefty price tag. You can also buy laminate with light flecks of brown or gray that appears eggshell or white from afar.
Marble-look laminate is also very popular and looks quite striking when set against dark brown oak cabinets. You can even purchase laminate that looks like metal if you have dark oak cabinets and are seeking a modern look in your kitchen.
Once again, you'll need to consider the aesthetic you're seeking in your kitchen. If your cabinets are dark but you'd prefer a lighter room, opting for a light-colored laminate can help brighten the space. In contrast, if your dream is a dark, modern kitchen, you could choose a deep gray or dark brown for a sleek look.
---
Danielle Smyth is a writer and content marketer from upstate New York. She holds a Master of Science in Publishing from Pace University. She owns her own content marketing agency, Wordsmyth Creative Content Marketing (www.wordsmythcontent.com), and she enjoys writing home and DIY articles and blogs for clients in a variety of related industries. She also runs her own lifestyle blog, Sweet Frivolity (www.sweetfrivolity.com).
View Work