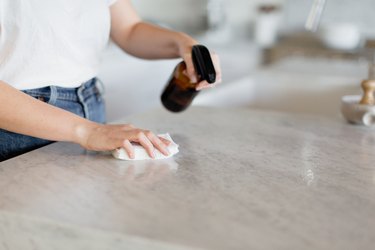 Thanks to a spate of new offerings, laminate countertops are enjoying a resurgence. While laminate was once associated with outdated kitchen designs, many retailers now offer gorgeous options that look just as stunning as natural stone but are far more affordable. Perhaps best of all, laminate is one of the easiest countertop materials to maintain, especially if you understand the basics of laminate cleaning and stain removal.
Products to Avoid
Before learning how to clean laminate countertops, it's helpful to know which products you should avoid during the maintenance and cleaning processes. Laminate is generally made of mostly plastics and papers that have been melded together and, as the name implies, laminated to a board.
That laminate covering is designed to hold up against wear and tear, and while it's generally more durable than countertop materials like wood or marble, it's not impervious to damage. One of the biggest things to remember when cleaning laminate is to avoid abrasive brushes, rough scouring pads or steel wool, according to Consumer Reports. Over time, rough sponges and brushes can scratch away at the laminate's clear top layer, leaving the material prone to even more damage.
It's also best to stay away from bleach or a cleanser with high acidity, choosing instead cleaning products that are pH-neutral. Though they are often effective stain removers, acidic cleaners can lead to discoloration on your laminate countertops.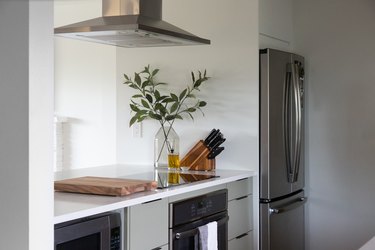 Maintaining Laminate Countertops
One of the biggest draws of laminate countertops is their ease of maintenance, but there are some cleaning tips to keep in mind to keep them looking great for years. One is to try to dry any spills right away. Laminate is far less susceptible to water damage than many countertop materials, but water can seep into the underlying particleboard core via seams, causing moisture damage to the board that leads to swelling or warping over time.
This is especially applicable around sinks since frequent spills or splashes can easily work their way into the seam between the sink and the countertop. When spills do happen, try to wipe them thoroughly as soon as possible to minimize future moisture damage.
Additionally, you'll always want to use a cutting board if you have laminate kitchen countertops. The material can hold up well against the occasional small nick or scratch, but it isn't equipped for frequent knife use. The same rule applies for heat. Use trivets or a hot pad rather than putting a warm pot or serving dish directly on the counter. It will help to prevent scorching and will prevent stains, discoloration or rings from forming.
For everyday cleaning, simply use a nonabrasive brush or cloth, warm water and a gentle soap like dish soap or a pH-neutral household cleaner to get rid of dust and debris on top of the countertops. Rinse with clean water and dry immediately afterward with a soft cloth.
How to Remove Common Stains
One of the keys to cleaning laminate countertops is wiping up spills as soon as they happen. If you're able to tend to an accident immediately, it's unlikely for the material to stain your countertops. However, if a spill sits, it may form a stain.
If a household cleaner doesn't do the trick on the stain, one potential homemade removal method is a mixture of baking soda and water. Mix several tablespoons of baking soda with enough water to make a thick paste and liberally apply it to the stain. Don't rub or brush it in, as baking soda can be slightly abrasive; simply let the mixture sit on the stain.
The baking soda will work to lift and absorb the stain. After two hours, gently wipe away the mixture with warm water and a soft cloth. For more stubborn stains, you can repeat with the baking soda for another one or two hours as needed.
Looking as Good as New
Finish is one of the biggest differences in appearance between other countertop materials and laminate. Some styles come with less luster than granite countertops or quartz countertops, and over time, grease, steam, small stains and other elements can lead to it losing even more shine.
In order to have more shiny and clean laminate countertops, you can make your own vinegar solution. Mix 1 cup of clean water with 2 tablespoons of white vinegar and put it in a spray bottle. If you'd like, you can also add a few drops of a food-safe mineral oil for a little extra shine.
Spray the solution liberally on your clean laminate countertops and let it sit for about 10 minutes. Then, rinse it off with warm water and a soft cloth. The result will be some restored shine.