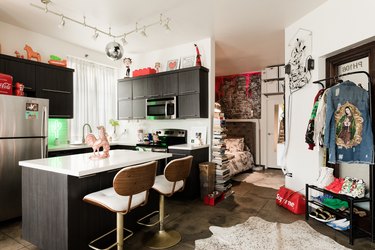 Since you've decided you want a high-end feel for your kitchen countertop or bathroom remodel, you're likely considering purchasing granite countertops — but you may have concerns about the material's maintenance requirements. If so, consider quartz countertops instead. Quartz countertops are just as striking as granite but offer a harder surface that doesn't require sealing. You'll also find that quartz offers a wider range of colors.
What Are Quartz Countertops?
Homeowners are often surprised to learn that quartz countertops are actually a man-made product rather than natural stone. During the countertop material manufacturing process, fabricators grind natural quartz into a powder. This powder is then mixed with resins to create a nonporous surface. Any pigments or enhancements, like glass beads or stone chips, are then added to the mix to create the desired effect.
When the mixing is done, workers expose the quartz mixture to pressure and very high heat to solidify it into a slab. The end result, according to Granite Gold, is a countertop made of 90 percent quartz.
If easy is your favorite four-letter word, quartz countertops will serve you well. Because they include man-made resins, quartz countertops aren't porous like granite, so you'll never have to seal them. Spills won't penetrate the surface either, so you can easily wipe messes off the stain-resistant surface without worry.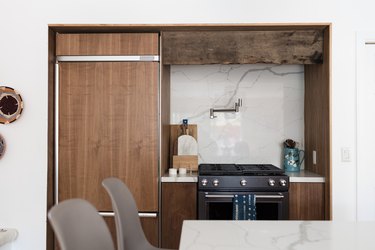 come in a large range of and Quartz countertops also provide you with an almost unlimited array of color choices and patterns. Although once very limited, quartz countertops come in a wide range of color options and can now convincingly mimic the look of granite or marble. Manufacturers can also dye quartz or mix in glass flecks and stone chips to create an eye-catching finish.
What won't catch your eye are unsightly seams. Professional installers can help you disguise seams and place them discreetly, but you can sometimes avoid them altogether. Because quartz is manufactured rather than mined, you can often have a seamless countertop slab made to your counter's specific measurements. There is a limit, however, to how large a slab can get before cracks and breaks become a problem.
Quartz surfaces are extremely hard and will take a lot of abuse, but heat is their Achilles' heel. According to Arch City Granite & Marble, the resins in quartz countertops can only tolerate temperatures of about 150 degrees Celsius (302 degrees Fahrenheit). Anything higher than that leaves behind a discolored scorch mark that will require professional repair if it can be salvaged at all. If you opt for quartz, always use trivets.
Like granite, the corners and edges of quartz countertops can chip or break, which also requires a professional repair. You can, however, minimize the risk of damage by choosing rounded edges.
Quartz can cost quite a bit. Although its longevity makes it a good value, HomeAdvisor states that as of 2020, quartz countertops cost an average of about $75 per square foot by itself of $125 per square foot installed.
The Quartz Countertop Installation Process
Unless you're a DIY master, it's probably best to leave quartz countertop installation to a professional. Weighing in at about 25 pounds per square foot, quartz counters are quite heavy and difficult to maneuver. Specialized tools are a must as well since cutting quartz is difficult and requires a wet saw. A professional installation is easy and starts with a trip to the showroom to see what's available.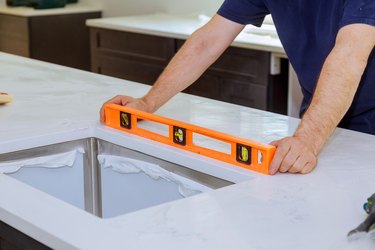 Once you've chosen the countertop you want, your quartz countertop company will send a representative to your home. This person will measure your space to create a template of your new countertop. He will also check to ensure that your cabinets and floor can support the weight of a heavy quartz counter and make notes about any cabinets that will need to be reinforced. Using this information, the countertop manufacturer will make a countertop to fit your space.
When your counter is ready, professional installers will bring it to your home and install it. Although the countertop was made for your space, the installers may need to shave off a bit of counter here and there or drill holes for your plumbing, so do expect a bit of dust and noise. Your kitchen or bathroom will likely be out of commission for a day or two during the installation process, so make other plans before the work begins. After that, your newly remodeled space will be yours to enjoy.
Quartz Countertop Care and Maintenance
Although installation is tricky, quartz is easy to live with and is very low maintenance. Simply wipe away spills with a damp cloth or sponge. Rubbing alcohol or glass cleaner will take care of tough stains, as will any nonacidic cleaner. As a general rule, any countertop cleaner that is safe for granite is safe for quartz too. Acidic cleaners, however, can start to separate the resin from the quartz in the countertop and cause problems.
Quartz counters are stain-resistant thanks to their resin component, but it's still wise to clean up spills as soon as you can rather than letting them sit. Scratching quartz is difficult but not impossible, so always use cutting boards rather than cutting directly on the countertop. Remember too that the resin in your countertop will make it shine. Don't use polish or wax to add more gloss to the surface, as these will only cause unsightly streaks that may prove difficult to remove.