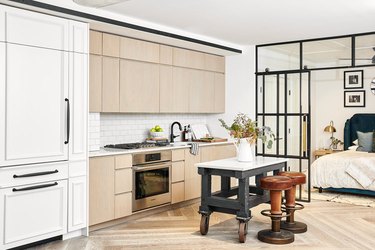 Hot take: You don't need an industrial kitchen to work an industrial kitchen island. In fact, cook spaces that favor a more Scandi aesthetic with midcentury vibes can benefit from a bit of raw wood and metal. The contrast can actually make your cook space feel elevated — like you intentionally chose each item in the room.
1. Add an unexpected pop.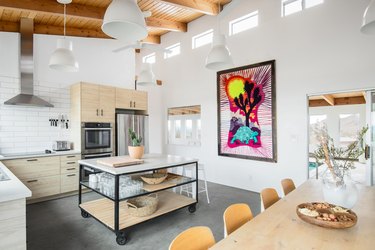 2. Saturate your industrial kitchen island in black.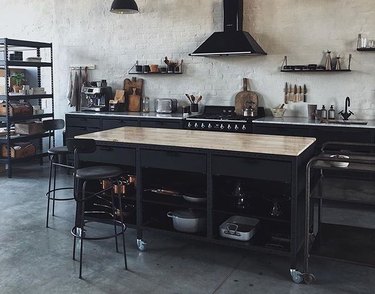 3. Small industrial kitchen islands pack a design punch.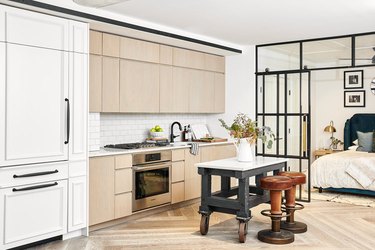 If you make all of your meals in a space that hardly qualifies as a proper cook space (studio kitchens, we're talking about you), don't feel the need to supersize your appliances. In fact, if you can hide items away, do it. For example, in this design, Rohe Creative makes use of an integrated fridge, tucked behind paneling. Even a one-wall food zone can implement a chic island. Pick one that's petite. And if you can, repurpose an old cart or table from a vintage retailer or flea market and DIY your own.
4. Balance metal with wood.
Industrial spaces focus heavily on cool metal details. But as evidenced in this modern loft from Vanessa Alexander of Alexander Design, intricate steel designs complement raw materials incredibly well. Add concrete floors to your culinary design if you're ready to commit a significant amount of money to being on-trend. Otherwise, make a statement with an industrial kitchen island that features wood accents. A touch of leather can warm things up, too.
5. Blend farmhouse style with industrial.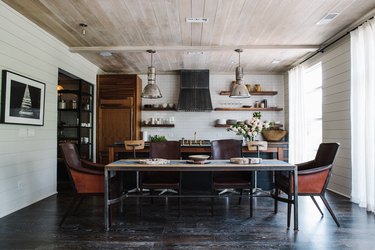 We're pretty sure you're familiar with the vintage farmhouse trend by now. But did you know combining the rustic attributes of the aforementioned style with the sleekness of an industrial design can make a budget kitchen island look expensive? We especially love the setup in this scullery because it's such a focal point. The rich finishes don't need to compete with any other feature in the room.
6. Go for the biggest island if space allows.
7. Keep the surface clear of clutter.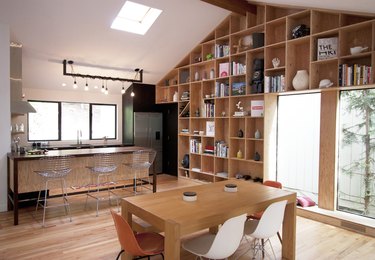 Somehow, this space by Bright Design Lab makes it seem like every cooking corner absolutely needs a floor-to-ceiling custom bookcase and a streamlined plywood island. More than just a pretty installation, dynamic shelving can keep clutter to a minimum. And an industrial kitchen island like this one will help your home feel organized at all times.