Wooden kitchen islands are all the rage in modern decor, but we still love a good stainless steel island. They're versatile, and they typically provide so much storage space. And, wow, can these durable accessories take a beating. Feel free to cook with wild abandon in a kitchen with metal counters or an industrial island. You can scuff up the surface without worrying about paint chips. You can clean up and know that the steel work space is truly sanitized. You can even customize it with elegant materials and statement-making overhead lighting.
Are you convinced and ready to take your stainless steel kitchen island to the next level? Here are some of the most inspiring kitchen island ideas to propel you forward.
1. Pick a pattern to warm things up.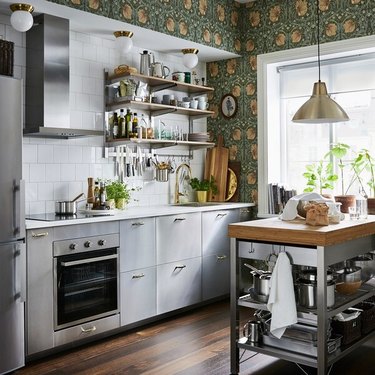 How do you keep a primarily metal kitchen with a stainless steel island from feeling sterile? You load up on personality. That's why this charming patterned wallpaper is so striking. Yes, it's busy. But combined with the large white backsplash tile and the warm wooden accents, this colorful moment feels cozy, not chaotic.
2. Keep it sleek.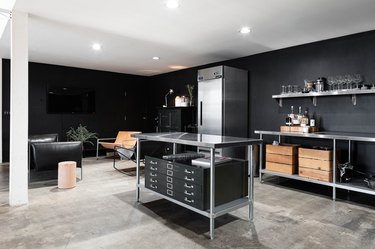 3. Go wild with natural decor.
We didn't know we needed a bright and airy corner kitchen until we saw this one designed by Joanna and Chip Gaines. An installment from their Fixer Upper HGTV series, this loft's eating area hardly looks cold like some industrial rooms do. Instead, the natural accents peppered throughout the space make everything feel a little bohemian and a lot welcoming. So don't skimp on woven baskets and vases. And if you can find some rattan or wood barstools to accompany a metal island like this one, we say go for it.
4. Display your collections.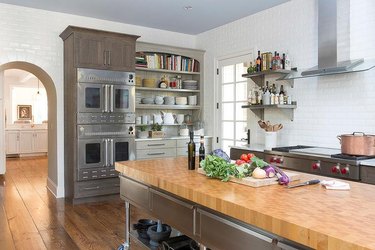 Even aside from that arched doorway (which is obviously a major goal), this design by Karr Bick is a vision. The stainless steel appliances are balanced by thoughtfully assembled vintage collections. And to keep your own chef-quality accessories from seeming too commercial, display your tchotchkes. Don't tuck them away! In this kitchen, ceramic dishware shares the spotlight with the butcher block island. In fact, the island serves as yet another place to store items from the collection.
5. Have fun with high-end details.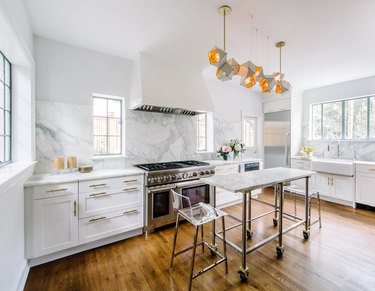 If you opt for a freestanding stainless steel island in order to maximize your budget, there's a chance you can splurge for some of the other important features in your kitchen. This space by Aidan Design demonstrates the high-low concept perfectly. The island is topped with a slab of white marble and flanked by lucite barstools. And the effect is covetous. To take things up a notch, spring for a Carrara marble backsplash as well.
6. Go green.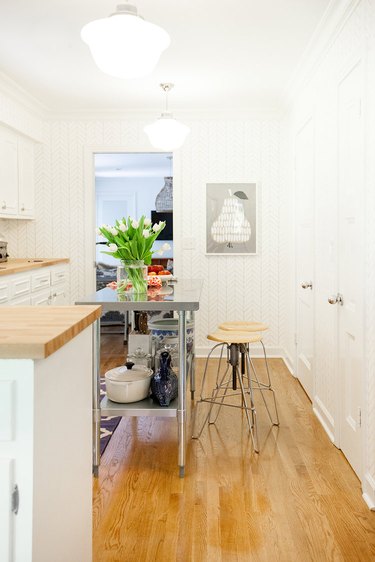 We appreciate compact kitchens here. Moreover, we know they tend to be the powerhouses of the home. That's why we especially like it when they manage to be functional and cute like this space captured by Leslee Mitchell. Take the stainless steel island in this petite space, it provides additional counter space while simultaneously displaying the room's focal point — a floral bouquet. Greenery can work magic in your space, too.
7. Let symmetry be your guide.
Don't believe anyone who says symmetry is boring. We think the opposite is true. When done correctly, like this grand design by Emerick Architects, a matching pair of something evokes calmness and pleases the eye. And because kitchens can be so hectic naturally, anything that makes them feel tranquil is a good thing. To create a balanced space like this one, go for an updated stainless steel kitchen island with open shelves. Stash your dry goods there, but opt for uniform storage containers that look the same.
8. Be bold with a black base.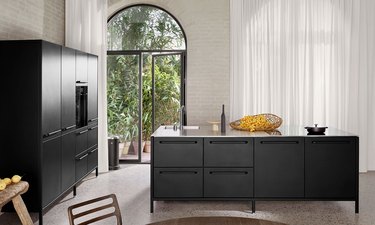 So you want a stainless steel kitchen island that doesn't look exactly like everyone else's? Try a mixed metal one like this fixture from Vipp. You can still have all of the pros of a stainless steel top for cutting and prepping, so cleanup will be a breeze. And you also get to enjoy the dynamic look of powder-coated metal. Even if you skip decorating the rest of the room, a two-tone look is oh-so-chic.
9. Don't underestimate natural light.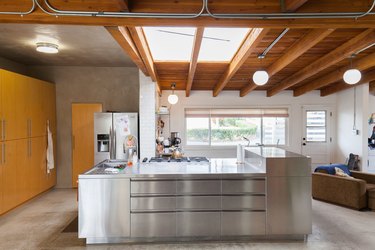 This huge cook space proves that any room looks instantly more elevated with lots of natural light. We might not all be blessed with skylights like these, but you can still get the airy, feng shui-approved look. Leave your kitchen windows uncovered, and keep your stainless steel island and appliances polished. The glossier they are, the more light they'll reflect. And who doesn't want to chef it up in a well-lit and cozy kitchen?