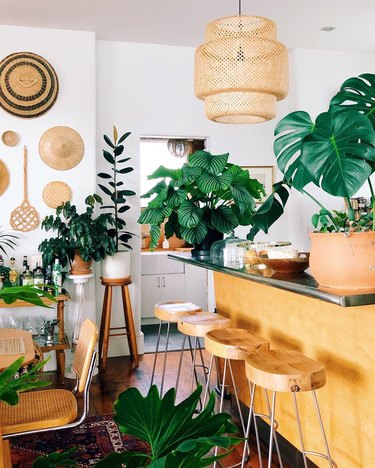 For every style of design — whether it be midcentury, Scandinavian, or bohemian — there's a feature, fixture, or object that will flawlessly fit with that aesthetic. From lighting to flooring, you can match your personal tastes and preferences with the decor in your home, and kitchen islands are no exception.
When it comes to designing an island that works with your aesthetic, it's all about the materials, color palette, and silhouette. For example, sleek and streamlined setups look best in modern or midcentury spaces, while rough-hewn wood designs are well-suited to rustic or industrial kitchens. Not only is this centural hub practical, but it can also serve as a chic focal point within your space. And to prove it, we've found six kitchen island ideas that blend seamlessly with some of our favorite styles of decor.
1. Midcentury Magic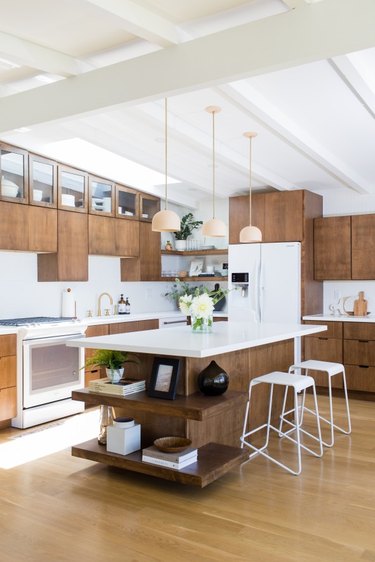 A midcentury modern kitchen typically displays linear elements, futuristic components, and incredibly cool lighting. When designing an island to mirror midcentury visuals, be sure to look for clean lines, dark woods, and gleaming countertops á la this cook space belonging to Parkhaus owners, Haleigh and Scott.
2. Boho Beauty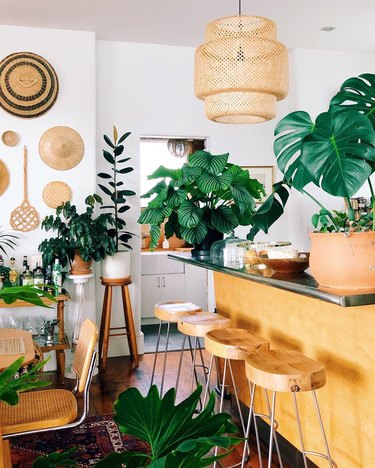 In a bohemian space, deck out your island in natural stone, warm woods, and light colors to imitate the rest of the kitchen. For instance, in this culinary refuge styled by Ron Goh, an organic-looking hub with a black countertop is an ideal addition. And it has plenty of room to display thriving green houseplants.
3. Modern Masterpiece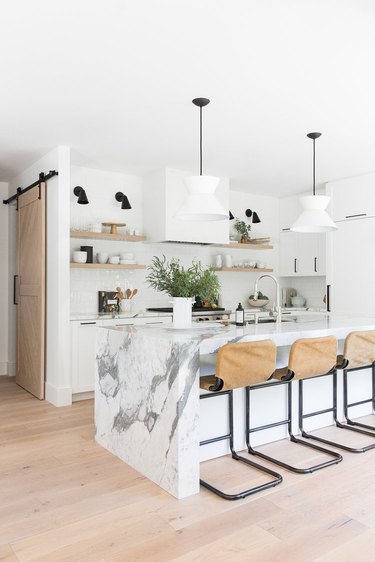 Modern kitchen island designs can show off a variety of accents, colors, and materials. But we have a special place in our hearts for contemporary marble islands, especially when they feature a waterfall countertop. In an au courant cook space designed by Shea of Studio McGee, the marble stunner is complemented by contrasting black accents throughout, which pop against a mostly white backdrop.
4. Rustic Radiance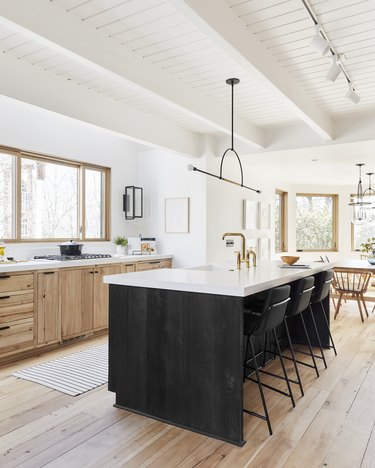 It comes as no surprise that rustic kitchen island designs look best featuring a heavily textured wood. This culinary mountain retreat designed by Emily Henderson is an idyllic example, showcasing wide planks in an ebony stain that adds oodles of texture and a hint of Scandi-chic flair.
5. Farmhouse Fantasy
Joanna Gaines would undoubtedly sign off on this kitchen island idea, which is picture-perfect for farmhouse designs. For a similar look, follow the lead of the Rafterhouse team and incorporate stained wood, shiplap, and lots of white to complete your dreamy setup. We especially love the "X" shaped detail — reminiscent of bygone barn doors — that bookend the island. Swoon!
6. Industrial Inspiration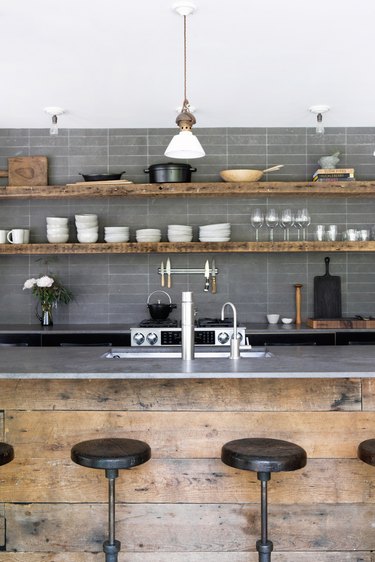 Industrial cook spaces can also benefit from kitchen islands rendered in well-loved wood — especially when outfitted with exposed pipes, stainless steel fixtures, reclaimed wood, raw materials, and natural stone. And this rustic design belonging to Athena Calderone is a picture-perfect example featuring a dreamy combination of lava stone countertops and rough-hewn reclaimed wood throughout.