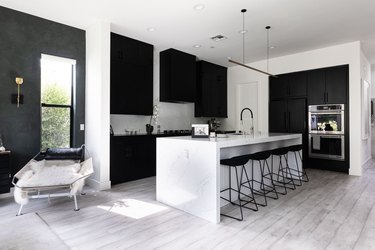 There are plenty of takes on what constitutes a "modern" kitchen — the style offers the ability to make fresh design choices that accommodate your personal tastes and needs — and we're pretty much on board with all of them. From minimalist to Scandinavian to vintage meets contemporary, it all looks ​so right now​ with a few carefully chosen design elements. Scroll on for seven modern kitchen ideas that are sleek, streamlined, and far from boring.
1. Mix open shelving and traditional cabinetry.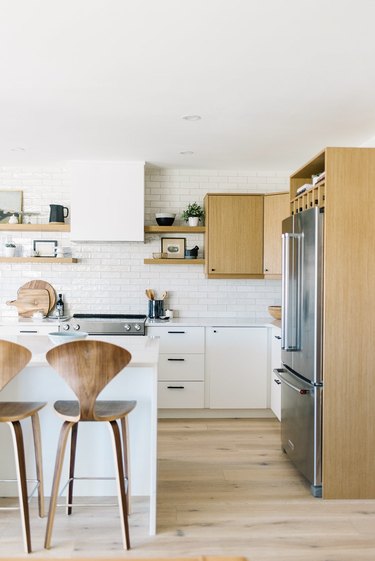 There is definitely an "anything goes" philosophy when it comes to shelving and cabinetry in today's modern kitchen. If you want to go with full-on cabinets, great. Maybe you'd prefer to trade in all of your upper units for open shelving — that's also great. Designer Kristina Lynne opted for the best of both worlds in this lovely culinary space.
2. Incorporate black accents.
Black is an on-trend color that's permeating bedrooms, living rooms, and even nurseries. It's also a hue we're loving for kitchens, and there are several ways to introduce the ebony shade into your cook space. For example, you can pick black appliances and sophisticated black wall tile, which is what Andrea of Andrea West Design did in this kitchen. Major bonus points for those amazing brass shelves, too.
3. Make bold color choices.
Speaking of color, these days, you can basically go with any color palette imaginable in your kitchen. This is certainly true of cabinets, which are currently displaying hues in green, blue, black, gray, and everything in between. We're really into the sage green cabinets in this kitchen designed by Shea of Studio McGee. It's an anchoring color in the space and makes the kitchen look truly unique.
4. Be choosy with your hardware.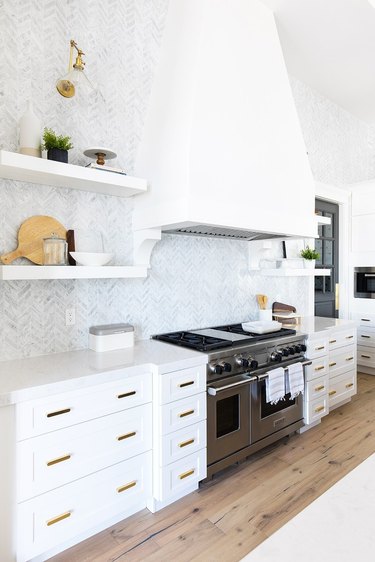 To make a kitchen look oh-so-modern, it's all about the hardware. Gather sleek pulls in gold, brass, or copper for your cabinets to make things look exceptionally on-trend, represented in this airy space crafted by Dawn and Megan of E. Interiors. P.S. You don't need to match your cabinet hardware to your appliances. A combo of silver and brass is more than acceptable.
5. Install an attention-grabbing backsplash.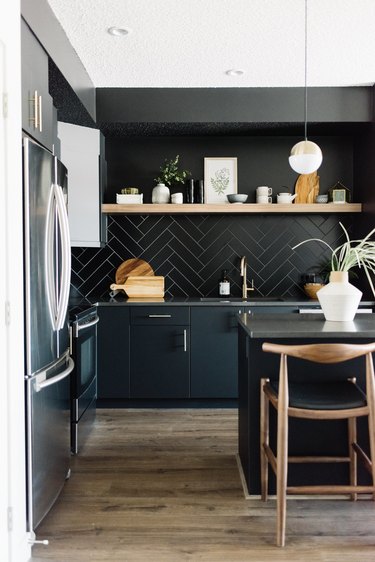 For a contemporary choice, consider a completely unexpected backsplash. Right now, a backsplash can run the gamut from black to ornate patterns to distinctive layouts to surprising materials. Simply put, if you have a vision that's a bit offbeat, go with it, since it will likely make your kitchen look even cooler and more modern. In this space designed by Kristina and Diana of Kresswell Interiors, a black backsplash in a herringbone pattern looks crisp and of the moment alongside other black accents.
6. Weave in interesting materials.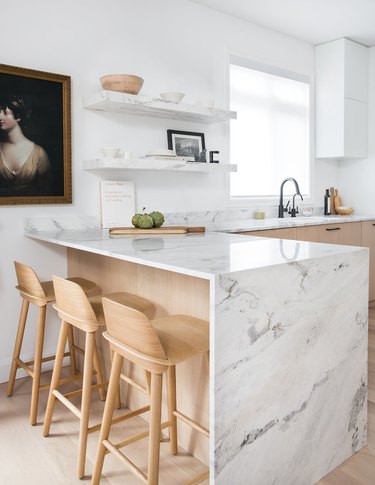 When designing a sleek kitchen, you can go with linear aesthetics and streamlined details, and ramp up the visual interest through the material selections. Marble and natural woods abound in this modern cook space dreamed up by Meg of Meg Cassidy Creative. The materials alone help this kitchen stand out from the crowd.
7. Be intentional. Very intentional.
Modern kitchen ideas often include thoughtful design elements, something that's particularly true in minimalist spaces. If a design pick doesn't feel right to your gut, practice patience and move on until the right light fixture, tile, or cabinet material hits you. This intentional kitchen, designed by the team over at KBH Københavns Møbelsnedkeri, practices Danish minimalism with its suspension-style lighting, stand-alone artwork, and cabinets that have skipped hardware in lieu of a sleeker appearance.