In the old days, a home typically stuck to one style and one style only. Your home could be midcentury, traditional, or bohemian, but people rarely mixed together two different styles. Today, the design world has embraced more of an "anything goes" philosophy when it comes to designing a home, discovering that mixing different looks together can actually make your pad look a lot more lived-in and authentic.
And with this openness has come a new approach to design that works particularly well in the kitchen: transitional style. It's the combination of traditional and modern decor that makes a space look even more distinctive and striking. Think classic cabinets and sputnik chandeliers, stainless steel and rustic wood finishes, and affordable decor mixed with splurge-worthy finds. To inspire your next redux, here are 10 transitional kitchens that have pretty much nailed the look.
1. Hang eye-catching light fixtures.
The quickest way to bring a modern feel into a traditional kitchen is through your light fixtures. There are tons of contemporary options on the market, and nearly all of them will play well with the tried-and-true elements of your kitchen. This gold pendant lights in this breezy transitional kitchen, designed by Nicole Davis Interiors, are simply perfection.
2. Enter futuristic territory.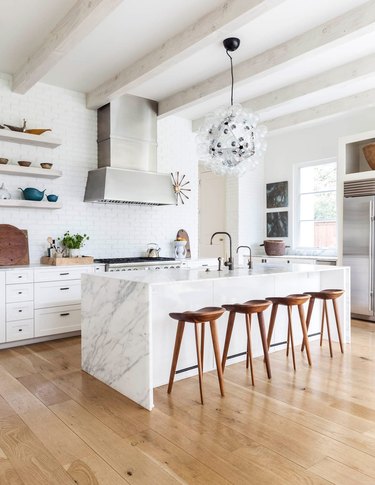 You can even take your transitional kitchen into a midcentury direction, which is what was done in this space crafted by Robert Elliott Custom Homes: an atomic-style wall clock, period ceramics, sleek barstools, and an incredibly cool light fixture look amazing with classic elements like a brick wall and marble island.
3. Incorporate well-loved woods.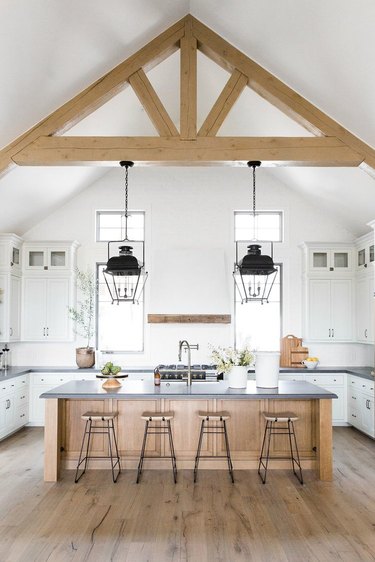 This kitchen designed by Shea of Studio McGee has a modern feel thanks to white cabinets and slick, linear accents, but the wood choices make it feel a bit more traditional. For your transitional kitchen, consider woods that are reclaimed, broken-in, and rough-hewn.
4. Choose modern barstools.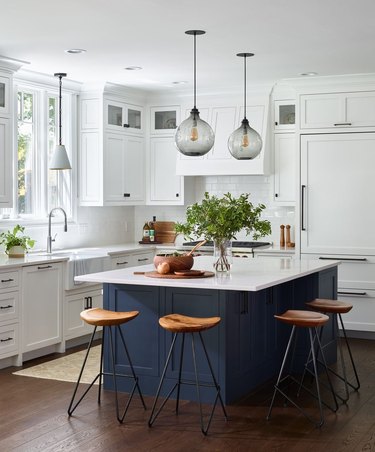 Barstools are another efficient way to make a kitchen look more modern. You can install standard cabinetry, go with white subway tile, and put down hardwood flooring, but a set of contemporary barstools can immediately create a transitional appearance. These barstools chosen by Emily Pinney are a flawless blend of traditional and contemporary.
5. Create a patterned backsplash.
A statement backsplash is so right now. (And with all of the gorgeous cement tile options out there, how could they not be?) The patterned backsplash in this kitchen dreamed up by Kat Nelson Designs is a scene-stealer amid time-honored wood choices, traditional cabinetry, and a light-hued palette.
6. Pick an unexpected cabinetry color.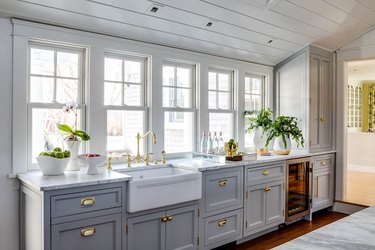 Although white is a wonderful choice for most kitchens, we're equally loving the rainbow of cabinet colors that we're seeing these days. It's a way to create modern aesthetics in a kitchen, like the periwinkle-blue cabinets seen in this beautiful cook space created by the team over at Digs Design Company.
7. Make the island pop.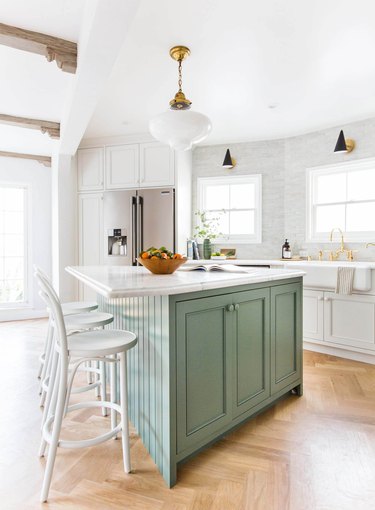 When brainstorming ideas for your transitional kitchen, think about making your island a modern centerpiece of the space. You can achieve this through your color and material choices. We're especially drawn to this airy island in a kitchen belonging to Emily Henderson: a willow green base with a Carrara marble top.
8. Mix together old and new.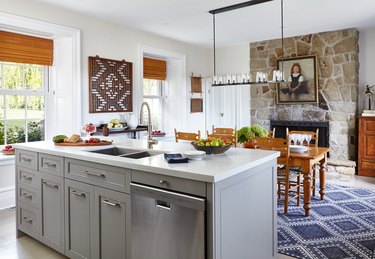 In your kitchen, you can allow vintage treasures to freely mingle with modern design elements, creating a transitional atmosphere. Contemporary gray cabinets with modern pulls pair nicely with antique accents throughout in this kitchen designed by Meghan Carter Design.
9. Go minimal.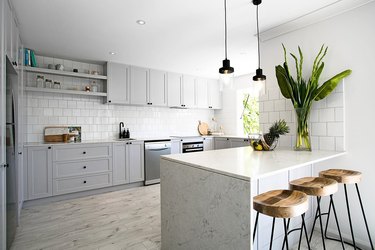 This kitchen created by Bonnie, Lana, and Erin of Three Birds Renovations shows that minimalism can be pulled off in a transitional kitchen, too. The cabinetry and materials are traditional, but the carefully-chosen details — like the light fixtures, barstools, and stylish kitchen essentials — are subtle and don't overwhelm the space.
10. Give your hardware a starring role.
Here's an effortless way to make your kitchen look more transitional: just swap out the cabinet hardware. And if your faucet looks a bit too stuck in the past, you can install on-trend fixtures, too, like the gleaming gold set seen in this culinary space designed by Amber Lewis.