Vintage decor is one stylish solution to being short on space. Mid-century modern furniture and accessories are as precisely crafted as museum pieces -- very minimalist geometric shapes abstracted from nature and the dawn of the space age. Treat yourself to a graceful lamp modeled on a vegetable -- or a pale, smooth stretch of polished wood that hides a multitude of clutter sins. Keep it simple and make every piece work for its spot in your carefully curated home.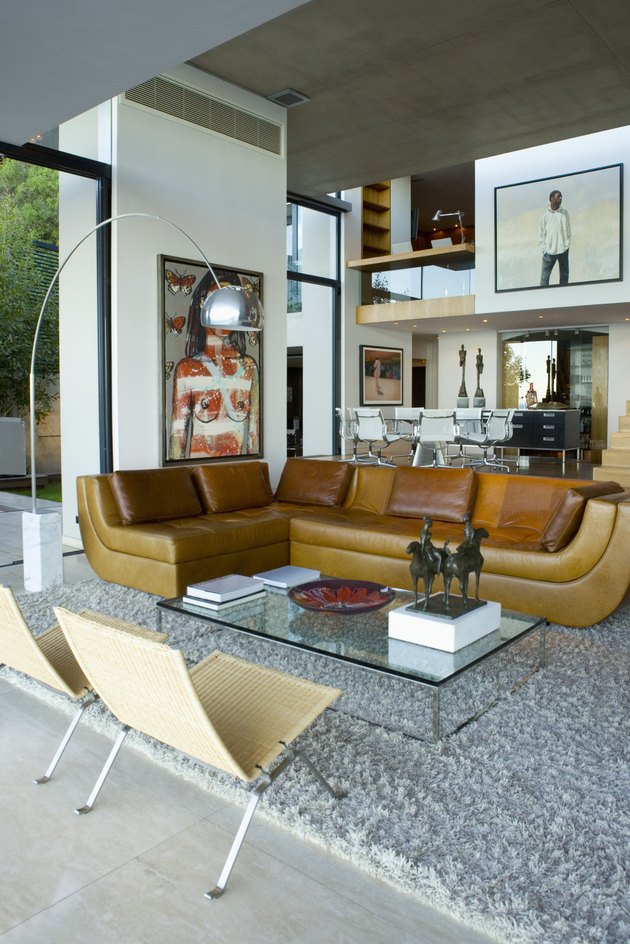 credit:
Goodshoot/Goodshoot/Getty Images
Mid-20th-century furniture marries form and function in a spare -- but not austere -- style that combines natural and synthetic materials. It was strongly influenced by Scandinavian design and the European Bauhaus movement. Furniture makers experimented with hardwoods, plastic, Lucite, Plexiglas, glass and metal, avoiding ornate fabrics to favor linen, blends and leather. The furniture is pleasurable, with pops of bright color juxtaposed with subdued neutrals and crisp black-and white accents. In the living room, a curved leather and hardwood Charles Eames lounger replaces a bulkier recliner, a George Nelson Marshmallow sofa of see-through, connected fabric or leather circles is a sophisticated substitute for an overstuffed sofa. Eero Saarinen's Womb chair is big on comfort with a small footprint and a lower profile than an old-fashioned wing chair. Add a compact glass and interlocking carved wood Noguchi coffee table and a Mouille One-Arm floor lamp for major impact in a small space.
Scandinavian furniture is clean and light, and adapts to new, inventive uses. A vintage Scandinavian credenza in beech or ash makes a sleek media cabinet in the living room with a frameless flat screen mounted on the wall above it. Sliding credenza doors take up no space to open -- the long, low storage holds DVRs, a music system, DVD collections, magazines, and anything else that would otherwise add visual clutter to a small living room. If your living-dining space is one room and you store your media in the cloud, keep the flat screen as watchable wall art but use the cabinet space for table linens and tableware, bar supplies and glasses. The credenza top serves as a buffet for parties.
A Saarinen Tulip table and chairs or Eames molded plastic chairs opens up and transforms your tiny kitchen. Saarinen designed his iconic Tulip table and matching chairs with a single pedestal base to eliminate the clutter and space wasting of furniture legs. Eames chairs have see-through wire legs and are stackable and easy to move. They work as extra seating in the living room or on a porch for parties and they wipe down easily after eat-in meals with messy grown-ups or kids. A white table and chairs disappears in a breakfast nook or a corner of the kitchen. Aqua, yellow or orange Eames chairs pick up Fiestaware colors, on exhibit in airy, open cabinets. The Tulip set is a sculptural display in a studio or all-purpose room. Hang a classic Poul Henningsen artichoke or snowflake pendant lamp over the table to do away with fussy cords and stands.
A classic Arco lamp curves over a sofa or dining room table without visible wires, anchored by a discreet marble pedestal. The lamps were designed to provide direct light and harmonize with the Mid-century modern aesthetic. The telescoping stem, which contains the wiring, is made of stainless steel and the vented dome lamp swivels to wherever illumination is needed. Original vintage decor is collectible and prices can be stratospheric. But the design will blend successfully with other, non-pedigree furniture, as long as you pare down and let each piece breathe. Hunt for a favorite piece online, at estate sales, and antique shops or check out the good reproduction pieces now widely available through specialized contemporary design stores. Your space-saving Arco lamp may be an investment but a Noguchi-style paper pendant will light up your tiny digs for pennies.