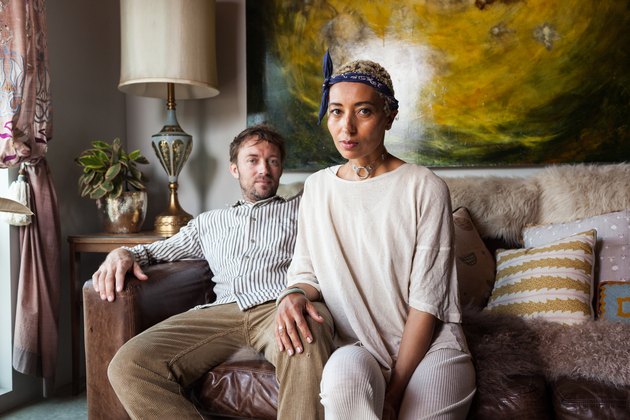 Who: Alexys Oliver and Sam Stefanski
Where: Omaha Heights, California
Style: Eclectic
To those unfamiliar with the neighborhoods of north eastern Los Angeles, Omaha Heights might sound practically midwestern. Adjacent to El Sereno, one of the oldest communities in Los Angeles, Omaha Heights is nestled up in the hills above Huntington Drive, midway between downtown and South Pasadena. It was there, in 2003, that Alexys Oliver and Sam Stefanski, two midwestern transplants themselves, with what Oliver calls "a thirst for the West," found an acre of hillside, and a 929-square-foot, two-bedroom home to call their own.
"The neighborhood was a little sketchy in the beginning," says Oliver, who, along with Stefanski, are the creatives behind the production design and prop styling company Concrete Stem. "It felt far from things we were used to." And while the house itself was not beautiful, Oliver's first thought when she saw the property was, "Where do I sign?"
"I knew it needed a ton of work. But ... it had potential." And a blank slate is exactly what these two creatives work with best.
In the ensuing years, the dropped popcorn ceilings, carpeted floors, drywalled fireplace, and inefficient windows were replaced by an ever-evolving tableau that reflected the couple's finely honed taste and travels. Touches throughout the home reflect their collective sensibility — eclectic textures, tons of plants, and rich mosaics of reclaimed and re-imagined materials.
It has been a work in progress.
"For eight years we only had an outdoor shower," she says. "We loved it. It was romantic and raw but after I got pregnant, I needed to feel pampered after working 10 plus hours on shoots."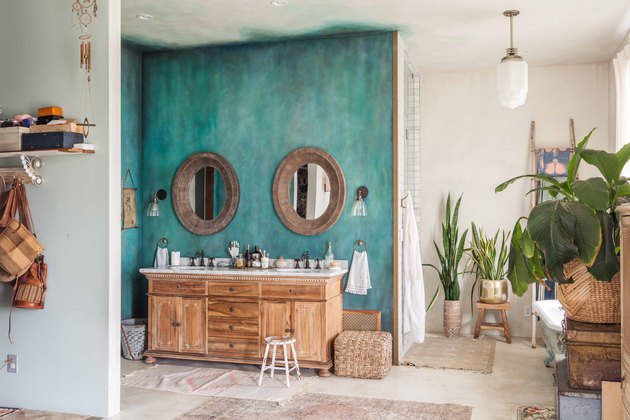 Oliver and Stefanski now live in the home with their 4-year-old son, Harlow, two dogs, a cat, and some fish.
"The fun for us, is knowing that just like our relationship, careers, [and] ourselves, our home, too, is a work in progress," says Oliver.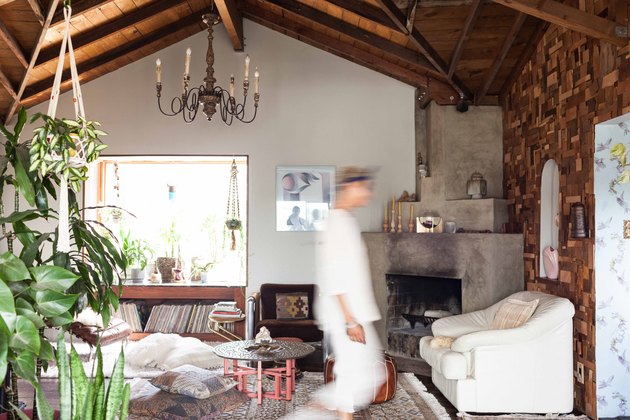 1 of 11
Oliver explains that it's hard to define a specific style for the home. "We make it up as we grow and travel," she says. "We try to bring our experiences and desires into each space."
2 of 11
The bedroom was the first renovation that Oliver and Stefanski did where they could take their time designing the space.
3 of 11
"We sleep here as a family," says Oliver. "It feels safe and comfortable and each piece has a story."
4 of 11
According to Oliver, "The bathtub just sort of hangs out there."
5 of 11
The couple installed the steam shower when Oliver was pregnant.
6 of 11
"We are inspired by places we travel, artists' homes, architects," Oliver shares. "We love so many different styles but we know that things get boring for us pretty quickly when we stick to one thing."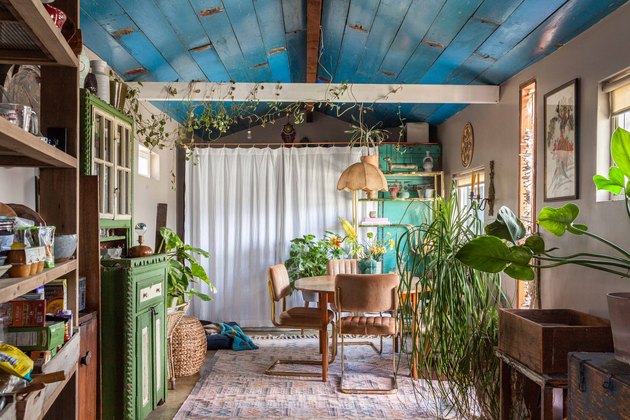 7 of 11
"Once we brought plants into our home, we felt cozy," notes Oliver. "We want them to take over."
8 of 11
"Sam crafted our closet floor out of 1x3s from wall flats. He took them apart and cut them all down with his father, Lenny," Oliver tells us.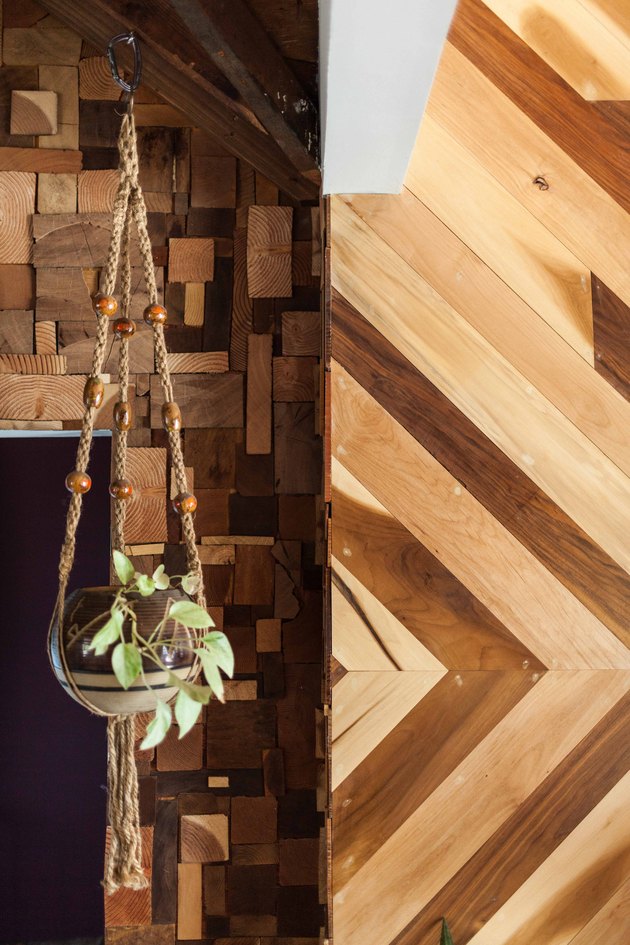 9 of 11
Oliver and Stefanski use a lot of salvaged lumber and reclaimed windows and doors throughout the home. "We are also fortunate that we are able to recycle and reuse lumber from sets we build," she says.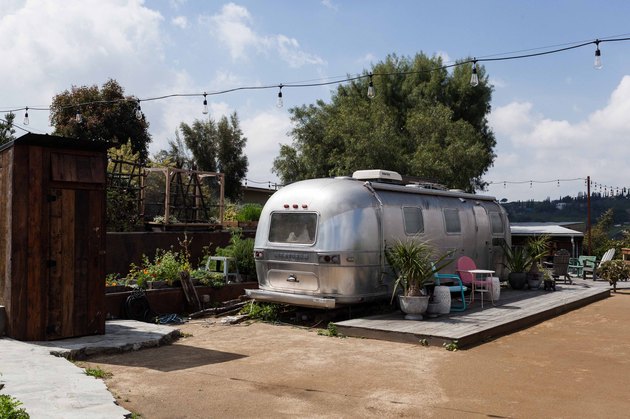 10 of 11
The outdoors are equally eclectic.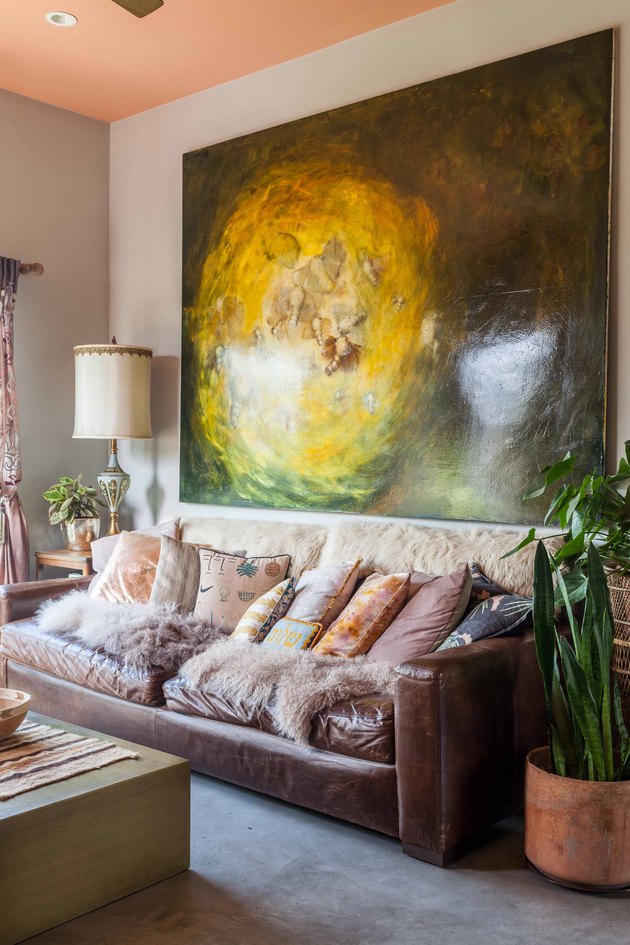 11 of 11
"We usually need to stew in a room a bit to understand its purpose," says Oliver.
---
Laura Lambert is a Los Angeles-based writer and editor who covers lifestyle, design, and women's health.
View Work