There are those who set out to overhaul their home and leave the kitchen as an afterthought. And then, there are the rest of us who would prefer to spend every waking second in a big, beautiful kitchen, and every single detail — down to the backsplash — matters. If you're of the latter persuasion, then a stylish ceiling light (or lights) in the kitchen is a must. Forget about recessed lighting, or the standard-issue, ceiling-mount fixture that came with your apartment — here are 14 brilliant ceiling light ideas to illuminate your kitchen with style and grace.
1. Two statement making pendants are better than one.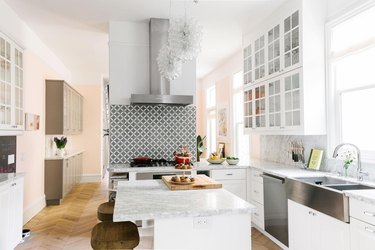 We love the idea of installing a light fixture that is more art than utility. If you have the space, why not go for double the trouble with chandelier effect pendants?
2. Go back in time with retro modern.
These pendant lights are modern creations based on retro style. The classic style chain is a throwback, and the brass finish of the dome-style shade gives it an updated feel. Timeless, yet very of the moment, we love the interplay between the incredibly trendy rose gold accessories and the more traditional-finished brass hardware.
3. Big, bold, brass fixtures for the culinary win.
While stainless steel is nice, there is something delicately beautiful about brass. This kitchen fully embraced the romantic finish by incorporating brass hardware with a brass surface mount ceiling fixture, which ties this culinary dream together masterfully.
4. Third time's a charm.
You can't go wrong grouping three simple pendant lights above your kitchen island. Just be sure to double check the length of your island to ensure that you have enough space for this balanced look.
5. Consider adding masculine charm to your kitchen.
We don't know how kitchens became gendered, but when you tell someone you're going for a dark, masculine vibe this is probably what they imagine. One of the many things we love about this look is that it presents the perfect opportunity to experiment with industrial lighting. For example, these sophisticated drop pendants are a handsome complement to the exposed pipework and ceiling beams.
6. Adjust the cord length accordingly.
Just because you chose to pair three pendant lights together, doesn't mean they all have to hang at the same height. Add a little variety and adjust each fixture's cord length to create a dynamic, staggered cluster. To make it easier, you can even buy a fixture that is pre-grouped in a visually interesting arrangement.
7. Opt for an intricate flush mount ceiling light.
Many homes come with a standard flush mount fixture attached to the ceiling like a glowing orb. You, on the other hand, are anything but standard — so naturally, this won't stand. Change out that basic glass shade, and turn that ceiling area into a work of art. We just adore the DIY starburst flush mount fixture that the girls at A Beautfiul Mess created using a little spray paint and the frame of a mirror.
8. Just say "oui, oui" to the industrial theme.
Can you say, "tres noir-chic?" This ceiling light features an intricate pulley system, which is the perfect addition to any industrial-themed space. The elegant black finish beautifully complements the black millwork and decorative accents throughout.
9. What about earthy modernism?
This home's kitchen design is sleek and modern. Natural elements like palm fronds and a woven bamboo pendant bring the outdoors in to create an earthy texture and warmth that we couldn't approve of more.
10. Turn a wall light into a ceiling light.
11. Get artsy with an exposed bulb pendant.
There is something so effortlessly stylish about an exposed bulb hanging from the ceiling — even the way you knot the cable becomes part of the design. This look gets an A+.
12. Utilize the space over the sink.
Oftentimes a glorious pair or trio of pendant lights is featured over the kitchen island or dining nook, but the area over the sink deserves some love, too. These light fixtures are perfectly located to help you see exactly what you're washing.
13. Just get a full blown chandelier.
Who says a chandelier is for the living or dining room only? Why not stick a giant work of illuminated art in the center of your kitchen ceiling? Placing a chandelier or an oversize fixture in the kitchen tells your dinner guests that it's okay to come in, and that the kitchen isn't just a place for cooking and cleaning.
14. Minimalism is a thing of beauty.
This Scandinavian-inspired kitchen takes minimalism to the next level. We can't take our eyes off of the unique mini pendants with exposed bulbs hanging above the kitchen island. Complemented by the warm wood millwork and decorative accents throughout, their brass finish really shines.
---

Madison Vanderberg
Madison Vanderberg is a writer — mostly for the internet (HelloGiggles, Obsev, Racked), occasionally for the screen. When she's not writing, she's following realtors on Instagram and daydreaming about her future Scandinavian-inspired home.