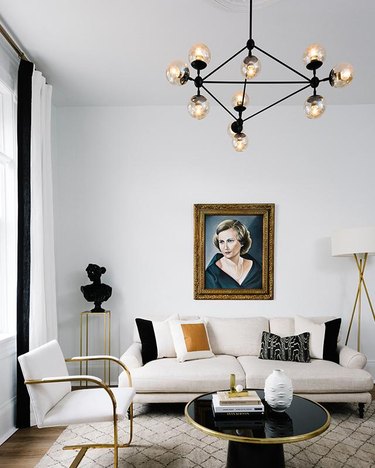 At its height in the 1950s, midcentury decor looked modern. Even today, the design style (which is still cool, BTW) continues to look modern. Although there are several elements that are distinctive to midcentury modern design (think sleek lines, warm wood, and space age fireplaces), one of the most distinguishing aspects of the style is lighting. From sputnik chandeliers to orb-shaped pendants, midcentury lighting is pretty unmistakable.
It also just so happens that many of the fixtures inspired by the designs of the bygone decade look amazing in most living rooms. Simply put, when you walk into a space with a midcentury-inspired chandelier, your eyes go straight to it because it's just so attention-grabbing. But don't just take our word for it. If you've been craving some midcentury flair for your home and don't know where to start, here are eight living room lighting ideas that will move you.
1. Focus on contrast.
A midcentury chandelier can create juxtaposition and tension in a living room — in a good way. Even if you have a non-midcentury living room, you can immediately boost the visual interest in your space with a fixture that's inspired by the design style. To craft a unique look that won't be seen in other living rooms, hang a midcentury chandelier and decorate with bohemian or even global motifs, like Sarah Sherman Samuel did in her living room.
2. Match the color palette.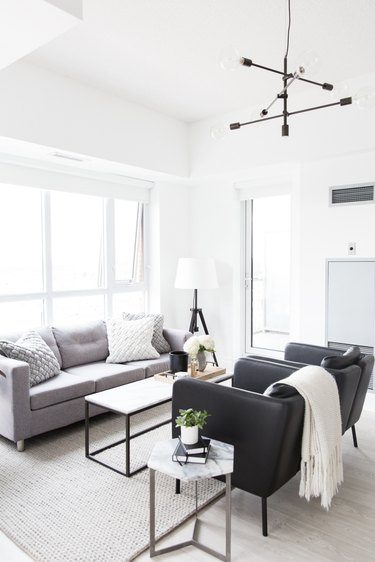 If you want to achieve cohesion with your living room lighting idea, match your midcentury chandelier to the metal finishes or colors seen throughout your space. In this living room belonging to Stephanie of SS Life + Style, a black fixture echoes the dark hues in the room.
3. Take a departure from chandeliers.
Don't get us wrong midcentury chandeliers are awesome. But if you're looking to switch things up, consider an atomic-style floor lamp instead. We love the geometric quality of this living room lighting idea displayed in Line Borella's Scandi-chic home.
4. Go up, up, and away.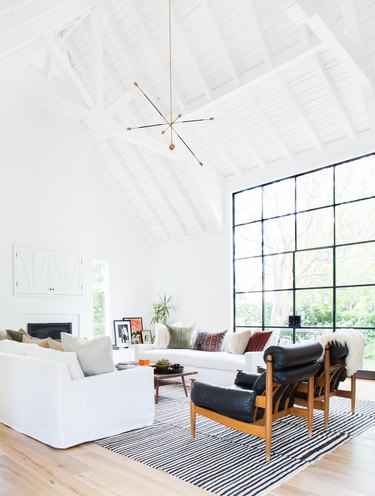 Does your living room have super-high, vaulted ceilings? First of all, we're kind of jealous right now. Secondly, we think that the ideal addition to vaulted ceilings is an incredible midcentury chandelier. The chandelier in this space designed by Amber Lewis is on the minimalist side, a perfect punctuation against the exposed ceiling beams.
5. Pair it with rustic decor.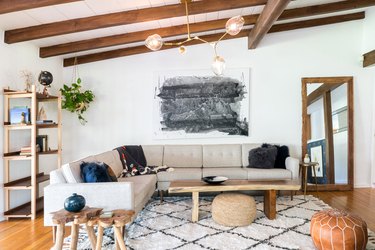 A midcentury chandelier pairs shockingly well with rustic decor, as witnessed in this living room designed by the team at Oh Beauty Interiors. To accomplish a similar living room lighting idea, style it with reclaimed beams, natural materials, wood furniture, and cozy textures. Then top it all off with a chic midcentury light.
6. Consider wall sconces.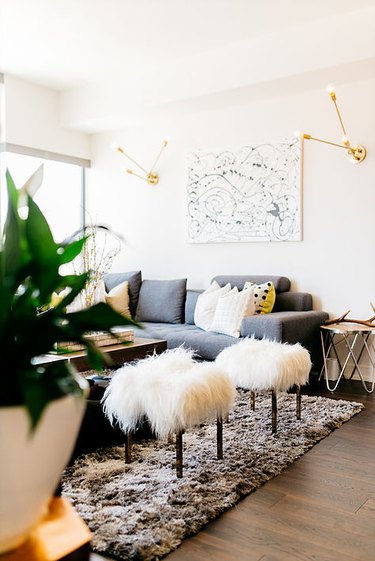 For something different, opt for living room lighting idea other than a chandelier or pendant light. Install midcentury wall sconces alongside your modern artwork, instead. The gold fixtures in this room designed by the team over at M. Swabb Interior Design look gorgeous next to the abstract painting hanging above the sofa.
7. Rethink your reading light.
You'll probably need a reading light for your new and improved living room, so why not take it in a midcentury direction? Instead of using a traditional reading lamp, the designers at A&B Curated went with a midcentury-inspired option, which works oh-so-well with the overall design scheme of this cozy space.
8. Dial up the drama.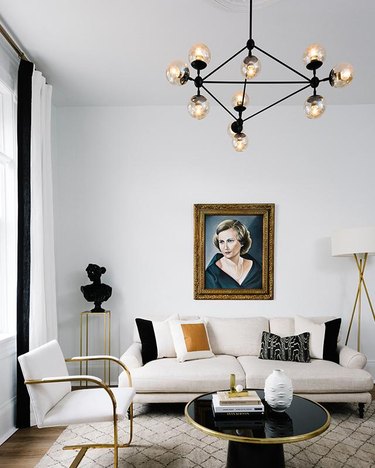 A midcentury light fixture brings instant, eye-catching drama to any space, as exemplified by this living room belonging to Havenly's head of design Shelby Girard. If you want to create striking aesthetics in your living room, start with a show-stopping midcentury chandelier and pair it with equally dramatic decor, like a bold oil painting and hints of black.