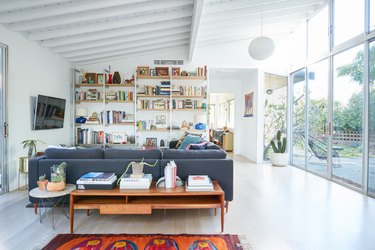 Renovating a period home can be a tough balancing act between old and new. But when Jessica Hansen, owner of Tandem Design, started the renovation of her midcentury modern home in Santa Monica, California, she was excited to mix her own style with the original design. "I love to restore midcentury homes," she said. "I think the key to doing that is knowing what to preserve and what to replace." First thing on the list of items to replace was the wall-to-wall carpet. Hansen swapped it for white oak flooring with a lye finish.
Another top priority was creating a better flow between the common areas. The house, which Hansen shares with her husband and two sons, had a bonus room that was separated by a breezeway with a laundry room. Hansen removed the laundry room and made the breezeway part of the interior of the house to connect all the spaces. She kept many of the original details intact, such as the stone fireplace and built-in shelving in the living room, and used a pale palette to let the vintage furnishings stand out. The end result is cool and collected — and the right blend of past and present.
---
Elizabeth Stamp is a freelance writer in Los Angeles. Her work has appeared in Architectural Digest, Elle Decor, and CNN Style.