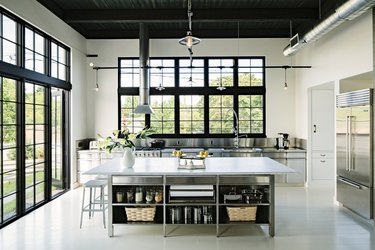 Stainless steel in the kitchen has always been a popular choice in restaurants and industrial cook spaces for its durability. But unless you are chef Thomas Keller, it's not often that the culinary novices among us will opt for metal cabinets out of fear of messy fingerprints and the potential for dents. However, we're on a mission to inspire a change of heart in regard to this versatile material that is warp- and stain-resistant. Here are eight kitchens featuring stainless steel cabinets to set your heart aflutter.
1. Mix and Match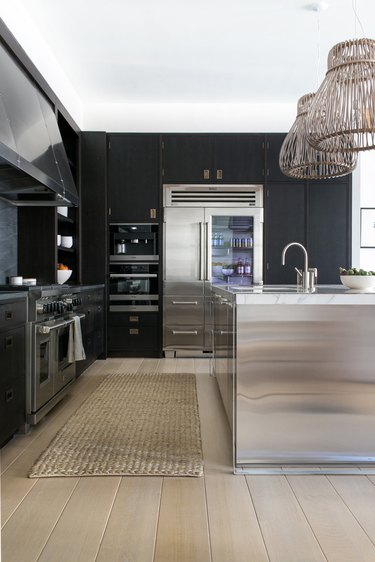 Stainless steel is ideal for creating an industrial vibe, and it looks wonderful when paired with matte black cabinets and light wood flooring as seen in this modern kitchen designed by Chango & Co. Contemporary woven pendant lights over the island help to warm things up and add a bit of texture.
2. A Kitsch Kitchen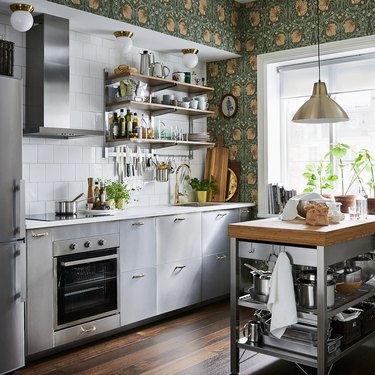 If you thought stainless steel kitchen cabinets would be expensive, then you are wrong as these metal door fronts can actually be bought straight from everyone's favorite Swedish company: IKEA. We think they look splendid paired with kitsch patterned wallpaper, helping to round out the kitchen's eclectic style.
3. Retro Inspired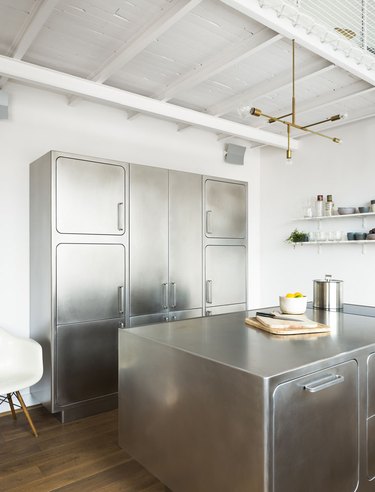 These stainless steel cabinets are a retro lover's dream with their rounded edges, flush-mount doors, and functional hardware. The team over at Festen Architecture left the rest of the kitchen fairly minimal, ensuring that the cabinets would always be the star of the show.
4. Clean Living
This kitchen's lofty industrial appearance pairs beautifully with stainless steel kitchen cabinets. The light pouring in through the oversize windows reflects off of the metal finish keeping the space bright, while hardwood flooring extends just enough warmth to keep this space from feeling cold.
5. A Moody Palette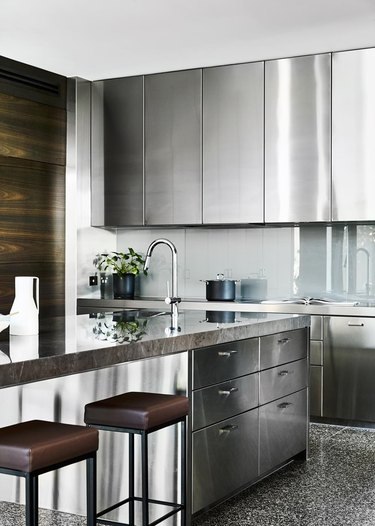 6. Organic Values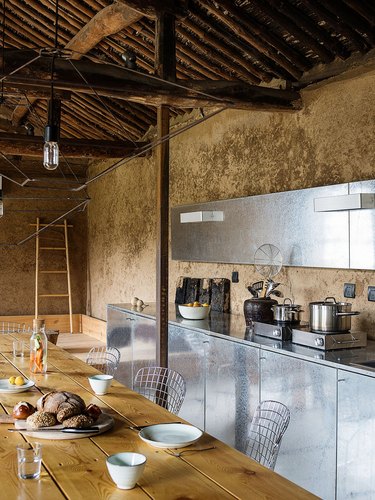 The stainless steel kitchen cabinets in this Beijing cottage's cook space take on a whole new life and become an even bigger statement. Architect Christian Taeubert paired them with organic materials, rustic textures, and warm tones, which impart a modern twist on a bucolic space.
7. Shelf Appeal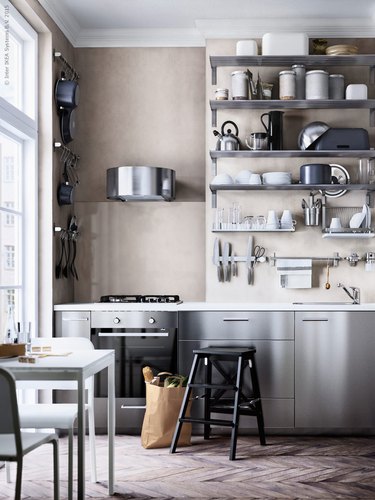 If your style leans utilitarian, then stainless steel is the material for you. This setup features steel cabinets on the lower half of the kitchen and stainless steel open shelving on the upper half. Just throw in a practical stool for reaching those high shelves and presto — you've got yourself a functional yet stylish cook space.
8. A Contemporary Take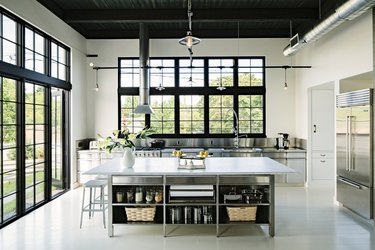 This beautiful design by the team over at Emerick Architects has the crisp look of a professional kitchen but has been softened with decorative touches — such as pendant lighting, open storage filled with culinary tchotchkes, fresh blooms, and large steel frame windows. It's open, airy, and full of natural light.