Upon scouring our sources for kitchen window ideas that would make a perfect indoor garden, it dawned on us: not every kitchen window is created equal. What if there's a door painted shut in a really opportune corner of the kitchen with a ton of natural light? Hmm. What if your fancy blinds have blocked every past attempt at a perfect plant-filled windowsill moment? Pause. And what if your landlord is laying in wait for you to grow weak enough to drill a hole somewhere visible? Reflect upon these six kitchen window ideas for such scenarios. Trust that we forever have your back, fellow plant lovers.
1. Use wood dowels to hang herbs in windows.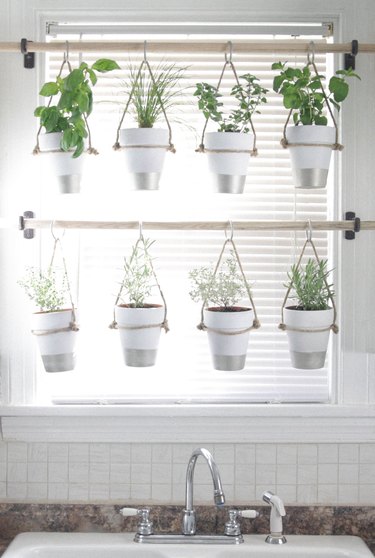 The ultimate kitchen window idea that will fill the gardening void, save money, and beautify your space is making an indoor hanging herb garden, like Amber from The Bird and Her Song, who published the handy how-to tutorial on her blog. It's great for adding delicious, healthy, and fresh ingredients to meals since all of your favorite herbs are now within arm's reach. It's a triple-threat project that is useful, pretty, and super easy to DIY.
2. Got an awkward kitchen door ... with a window?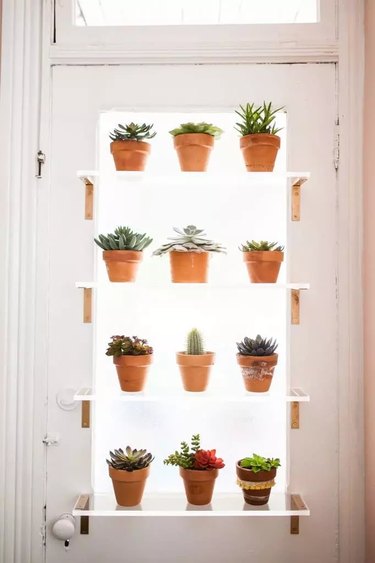 Katie Shelton from the blog Skunkboy shows the world how to make lemonade from one lemon of a nonfunctioning door. After months of staring at that corner, a light bulb finally went off. She had some acrylic shelving cut, painted some generic hardware store brackets gold, and voilà! Bye-bye awkward door.
3. Create an herb garden using old cans.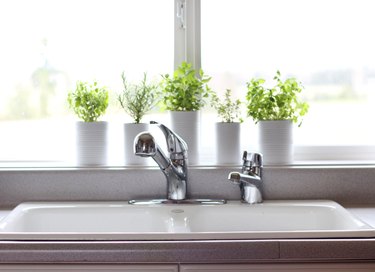 When it came time to design a kitchen window idea for her culinary space, artist Kendra Castillo) looked to her canned goods for inspiration. For less than $25 she created this minimalist indoor herb garden that could live on her windowsill. Follow her lead and dig some cans out of your recycling bin to get your DIY project started.
4. Keep it simple.
No need to go all-out with a window full of chaos when just one or two carefully selected herbs in rustic terra-cotta pots will do. To keep counter space free and clear for food prep, Chris and Julia of Chris Loves Julia took their winter herb garden vertical after a robust rosemary summer harvest. Take note how the earthy textures and materials added to that one corner are enough to soften the otherwise crisp, modern space. (BTW the planter style they chose comes in black and leather, too.)
5. Opt for a leaning plant stand.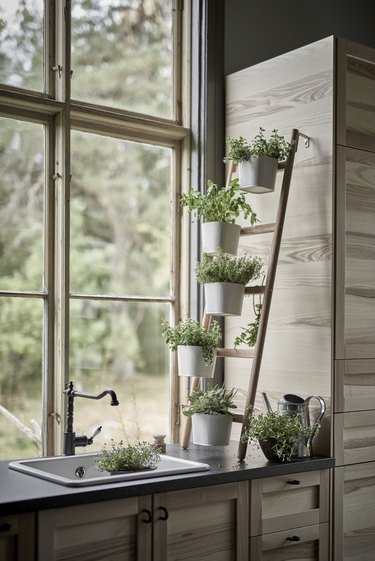 Maybe you're living in a rental where one gash or hole in a wall could mean the difference between celebrating at the end of your lease with security deposit in tact or ... not. If so, best to avoid the risk altogether and use a plant stand next to your windowsill rather than suspended above. This leaning bamboo beauty from IKEA ($39.99) could be just the ticket if you have room on your countertop. Plus, it'll give you an excuse to go buy more plant babies now that your greenhouse has doubled.
6. DIY wooden window shelves, with a twist.
This hanging plant stand is a sweet DIY project made by husband-and-wife homeowners, Michelle and Nick of Dreaming Home. For them, it provides privacy while still soaking up natural light, bringing warmth into their kitchen quite literally. Different, yet corresponding planters and pots provide interest to the boho-meets-modern space and can be easily recreated in your own home with thrifted or upcycled ceramics and a few succulent clippings from around the neighborhood.