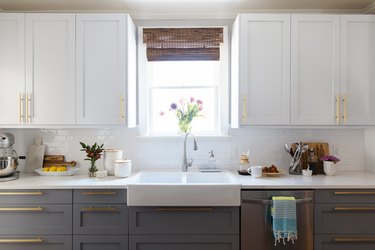 But there's room for so much more creativity if you want to experiment. Take, for instance, tuxedo kitchen cabinets. The term refers to upper and lower kitchen cabinets (and even kitchen islands) painted in mismatched colors. We chatted with Sue Wadden, director of color and marketing at Sherwin-Williams, to figure out how to incorporate this trend.
"Tuxedo cabinets have slowly been gaining in popularity for the past few years in response to the oversaturation of all-white kitchens," Wadden tells Hunker. "In fact, we've been seeing a return to color in all areas of the home as people are growing tired of the whites and grays that were so popular the past decade. People want more warmth and personality in their homes."
If that's not enough to convince you to take the leap, Wadden emphasizes that playing with colors will come in handy for more hands-on reasons, too.
"All-white kitchens are incredibly hard to keep clean, especially lower cabinets, which are more likely to get dirty and scuffed," Wadden says. "Dark lower cabinets hide wear and tear better than their lighter counterparts."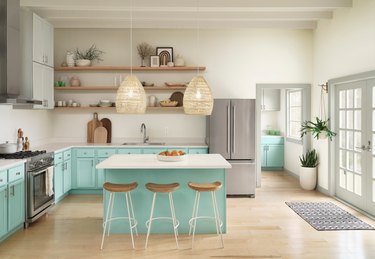 Not sure where to start? Wadden has noticed "blues and greens are really trending," like Sherwin-Williams' 2020 color of the year, Naval. You can also go bright and bold, with hues like Blue Sky.
A two-tone look can also be a great way to see how a certain shade would look in your space if you wanted to shake things up on a large scale. Wadden sees it as "a smaller commitment to color." So go forth and play with color!