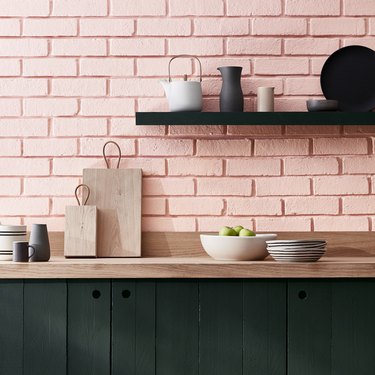 If you've always dreamt of having a Brooklyn loft à la Dan Humphrey from Gossip Girl, well, you're not alone. But for those of us who live in the real world, with real rent, there's no better way to get that industrial look than with a brick backsplash in the kitchen. Whether exposed or new, brick can make an ideal accent in your culinary headquarters, adding rich color and texture to your space. And if you needed anymore convincing, here are a few pros and cons to mull over.
When it comes to the cons, brick can be hard to clean due to its high absorbency level and rough texture. It easily absorbs liquids and can stain as a result of certain foods, not making it the easiest backsplash to maintain.
Still on the fence? Here are seven chic kitchen backsplash ideas that'll inspire you to give your home a lofty makeover.
1. Fill the entire wall.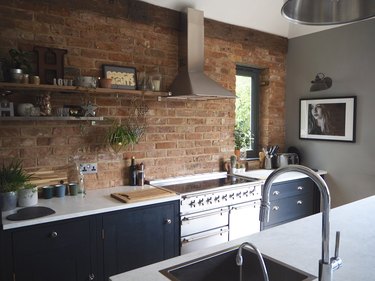 Wall-to-wall backsplashes are hard to do, but brick makes easy work of it. If the industrial material is already exposed, you don't need to do anything. In this case, complement it with stainless steel, wooden shelves, and a navy color scheme like Sharon from Hornsby Style. You can't go wrong!
2. Decide on your arrangement.
Another all important factor to consider with a brick backsplash is how you're going to install your brickwork. Will you go with a classic stacked style, or opt for something more playful such as herringbone or crosshatch? This minimal white kitchen backsplash by Sita Montgomery Interiors showcases a running bond style, so each tile starts in the middle of the tile below it.
3. Create a rustic feature.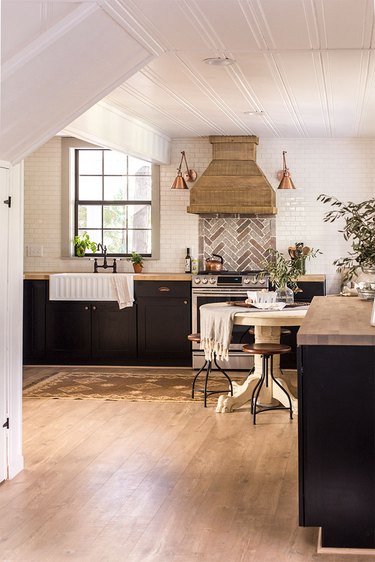 4. Extend upwards.
If you're one of the few lucky enough to have a Dan Humphrey-esque loft, we're officially jealous. But more importantly, if it ain't broke, don't fix it. Follow the lead of designer Tom Howley and take (or keep) the exposed brick from the floor to the ceiling for a dreamy industrial backdrop. No other backsplash is required and the finished result is open and airy.
5. Do something different.
6. Paint it.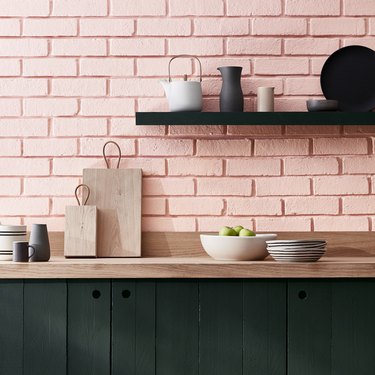 If you're a fan of brick backsplash ideas but not necessarily the traditional rust hue, paint it. Opt for a color that matches your space and your personality like this playful pink shade, appropriately named Confetti, from Little Greene. The finished result will look completely unique, plus it will be easier to clean, too.
7. Whitewash it.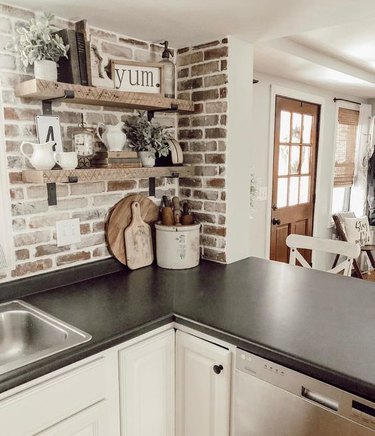 The rustic brick backsplash in this kitchen by Jennifer Johnson almost looks too good to be true. But rest assured it is in fact real (even if there are some brilliant brick wallpaper alternatives out there). This whitewashed kitchen backsplash idea was achieved by simply spreading a thin layer of white grout over the top of the brick and voila!
---
Emma Jane Palin is a multi-award-winning blogger and freelance writer with a penchant for design and interiors.
View Work