One of our favorite (and, dare we say, one of the most underrated!) materials is travertine. We love it for its durability and easy maintenance — you can simply wipe down with mild soap and water — and its relatively low cost compared to other natural stone options. While some travertine tile might run you closer to $35 per square foot, there are others that will only set you back about $10 per square foot, so make sure to do plenty of research when it comes to vendors and tile size or shape.
And to get you started, we're sharing five travertine backsplash ideas that prove the classic material is a great way to add depth and texture to your culinary space.
1. Opt for a classic pattern.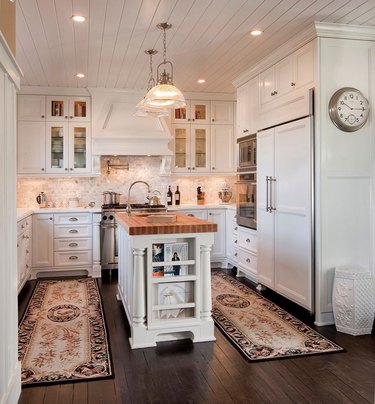 2.  Make it modern.
Simply changing up the size of your travertine backsplash can result in wildly different results, as seen here in this modern kitchen by W. David Seidel. The warm veining of the large rectangular tile beautifully complements the dark herringbone floors and clean white cabinetry.
3. Add a pop of color.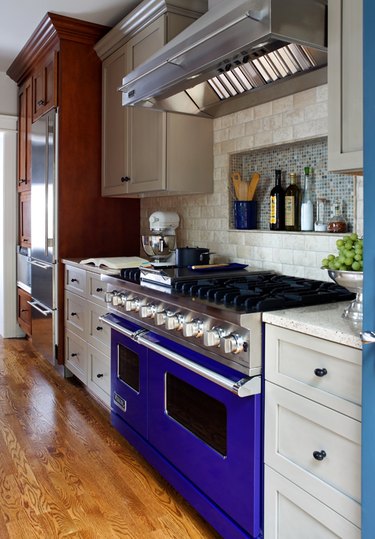 While we love the subtle look and feel of travertine, we also love it paired with bold color, too, as seen here in this eclectic kitchen by Wentworth Studio. To recreate this setup, opt for an accented enclave behind the stove (which doubles as storage!), and use two-tone cabinets for added interest. A colorful stove doesn't hurt either.
4. Create contrast with a patterned stove backsplash.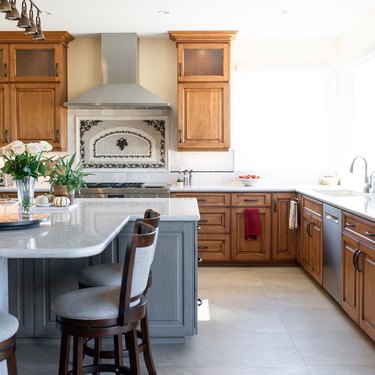 We love this travertine backsplash idea created by Tanya Sagendorf. The decorative medallion, made up of contrasting colors, adds effortless character and charm to this traditional design. And bonus, it's also a practical way to dress up the walls — win-win!
5. Take it to the ceiling.
Take your backsplash tile (and cabinets) all the way up to the ceiling to make your kitchen feel larger than life. This little trick creates the illusion of more space and higher ceilings, as seen in this design by Matt Morris Development. Pair with a statement hood to make your cookery look and feel even more high-end.
Where to Buy Travertine Backsplash Tile: