Everyone wants their home to be unique, right? RIGHT. These days it's easy to fall down a rabbit hole of inspiration and end up with a carbon copy of the latest "it" kitchen on Instagram. Which is why it's so important to pick and choose the trends you fall in love with carefully, especially when it comes to your kitchen backsplash.
The backsplash is an integral part of the kitchen, but what's to say that this functional element can't create an impact, too. In addition to protecting the walls above a work area, it can complement your countertops, resulting in a jaw-dropping design feature. Here are six of the most popular kitchen backsplash trends that you should immediately consider incorporating into your cook space. Use wisely.
1. Take it to the ceiling.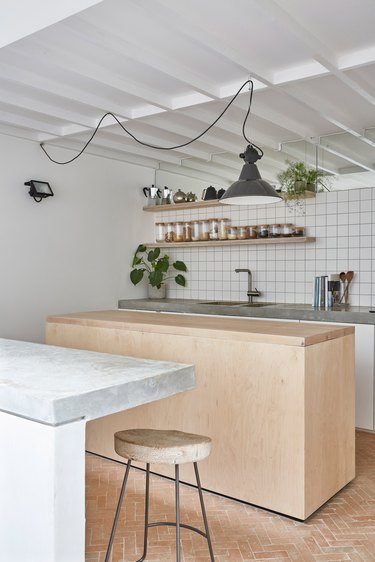 From the ceiling to countertop, a full-height kitchen backsplash is all the rage for creating a clean and contemporary look. The "all out" design ties together every detail and creates an easy transition between cabinets and ceiling. And the beauty is that you can use any material from subway tile to huge panels of heavily veined marble. Or, make like Hutch Design and go for a super cool, industrial grid effect complemented by open shelving, plywood cabinetry, and concrete countertops. If you're considering going without upper cabinets, this trend is the way to go.
2. Rock the unfinished look.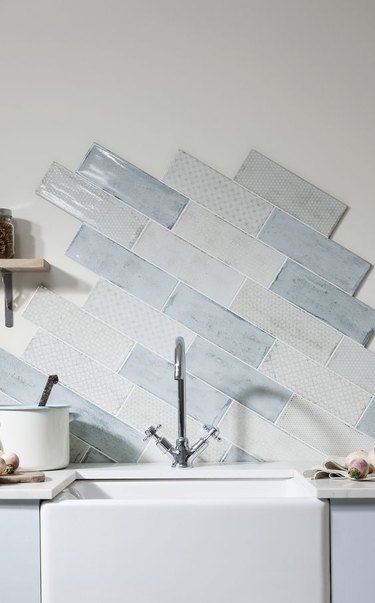 You'll either love it or hate it, but the "unfinished" kitchen backsplash trend is here to stay. If you're looking to add something a little different to your culinary space, this idea will definitely make a statement. There's something totally chic about the imperfect look of this blue and white tile arrangement. What do you reckon? YAY or NAY?
3. Seek the simple and understated.
Sometimes less is more and when it comes to kitchen backsplashes, this couldn't be more true. The minimalist trend seems to be all the rage in Scandinavian cook spaces, plus we reckon it's pretty friendly on the wallet, too. In this shaker-inspired kitchen, created by the design team over at 1934, a farmhouse sink is framed by green cabinets, wood countertops, and two simple rows of square sage-green tile.
4. Wow with marble.
Nothing says luxury quite like marble, especially large slabs of the good stuff. Instead of opting for individual tile to make up your backsplash, consider one panel or two to cover the area. This kitchen designed by Sarah Sherman Samuel did just that, resulting in a smooth, uninterrupted transition from countertop to backsplash that's just dreamy.
5. Embrace a metallic statement.
Stainless steel, copper, aluminum, gold, or zinc — whatever your fancy, a metallic kitchen backsplash is definitely worth considering. While not particularly subtle, the gleaming finish looks stunning under both natural and artificial light. This unique cook space designed by Naked Kitchens combines a rustic gold backsplash with pink walls and blue cabinets (sans hardware), and quite frankly, we're jealous.
6. Frame it with a shelf.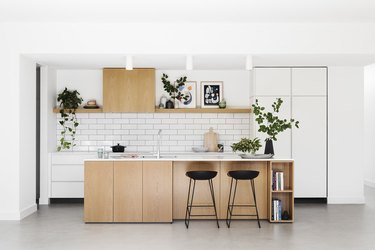 Upper cabinets are so yesterday. If you want to open up your kitchen, follow the lead of Cantilever Interiors and ditch the top cupboards and replace with a shelf that sits just above the kitchen backsplash. Not only will it break up your space and give you the chance to show off your favorite culinary objects and go-to ingredients, but it also helps draw the eye toward the backsplash truly making it the star of the show.