Modern style is fairly open to interpretation, but if you're looking to achieve the look in your own home consider these style elements: clean, open, minimal, and functional. In fact, if there's one area you can go a little more experimental, it's the backsplash. A sleek and clean design aesthetic is prevalent in modern homes but a talking point is always a good thing. Try not to get too excited, but here are eight of our favorite modern kitchen backsplash ideas.
1. Go bold with black grout.
Some might say that white tile is a little bit on the boring side, but when paired with black grout, darker cabinetry, and plywood details, it's anything but dull. If you're after a utilitarian feel in your kitchen, opt for a white square tile backsplash with black grout to create a super cool grid effect.
2. Play it up with patterns.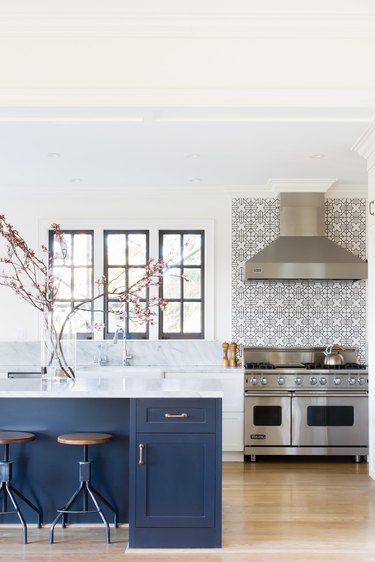 The full height backsplash is certainly a bit of a trend at the moment and this light and bright space from Regan Baker Design combines the counter-to-ceiling tile idea alongside a shorter marble backsplash. The natural stone blends seamlessly with the blue cabinetry, while the patterned tile backsplash packs a punch.
3. Add some magic with metal.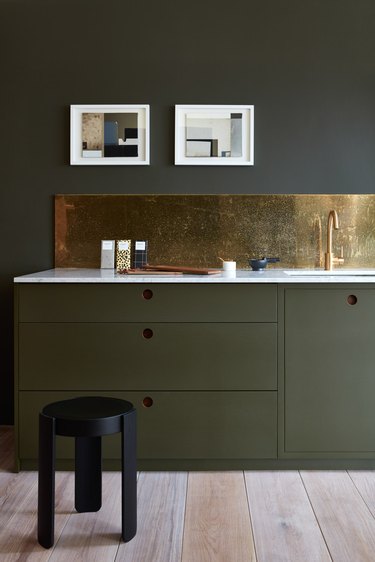 4. Say it with scallops.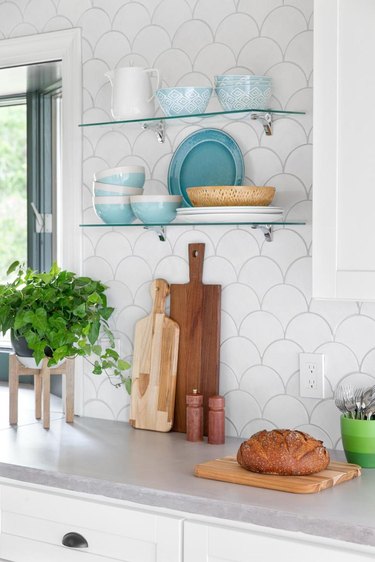 A sea-inspired aesthetic is all the rage right now and if you're a fan of the coastal look, fish scale tiles will be the perfect fit for your modern kitchen backsplash. The white scalloped tile from Mercury Mosaics is ideal for creating a clean and crisp look, while giving the space a little something extra.
5. Go mad for marble.
Are you a fan of marble? Well, don't stop at the backsplash — it's time to go all out. This kitchen designed by GIA Bathrooms and Kitchens features a marble countertop, backsplash, open shelving, and an island. While the look is certainly luxurious, it's also edgy and contemporary; now that's a modern kitchen backsplash done right.
6. Change it up with terrazzo.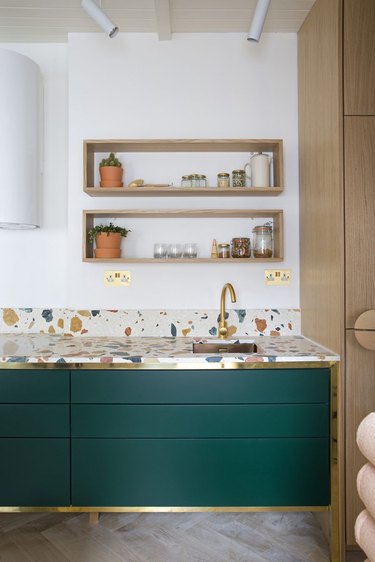 Nothing says modern kitchen like one infused with terrazzo trimmings. And in our eyes, terrazzo can do no wrong, as proven by this fashionable kitchen designed by Play Associates. The space brings together shades of green and brown via the multicolored countertop and backsplash, keeping the look fairly neutral with a splash of creativity.
7. Incorporate a dash of shelf appeal.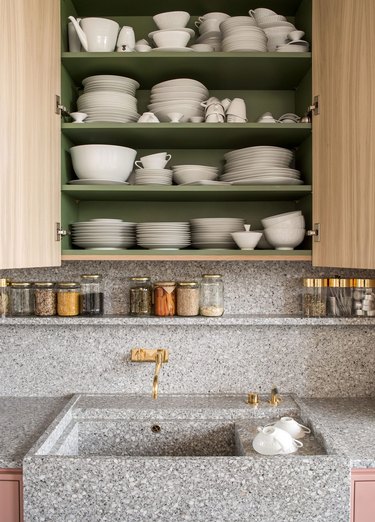 When in doubt, add a shelf. No, seriously, a shelf integrated into a backsplash makes for the perfect modern update while simultaneously adding visual interest to your kitchen. This design by Ester Bruzkus even proves that you don't need to replace your upper cabinetry with open shelving alone — this modern kitchen backsplash design makes room for both.
8. Opt for a blush makeover.
Soft blush tones plus a gently tumbled edge equals an oh-so-dreamy modern kitchen backsplash, eh? This marble tile from Mandarin Stone looks downright contemporary yet feminine as a full-height accent, and the look is kept neutral thanks to plywood cabinetry, copper details, and minimal styling.