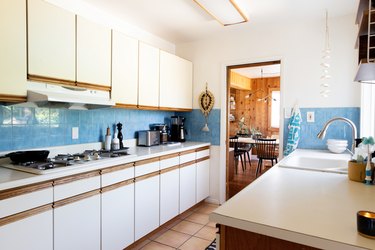 If ever there were a kitchen backsplash idea that couldn't steer you wrong, it would be white subway tile. It goes with everything and stands the test of time — there's no doubt why it's the most used in kitchen design. And yet, in classic Carrie Bradshaw fashion, we couldn't help but wonder ... is something more out there? Have we settled?
So, we did what all interior design enthusiasts do and consulted our resources. Boy, did they deliver. We found seven colorful (OK, colorful might be a stretch with some of these, but they're definitely not white) kitchen backsplash ideas that will have you reconsidering your love for white subway tile quicker than you can say farmhouse sink.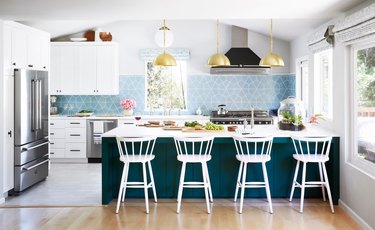 Leave it to Orlando Soria to find a way to include a fun shape and color into a kitchen design that somehow still feels classic. Pair with white cabinets and black hardware to ground the cheerful design, allowing it to stand the test of time.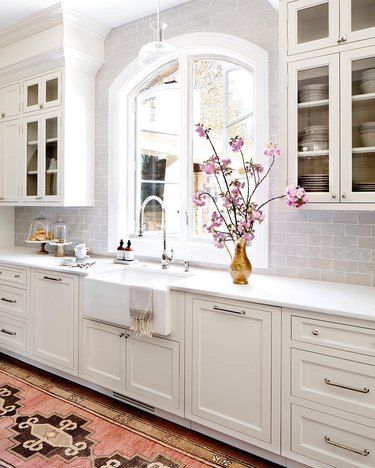 Not all color has to be loud and bold, even the whisper of grays in this kitchen backsplash by Stephanie Gamble Interiors allows contrast and personality against the crisp, white cabinets. Style it with pink accents to bring out some of the pink and purple undertones in the gray.
3. A Light-Blue Accent Wall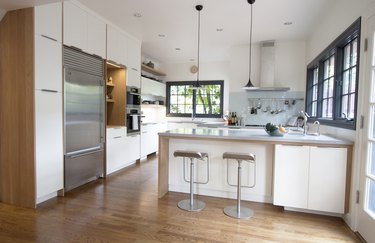 If you're worried about buyers' remorse from too big of a color commitment, take a note from Bright Design Lab and go with a subtle blue backsplash behind the stove for a playful vibe that still feels traditional.
4. Bold and Dark Penny Tile
This bold kitchen backsplash idea designed by Christine Zeiler throws both white and subway tile to the wind with a dark penny tile. Stopping a quarter of the way up the wall allows for plenty of contrast and keeps the space bright. Pair with brass accents for a dose of glamour.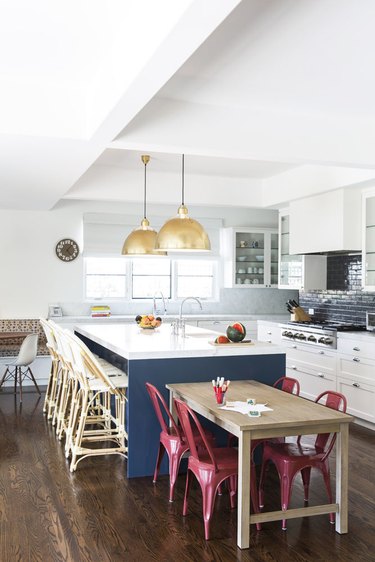 Navy is quite possibly the best color to work with when you don't want to stay neutral, but also don't want to end up in a state of panic at your neon-colored backsplash two days after it's been installed. It's the gateway to color. Recreate this look by designer Amy Sklar and pair your tile with bright white cabinets and big brass pendants that will allow it to really shine.
6. Matching Cabinets and Tile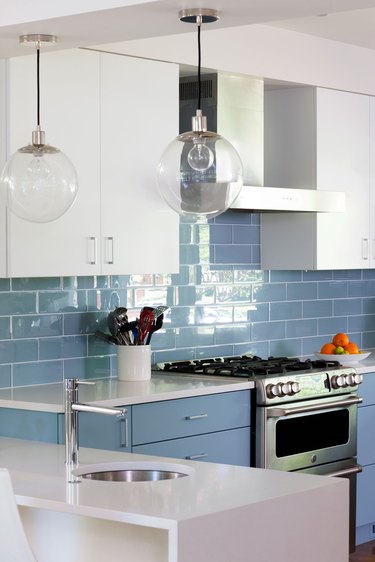 Designer Christie Leu shows us how to embrace color more than ever with this kitchen backsplash idea. Matching the cabinets to the blue tile makes a monochromatic yet bold statement. By keeping the upper cabinets white and sticking with a traditional subway tile shape, she managed to keep the look classic.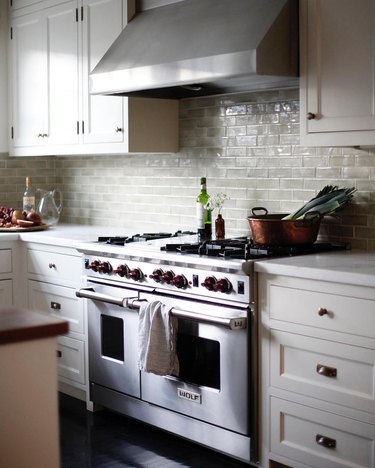 A hint of green and gray in this kitchen from Katie Hackworth adds just the right level of dimension to a traditional space. Pro tip: Choose a slightly textured tile to allow the subtle color to reflect even more in the light.