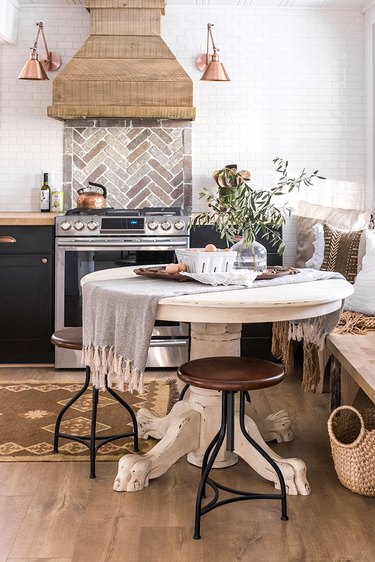 There are plenty of backsplash tile options to choose from nowadays — penny, terra-cotta, cement, and of course, trend-proof subway. While a backsplash of course lives up to its name by protecting the walls from splashes and spills, it can also act as an aesthetic anchor in a kitchen. Think of it as a design detail that communicates your personal aesthetic, and an opportunity to show a flash of personality.
If you are striving to design a culinary space that's classic and cool with a nod to natural materials and the outdoors, look no further than stone tile. It comes in a variety of shapes, styles, colors, and materials — granite, slate, limestone, and marble tend to be popular options.
Here are 10 inspiring kitchens that exquisitely embrace the natural look by showcasing stone tile backsplashes.
1. Create visual interest with a marble backsplash.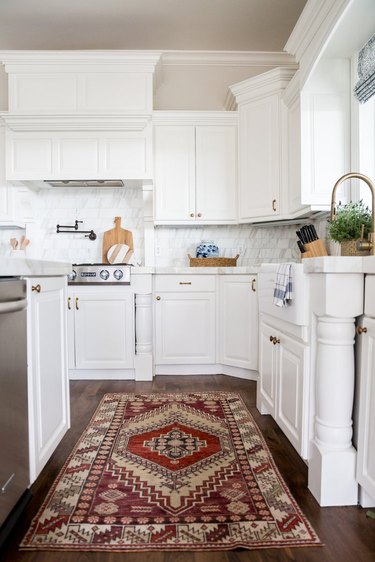 Marble decor (whether inspired or the real thing) is all the rage these days, so it should come as no surprise that the actual material, a form of limestone with beautiful veining, has been gracing kitchen backsplashes as well. In this airy kitchen designed by Shea of Studio McGee, the marble tile backsplash brings a hint of visual interest to an otherwise all-white palette.
2. Go for stone tile in various sizes.
No two stones are alike, and you can capture that variety in your own backsplash. Follow the lead of Tina and Victoria from Hoffman & Swinburne, who styled this kitchen using natural stone in all shapes and sizes to create a distinctive gray backsplash.
3. Set the tone for a neutral palette.
Since most stones are available in earth tones (makes sense, right?), the material works flawlessly in a kitchen with a neutral color palette. In this transitional space designed by Kitchens by Eileen, the stone tile in varying shades of gray punctuates the white and blue palette seen throughout the rest of the cook space.
4. Choose a matte finish.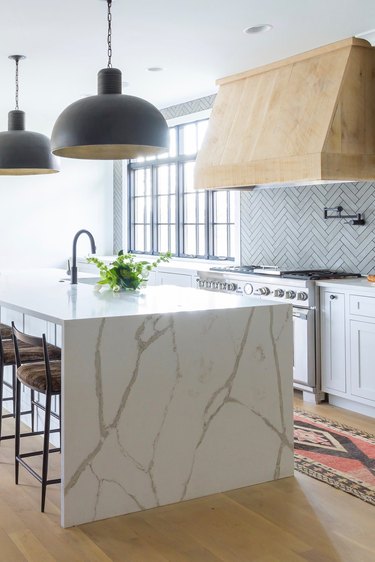 The natural texture of stone can make a backsplash truly one-of-a-kind, but if you're going for a more polished look, you can choose stone tile that has been smoothed down to a non-glossy finish. We're loving the matte look of this counter-to-ceiling backsplash in a kitchen designed by Mitzi Maynard.
5. Embrace an original wall that doubles as a backsplash.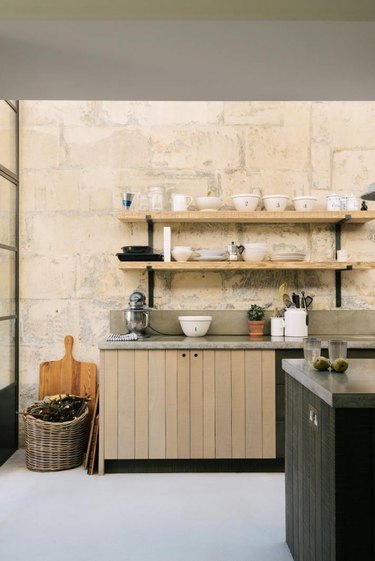 If you're lucky enough to live in a home with original stone walls, especially in your kitchen, allow that existing feature to also act as a charming backsplash. In this rustic cook space dreamed up by deVOL Kitchens, the stonework is a lovely backdrop for the open shelving and light wood cabinetry.
6. Install tile vertically.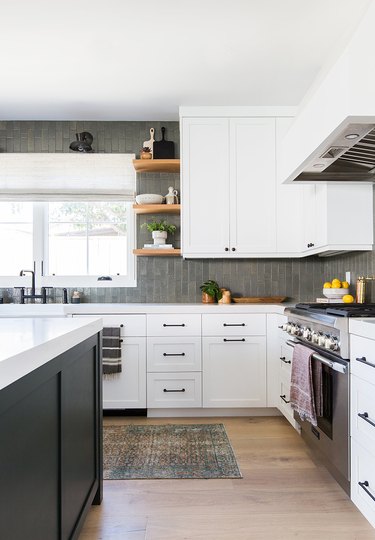 The subway tile we know and love tends to appear horizontally, but to mix up the design of your stone tile backsplash, why not install it vertically? This small change will draw the eyes upward, which is ideal if you have a tiny kitchen, and the pattern will garner attention, too. That is certainly the case in this kitchen designed by Amber Lewis.
7. Weave in drama with geometric stone tile.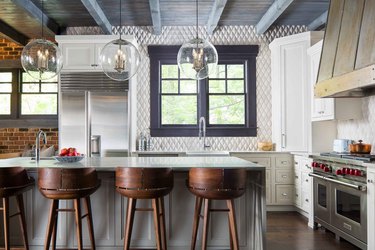 Today, stone tile is available in a near-limitless assortment of shapes and hues. To push your kitchen in an even more modern direction, think about purchasing stone tile in attention-grabbing, futuristic shapes, like the three-dimensional diamond pattern seen in this kitchen captured by photographer David Cannon.
8. Use natural-looking brick and limestone.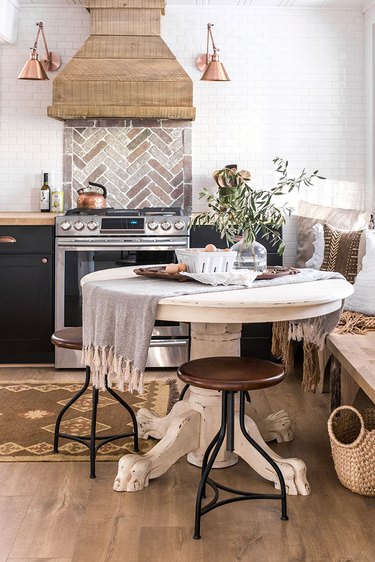 For farmhouse and French-style kitchens, brick and limestone are must-have finishing touches. In this cottage kitchen crafted by Jenna Sue Design, the stone tile backsplash in a herringbone pattern looks typical of a home's exterior and pairs perfectly with the wooden hood and white subway tile.
9. Try a herringbone pattern.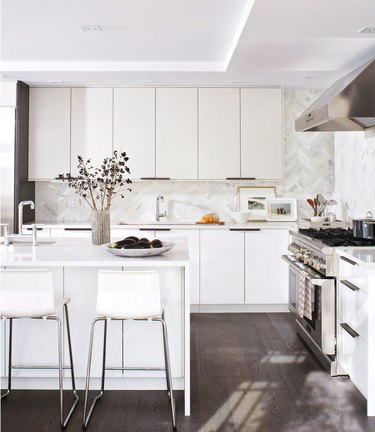 It's hard to go wrong with a herringbone pattern as a way to add visual interest, and a stone tile backsplash is no exception. In this kitchen designed by the team over at Croma Design, a subtle pattern adds a little zing to the marble tile backsplash.
10. Paint the existing stone wall.
If you already have an exposed stone or brick wall in place, or perhaps there was already a stone tile backsplash when you moved in, you can freshen things up with a coat of paint. In this space designed by deVOL Kitchens, simple white paint breathes new life into a stone wall that also happens to work brilliantly as a kitchen backsplash.