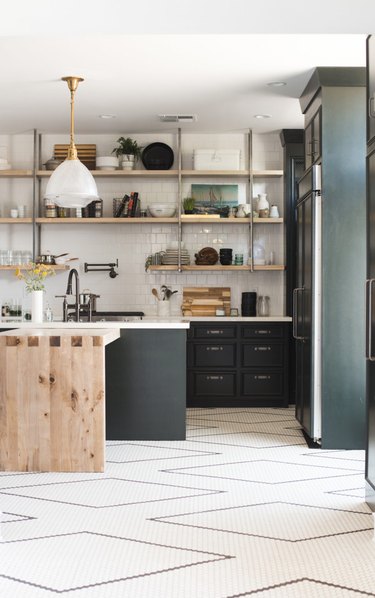 Trends change year after year, and there are few places where evolving trends are more evident than the kitchen. Each year ushers in a cabinet color ​du jour​, preferred hardware finish, or flooring style that becomes all the rage. Although there are some styles that won't be falling out of favor anytime soon (hello, subway tile), there are other designs that look and feel more current in 2019.
Undoubtedly, floor tile is a great idea when it comes to refreshing a kitchen. It's a relatively painless and efficient way to change the look of your entire culinary space, plus you can always choose to replace it in a few years if the style or your tastes change. From materials to colors and patterns, there's always something new around the corner when it comes to tile. Ahead we're sharing seven standout kitchen floor tile ideas that have caught our eyes so far this year.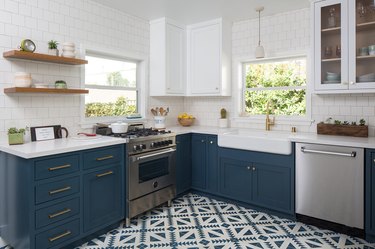 Long gone are the days of plain white linoleum or colorless tile as the only options available for kitchen flooring. Today, there's a near-dizzying array of hues and patterns to choose from — if you envision it, you can likely find it. For instance, this kitchen designed by Kelly at Kelly Martin Interiors features ceramic tile with a graphic blue pattern that complements the blue cabinetry.
2. Try a herringbone pattern.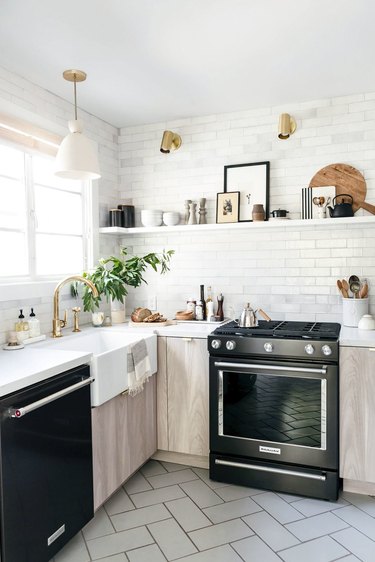 If classic is more your thing and you try to stay away from the latest fads, that's perfectly OK. You can still incorporate a contemporary kitchen floor tile idea by installing it in a fresh way. In this kitchen designed by Shea of Studio McGee, standard white tile in a herringbone pattern creates visual appeal that's equal parts charming and on-trend.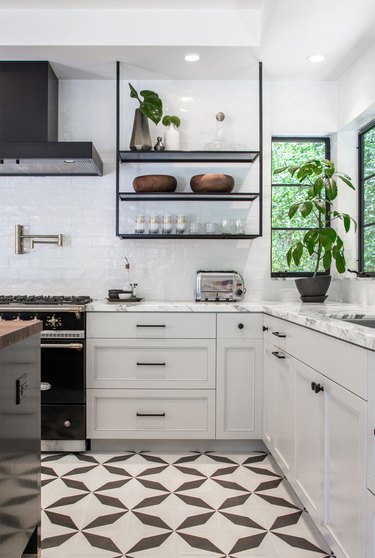 We love black-and-white patterned flooring in the kitchen, especially when the tile shows off a right-this-minute design. In this space designed by Maria and Annie of Von Fitz Design, the contrasting color combo lends tons of visual interest and the pattern meshes flawlessly with the other black elements throughout.
4. Consider warm and classic terra cotta.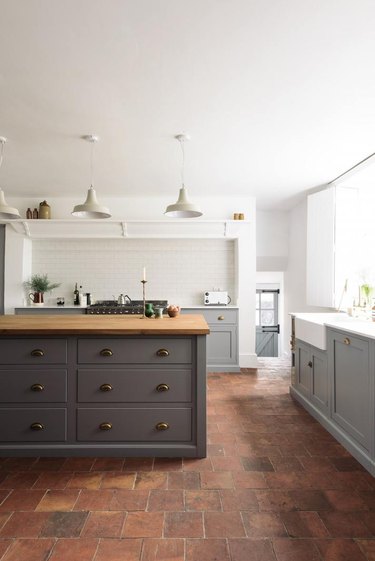 Tile trends are moving in a more natural and organic direction as well, and that includes terra-cotta which has literally been around for centuries. The rust-colored material is trendy again and we're partial to its ability to make a kitchen look simultaneously modern and rustic. The dreamy aesthetic can be witnessed in this classic-cool space designed by deVOL Kitchens.
5. Use pattern to pull in the color palette.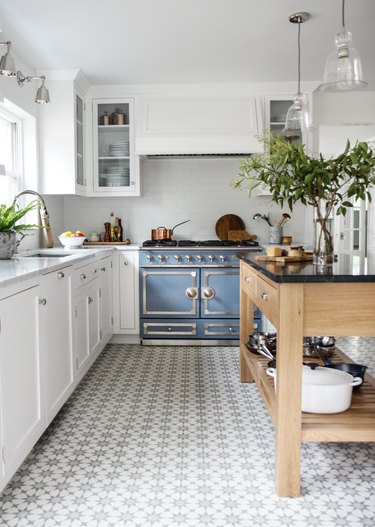 These days, we appreciate a kitchen that's tied together by tile flooring, a look that's evident in this modern farmhouse created by Park & Oak Interior Design. We adore how the blues, grays, and whites seen in the tile are echoed in the cabinets, hardware, and range. Simply put, it's picture-perfect.
6. Embrace an unexpected design.
There is an "anything goes" philosophy for kitchen floor tile ideas right now, and we're so here for it. If you dream something up that you haven't seen anywhere else, don't be afraid to make it a reality in your kitchen. In this culinary space created by Cathy at Cathy Dean Interior Design, striking tile was placed in the middle of the floor acting as a decorative runner through the galley design. We love how it also extends all the way into the bathroom.
7. Take a lesson in geometry.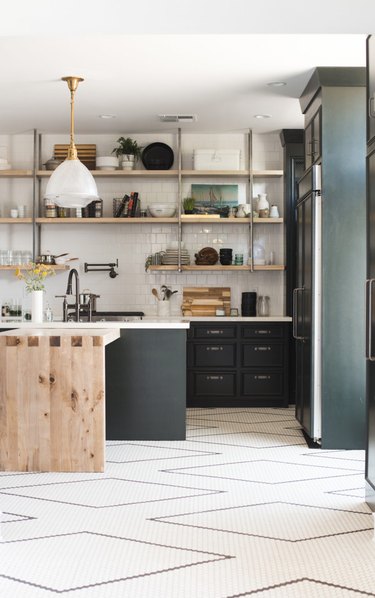 There are some designers who have come up with clever ways to go modern with traditional materials. For example, in this gorgeous kitchen, Mandi of Vintage Revivals created an eye-catching geometric pattern using tried-and-true penny tile. It's a simple yet impactful kitchen floor tile idea, and we can't get enough of it.