It turns out that there is more to the French countryside than fields of sunflowers and lavender, fresh croissants, and delicious wine; in fact, it has its very own style of decor. With light, bright colors and flowers galore, the most important thing to note about this aesthetic is that it's never homogenous. Character is its cornerstone: There are stories behind every piece of decor, right down to the dishes. If you daydream of whipping up crêpes Suzette and fresh lemonade in your French country style kitchen then you're in for a treat! You too can nail the coveted country look by working these 10 design elements into your decor.
1. You can never have too much reclaimed wood furniture.
When it comes to French country style, the more reclaimed wood you can incorporate, the better. The cooking and dining areas are usually the first spaces that you think of when picturing a provençal home, and the reclaimed wood furniture that fills them is one of the region's most iconic design elements — symbols of aristocratic opulence that have been made wonderfully utilitarian. You'll often see a grand wooden statement piece, like this gorgeous bench that designer Leah Bailey incorporated into a quaint mud room nook.
2. Caned furniture is a French country staple.
Caned furniture goes hand in hand with French country decor. The delicate weave of wood caning most often appears on chair backs and cabinet doors. As a chair back, it offers a breathable alternative to the fabric of upholstered chairs, which is more than welcome during the hot summer months. The basket-like design can also make for a handsome headboard. Feel free to add a little extra panache by accenting your caned furniture with gingham or floral textiles in French country hues.
3. Wooden chandeliers are so dreamy.
Yes, you're sensing a theme here. Wood plays a large role in French country style, even in chandeliers. Wooden chandeliers are a rustic delight and they also happen to be perfect examples of 'farmhouse chic'. A well-placed chandelier can make a room feel bright and spacious, while the choice of natural wood for the fixture's frame brings in a bit of the outdoors — which is, after all, what the style is all about. The simplicity of this wooden chandelier's design from Studio VC, is simultaneously sophisticated and humble, a perfect match.
4. Add some romantic glamour with an ornate bed frame.
Whether constructed from iron or carved from rich walnut or mahogany, French country bed frames are beautifully ornate as well as incredibly durable — meant to be passed down from one generation to the next. While wood bed frames add a warmth and richness, the use of an iron frame is an easy way to introduce a new material into a bedroom that may already have a lot of wood furniture. Pottery Barn has a lovely iron headboard available in an antique pewter or distressed white finish.
5. Enhance your furniture with intricate fretwork detailing.
The cabinet drawers and doors in French country style homes frequently feature detailed geometric patterns known as 'fretwork'. These decorative patterns add dimension, along with a remnant of old-world grandeur. Since the style saw a huge revival in midcentury decor, you can find fretwork pieces that are currently being manufactured by your favorite retailers. The down side: Fretwork embellished furniture tends to come with a hefty price tag. To give your new purchase a little provençal charm, consider this fun DIY project. However if you are looking for something really authentic, vintage is always the way to go.
6. Add a little ooh là là to your home with Bergère chairs.
These iconic chairs are a luxurious addition to a French country cottage. Symbols of wealth, aristocrats filled rooms with these chairs and other sumptuously stuffed and color coordinated furniture, upholstered in the finest French linens. Traditionally French country style has shied away from matching furniture sets, in favor of mixing and matching materials. With the exception of that one special, 'fancy' piece (or set) of furniture, such as Bergère chairs, that may have been passed down from one generation to the next.
7. Look for furniture options with cabriole legs.
The aesthetically pleasing curve of cabriole legs are a staple of French furniture design. While Cabriole chair legs were originally designed to accommodate the large size of ladies' dresses, we're thankful that the delicate looking style has lasted the test of time and is used in furniture design today. The graceful lines of cabriole-style furniture add a romantic visual appeal that just can't be duplicated — not to mention, they make for lighter and easier to move furniture.
8. Bring a bit of the outside in with garden urn table lamps.
Light your charming country style home with table lamps whose bases resemble the type of stone urn that you might find while taking a stroll through a garden. Much like other 'country' styles, French country decor likes to celebrate nature by bringing the outdoors in. Repurpose jam jars as drinking glasses, old-fashioned milk bottles as water carafes, and garden urns as table lamp bases like this molded ceramic and cement-base lamp by Lark Manor.
9. Candle lanterns exude warmth and charm all year long.
Evoke an alluring warm-summer's-night ambiance all year long by incorporating a few candle lanterns throughout your country cottage. Use them for indoor lighting, garden lighting, or for dining en plein aire (outdoors). Sconce-style lanterns are also a great way to add a little romance to entryways, both interior and exterior. This rustic lantern option by Lark Manor has a distressed whitewash finish that's perfect for French country decor.
10. The beauty of embroidered linens in undeniable.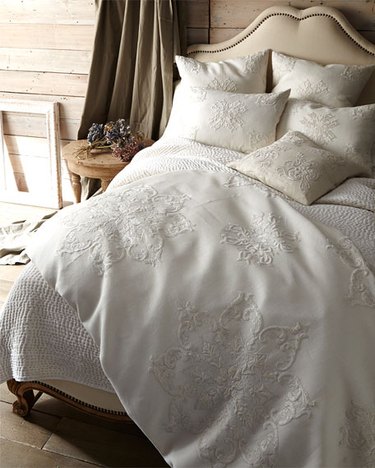 Floral motif embroidered linens — from valances, to table cloths, to delicate eyelets — go hand-in-hand with French country style. For fabrics with more detailed embroidery, stick with a neutral French color palette to avoid detracting from the elegant design. While you're out shopping for new your new linens, look for monogramming options to add a personal touch to your napkins, hand towels, and more. And if you want a more authentic collection, peruse thrift stores for vintage lace doilies and table runners to decorate the various rooms throughout your humble French abode.