If you're like us and you've often fantasized about getting in touch with your inner Jane Austen, transforming your boudoir into a quaint toile-filled countryside respite, or maybe you just really enjoy perusing beautiful design, you are in for a treat! Here are 12 ideas to help you turn your dream of an English country bedroom into a reality.
1. Florals, florals, and more florals.
Whether it be fresh flowers, linens, drapery, upholstery, or wallcovering, florals are a must in an English country bedroom. Incorporating the natural beauty of the outdoors, bringing it in, is part of the charming appeal of English style.
2. Invest in a four-poster bed.
A classic four-poster bed would be perfectly on-trend in an English country bedroom. Having graced homes for centuries, this statement making piece of furniture has long been a designer favorite. And is it any wonder why?
3. Vintage wood furniture is a hallmark of the style.
Browse yard sales, flea markets, your parents' or grandparents' homes, and the like for one or more vintage pieces of wood furniture. The search for these staple elements will be well worth the effort, and investment, as they instantly add a sense of authenticity and history to your English country bedroom. Not to mention these heirlooms can enjoyed and passed down through your family for years to come.
4. Tchotchkes are a must.
English country is a style that should not look "planned." Approach this trend as if generations have lived in the home, and accumulated a rich collection of mementos and tchotchkes over time.
5. Pair wood furniture with a statement mirror.
Every bedroom needs a statement-making mirror that not only visually expands the space, but can also add variation to a wall covered in a busy floral print.
6. Hang floral or toile motif window coverings.
An English country bedroom is cozy, first and foremost. Add warm texture and layers to your space by installing dramatic window coverings. Use patterned fabrics, such as florals, toile, and damask prints, which were all hallmarks of the period.
7. Install floral or toile motif wallcovering.
Wallcovering, similar to window coverings, is a staple of this aesthetic. Lush pastoral scenes and organic patterns, like this Colefax and Fowler print, would work beautifully in an English country bedroom.
8. Exposed wood beams are naturally beautiful.
Anytime you have the opportunity to incorporate your home's original architecture — exposed brick walls, wood flooring, wood beams — take it! The authenticity that those historical details can impart is priceless, and they also add a rustic component that rings true in keeping with the country style.
9. You can never have too many books.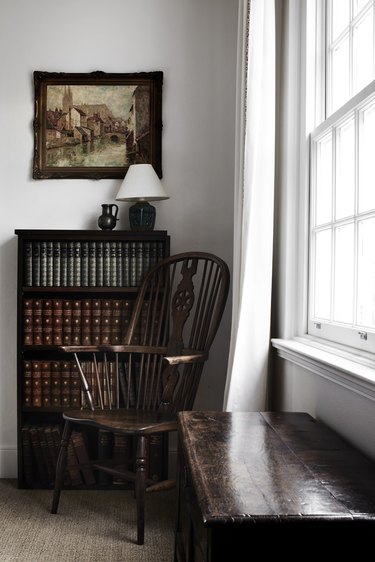 If you lived in the English countryside, you would have lots of time to read. So fill your bookshelves with all of the classics. Hardcover books work best, the older the better. If your book collection is limited or perhaps it is stored on your iPad, you can always find old books at thrift stores, flea markets, and garage sales.
10. Fabric lamp shades are so charming.
Appreciation of the countryside is a constant theme in an English country abode all the way down to the smallest details, such as lamp shades covered in floral motifs. This decorative accent is a lovely way to tie your country-chic design together, while adding contrast to more rigid patterns such as stripes.
11. Consider a muted color palette inspired by nature.
This style takes a lot of color inspiration from nature — green trees, brown earth, blue sky, and pink flowers. Consider a muted color palette as a way to bring in a bit of the bucolic countryside you adore to create a perfectly dreamy boudoir.
12. Don't forget to carve out space for cozy seating.
Imagine curling up with a cozy blanket and your favorite novel while sipping a warm cup of tea in a space, that can only be described as an idyllic, English country dream. Can you picture it? Whether its a picturesque window seat, an antique rocking chair, or a wingback lounge chair, a place to sit back, relax, and enjoy your new bedroom is a must. Have fun adding pillows and mix-and-matching floral prints to create a comfy little reading nook all your own.