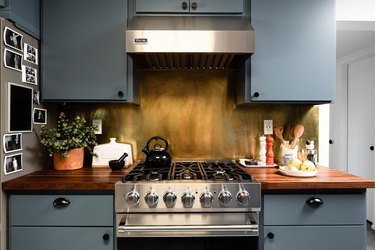 Taking a creative approach in your home doesn't stop at the paint job. It's ALL about the details. And in a kitchen, that means everything from the hardware to the lighting to the backsplash. But a creative solution doesn't have to mean a less functional one. Kitchen backsplashes have evolved and are now designed using a whole host of different materials — think wallpaper, wood, stone, and even cork. So if traditional subway tile just isn't your cup of tea, here are nine creative kitchen backsplashes that will wake up your culinary wild side.
1. Opt for a uniquely original tile.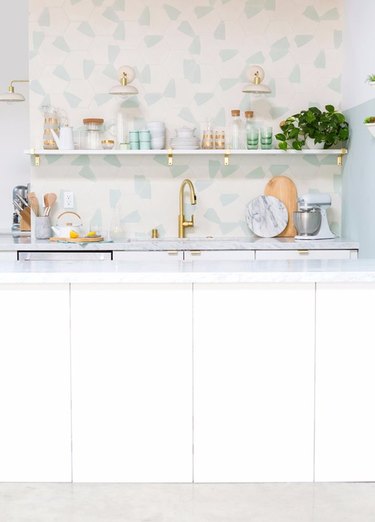 Make life easy for yourself and select a tile that features the right amount of artistic flair. The Oh Joy! collaboration with Clé Tile features bright, colorful prints and while the creative design has already been applied, it's entirely up to you how to lay it out.
2. Get playful with colorful grout.
Struggling to stay away from the safety of white tile? Take a baby step and liven things up with colorful grout instead. This contemporary kitchen by London-based kitchen designers HØLTE has taken a basic grid-style backsplash to the next level thanks to a bright pop of orange. Go bold or go home.
3. Add a rustic touch with concrete.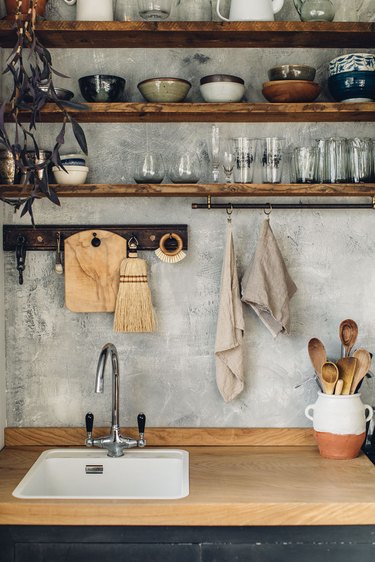 4. Combine different textures.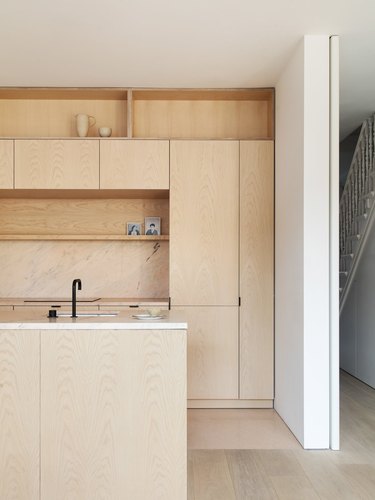 You don't have to stick to just one kind of material for your kitchen backsplash — mix and match for the ultimate backdrop! This neutral design scheme by O'Sullivan Skoufoglou Architects combines pale-pink stone with a wood wall panel and shelf to bring a fresh approach. Think outside the box and go for materials that bring something different to the table.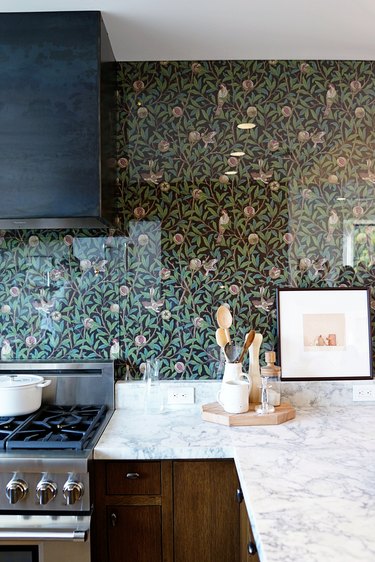 Can't find the tile you want for your kitchen backsplash? Use wallpaper instead! Lisa from Good on Paper spotted a gorg floral print showcased in ​Sunset​ magazine's 2017 Idea House and we are smitten. A layer of plexiglass protects the dramatic pattern so it can be enjoyed for years to come. The solution still functions as a normal backsplash and the end result is rather striking.
6. Go clean with stainless steel.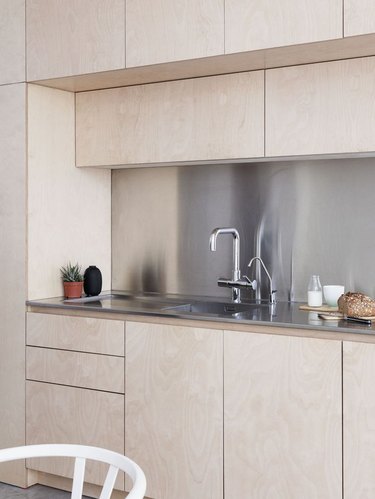 Stainless steel is a match made in heaven for natural materials such as plywood, polished concrete, and plaster. And this minimal kitchen by Larissa Johnston is picture-perfect proof. The design combines a stainless steel backsplash and countertop with all of the above to create a simple and sleek cook space that stands out from the crowd — a dream home kitchen for the budding chef in your family.
7. Use floor tile instead!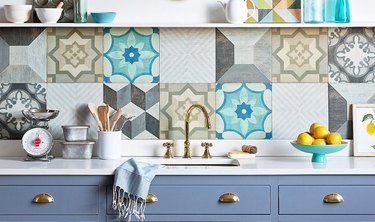 Don't just look in the wall tile section for your kitchen backsplash, head to the flooring area, too. You never know what treasure awaits you, as demonstrated by the dynamic hardwood floor tile in this kitchen. The Mirth Studio tile patterns have been randomly mixed and matched to create a backdrop that's completely unique and dripping with artistic charm. Just make sure you seal it to ensure that it's water-resistant.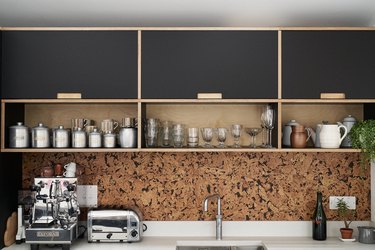 Fans of cork rejoice: This is the kitchen backsplash for you — pins at the ready. Seriously though, how photogenic is this stylish design scheme? Mix a cork backsplash with plywood and birch cabinet fronts by Plykea to create a beautiful kitchen full of light and contrast. Swoon!
9. Make magic with mirrors.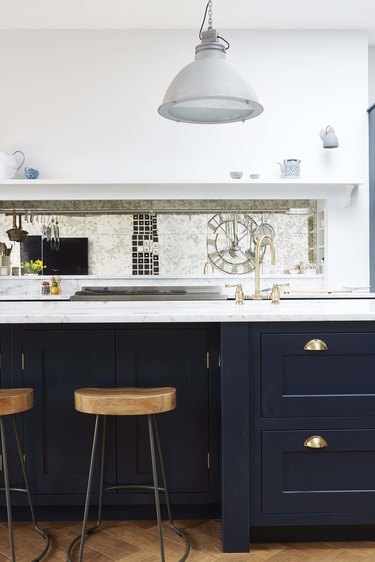 There can never be ​too​ many mirrors in the house in our opinion, so why not let your kitchen backsplash in on the fun, too? A mirrored backsplash like the one in this culinary space designed by Blakes London can reflect light, making your space appear a lot bigger while simultaneously creating an eye-catching statement.