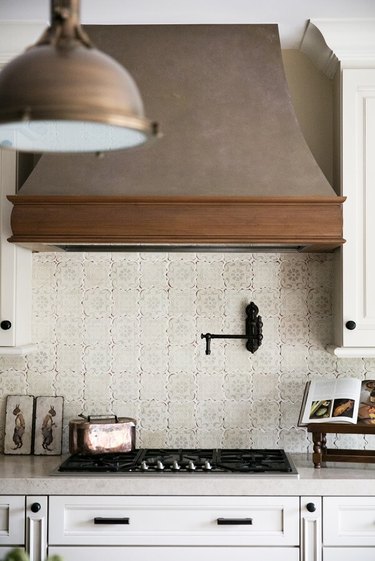 Farmhouse style stems from, well, farmhouses. This country aesthetic is a great way to make your humble abode feel like a home. Of course, when you're trying to create a welcoming aesthetic, there's no better place to start than the heart of your refuge ... also known as the kitchen.
Traditionally, the pastoral vibe makes use of cozy and welcoming features that bring to mind an old English cottage; think distressed wood, natural stone, vintage decor, and ceramic or cement tile with subtle patterns. But don't worry. This doesn't mean that you need to completely overhaul your cook space just to incorporate a dash of bucolic flair. In fact, if you've been thinking about the rustic look, you're in for a treat! Here are six farmhouse kitchen backsplash ideas to satisfy your craving for rural charm.
1. Use neutral colors.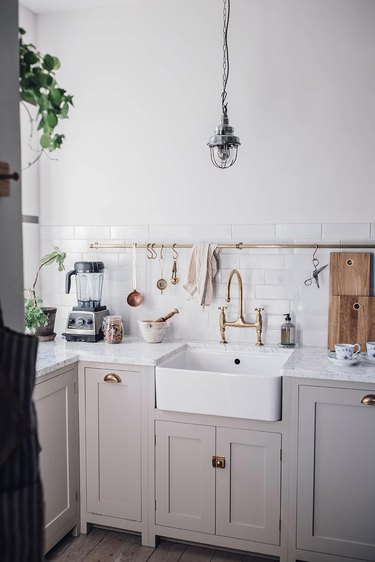 2. Bring in vintage elements.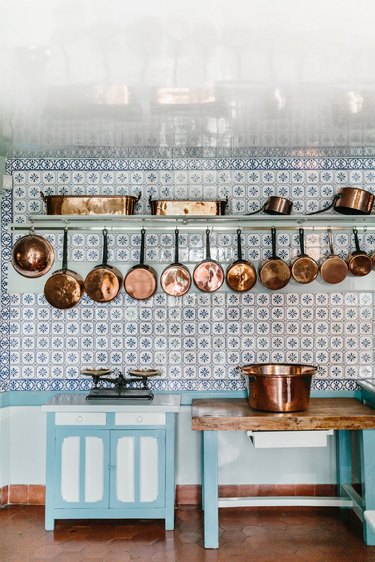 Follow the lead of Claude Monet's kitchen, captured by photographer Carley Summers, and bring a few antique elements — such as vintage wall tile and industrial lighting — into your cook space. The full-height kitchen backsplash featured in this rustic design is made up of a classic blue and white patterned tile complemented by hanging copper saucepans, which is reminiscent of farmhouses in the French countryside. We're totally not jealous ... not at all.
3. Choose subtle patterns.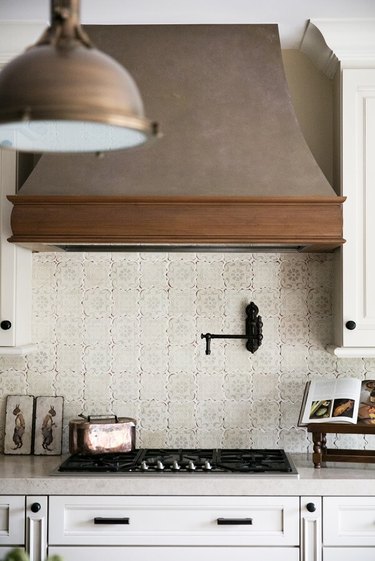 Cement tile is pretty popular in farmhouse kitchens, and thanks to the versatility of said tile, there's pretty much a look to suit everyone and every space. Subtle patterns and neutral color schemes will keep your kitchen backsplash looking classic (take note of this design scheme by LBF interiors).
4. Or, make a statement.
If you want to add a pop of color to your farmhouse kitchen, that's perfectly fine, too; just limit it to a smaller or enclosed space. This modern design created by deVOL Kitchens utilizes a gorgeous pink cement tile, but the remainder of the cook space stays neutral and sleek.
5. Natural materials are warm and inviting.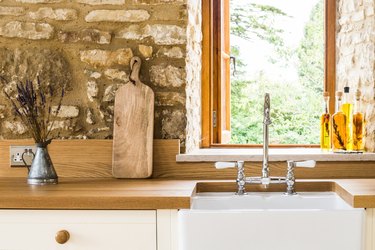 Chances are that natural materials such as stone or brick are already making an appearance in your country farmhouse, but that shouldn't deter you from adding more. Take it one step further and opt for wood countertops and matching kitchen backsplash like this quintessential farmhouse design. A warmer finish will keep the look feeling modern. Just be careful not to go overboard with other decorative accents.
6. Push the boundaries.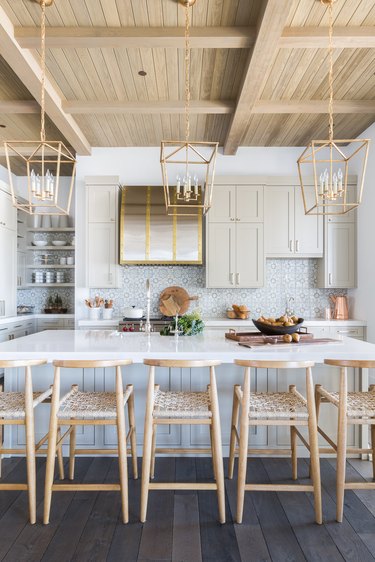 Get the look:
Want your own farmhouse kitchen backsplash? Shop these three brands with a range of tile options to choose from.
Exfloorit's huge range of farmhouse tile is the perfect place to start when tackling your kitchen backsplash. Shop here for subtle color palettes, unique wood and metal features, along with sturdy, practical design elements.
Atlas Ceramics has a variety of tile suited to a farmhouse backsplash, from subtle patterns to natural styles.
UK-based Winchester Tile Company is the country's leading producer of handcrafted tile, which is ideal is you're looking for an authentic English country look.
---
Emma Jane Palin is a multi-award-winning blogger and freelance writer with a penchant for design and interiors.
View Work