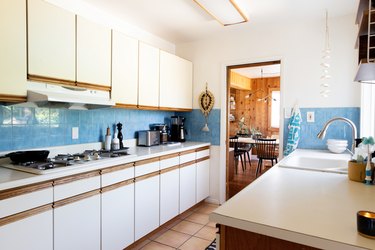 The primary function of a kitchen backsplash is to prevent the many splashes and stains that can happen in a kitchen from damaging the walls. However, it can also serve as the focal point between your countertops and cabinets and can turn an average kitchen into something much more attractive.
Deciding which backsplash materials to use can depend on a few things, including cost and ease of installation, particularly if you plan on doing the backsplash installation yourself. The right mix of function, design and cost is important when trying to choose the right materials for your kitchen. Knowing the pros and cons of a few cost-efficient backsplash materials will help you decide on a material that's right for you and your kitchen.
Ceramic Tile Backsplash
For many years, tile has been among the most popular kitchen backsplashes. While the design trends have changed over the years from bright 1950s colors to decorative mosaic to more natural-looking tiles, it's the durability of tile that has made it so popular over the decades. A tile backsplash is nonporous, resistant to heat, easy to clean and durable, meaning it will protect your walls while lasting for decades.
There are many types of tile that can be used for a kitchen backsplash, including ceramic, glass and marble. Glass and marble tile have many benefits, including their appealing design and ability to light up a room, but they tend to be quite expensive and can be difficult to install. Ceramic tile, on the other hand, has remained very popular over the years largely because of its durability, low cost, large variety of colors and patterns and ease of DIY installation.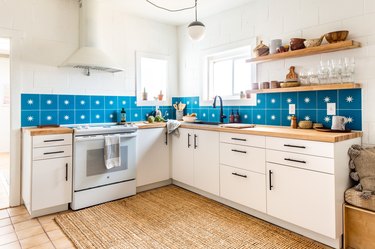 Because there are so many options when it comes to buying ceramic tile, the price can vary quite a bit, but the average cost for midrange tiles is $2 to $12 per square foot. Tiles are installed using mortar and grout, but an easier option that is growing in popularity is the peel-and-stick ceramic-tile backsplash that comes with a self-adhesive backing. They come in sheets usually measuring 12 x 12 inches and will still require the use of grout between the tiles.
Ceramic tile's durability means that it will often outlast the grout, so it's important to use quality materials. According to Green Building Advisor, a polyurethane tile grout is more durable and works better than an epoxy grout for this type of application. While it may cost more than epoxy or cement-based grout, polyurethane grout is more stain-resistant and can be easier to install than other types of grout.
Washable-Vinyl Wallpaper
Washable-vinyl wallpaper is an especially good option for a kitchen backsplash for those on a tight budget. Because of its material, vinyl wallpaper is resistant to moisture and humidity while also being easy to clean and durable enough to resist scrubbing. Vinyl wallpaper also comes in many designs and is even a great material to have custom made with a personal photo, although that can bring the cost up by several hundred dollars.
The cost of vinyl wallpaper is as low as $1 per square foot, making it extremely affordable. It's also quite simple to install yourself and is an easier project than installing regular wallpaper because vinyl is thicker and less fragile. For installation, you will need a level to make sure the wallpaper is applied straight along with vinyl paste adhesive and a brush to apply it. An even easier option for homeowners and renters that requires no tools is self-adhesive wallpaper. The wallpaper can be cut to fit with either scissors or a razor knife.
Laminate Backsplash
A laminate sheet backsplash is another inexpensive DIY option for a kitchen backsplash. While laminate may be thought of as old-fashioned because it was a popular choice for bathroom walls in the 1960s and 1970s, what is old sometimes becomes new again, and it is a popular choice for those on a tight budget who aren't afraid to do the work themselves. The cost of laminate can be as low as $2 per square foot. It usually comes in 8-foot or 10-foot sheets and can be found at most home-improvement stores.
Laminate is nonporous, waterproof and easy to clean, making it perfect for use as a backsplash. It can be purchased in large sheets and cut to fit, meaning there are little to no seams to seal. The disadvantage of this is that the size of the material can make installation a little more difficult. Laminate is installed by mounting medium-density fiberboard with a thickness of at least 3/8 inch onto the wall and using an adhesive to affix the laminate to the fiberboard.
Stainless Steel and Metal Tiles
Stainless steel is used for countertops in restaurants and an increasing number of homes because it is resistant to heat, moisture and stains and is very easy to clean. For these reasons along with its sleek design, stainless steel makes an excellent kitchen backsplash. The main disadvantages of stainless steel are that fingerprints and smudges show up easily and require frequent cleaning, and stainless steel can scratch easily.
Stainless steel can be a little pricier than some other backsplash options at $30 to $80 per square foot installed, but it will last a long time, and you can save a lot by installing it yourself. A stainless-steel backsplash is very easy to install because it is simply applied to the wall with an adhesive. Sheets of stainless steel can be purchased online, but you should get custom-cut sheets because cutting stainless steel isn't really a DIY option. You can probably find a better deal from a local metal or steel manufacturer that will custom fabricate it for you.
One alternative to using a sheet of stainless steel is a metal-tile backsplash. It used to be that tin ceiling tiles were used for this purpose, but now it's more common to find smaller stainless-steel tiles being used. Like a stainless-steel sheet, tiles are applied with an adhesive and have the same advantages and disadvantages.
If you like the look of metal but have a tighter budget, you can try a faux-metal backsplash. These are rolls of PVC plastic with the appearance of copper, tin, brass and other metals. They come in rolls ranging from 15 to 30 feet at a cost of around $100 to $130 for a 30-foot roll. The material can be cut to fit with scissors and applied with an adhesive, making this an easy DIY project at a low cost.
Wood Backsplash Options
There are a lot of options for wooden backsplashes due to the large diversity of wood that can be used, each one giving your kitchen a different feel. New wooden backsplash panels can be purchased at most home-improvement stores, but many homeowners like the look and historical feel of older, used wood like shiplap, which is often found on the exterior of barns and sheds, or even reclaimed barn wood.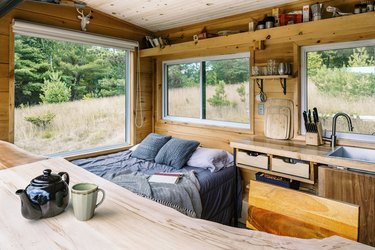 Reclaimed or salvaged wood and planks can usually be purchased for $2 to $10 per square foot and are usually installed using a liquid nail adhesive. Before installing, wood will need to be treated with paint, polyurethane or a spray-on varnish to protect against water damage and staining. Wood backsplashes don't hold up well to intense heat and will need regular maintenance and treating.
Waterproof and Chalkboard Paint
Paint is probably the easiest and least-expensive option for a kitchen backsplash. For under $50 — the cost of a can of paint, a paintbrush and some other prep materials — you can have a backsplash that is waterproof, functional and fairly easy to clean. Existing backsplash tiles can also be painted to give your kitchen a new look at a low cost.
If you want to add some fun to the mix, you can go with a current trend and use chalkboard paint. With chalkboard paint, you can draw, write recipes or leave notes for your kids right on the wall. At a cost of about $10 for a 30-ounce can, it adds fun to the kitchen and is perfect for a low budget. Of course, some people don't like the thought of chalk dust near their food-prep areas, but there are plenty of other low-cost paints from which to choose.