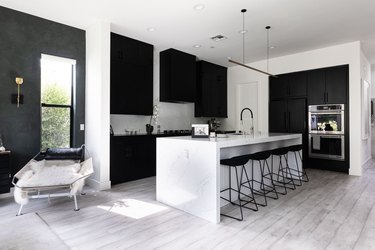 With the new decade in full swing, we wanted to take a look at the kitchen flooring trends you're most likely to see in 2020. Whether you're considering a traditional hardwood look or something a little more unconventional, there's plenty of inspiration out there. Here's what we predict will trend this year, with some insight from experts.
1. Pattern Play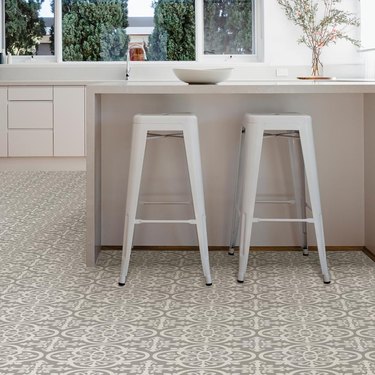 Vanessa Deleon of New York-based Vanessa Deleon Associates tells Hunker she expects to see more "patterns such as herringbone and chevron" when it comes to kitchen flooring ideas. If that doesn't quite fit into your aesthetic, look to other popular styles. "I like to push the envelope, therefore I want to see the kitchen floors take on geometrical patterns and shapes," says Deleon.
2. More Tile Flooring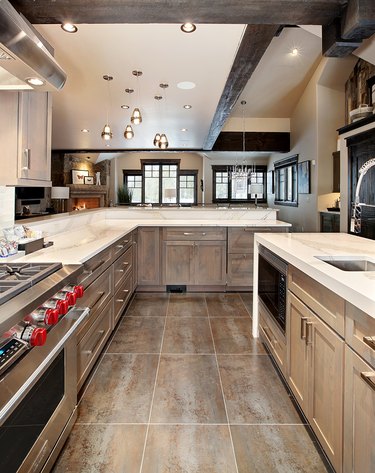 "We predict there will be an overall trend of utilizing more tile flooring in lieu of wood." Wendy Yates of Abigail-Elise Design Studio tells Hunker. "Tile allows for more creativity in patterns and design aesthetic options ... We acknowledge that just like any building material, tile can have eco-unfriendly aspects. However, we support a low transport footprint when sourcing, such as using recycled content, and we love that tile does not release toxic compounds into the environment."
Get the look: Porcelanosa Ferroker Tile, check for your local dealer here
3. Rustic and Hardwood Floors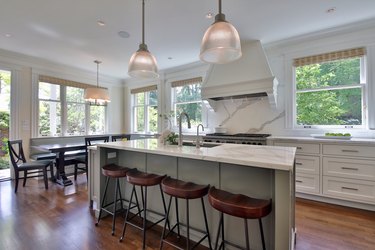 "We are using more high-quality engineered hardwood these days as they are more predictable in wider plank sizes and also perform well over hydronic heated floors and foresee this growing in popularity," LeeAnn Baker of Seattle-based LeeAnn Baker Interiors tells Hunker. "We are also using more wire-brushed textures that add a richness to the floors and give them the feeling of being handscraped. This provides a richer, more durable finish as it hides blemishes, knicks, and scratches that appear over time."
4. Retro Flooring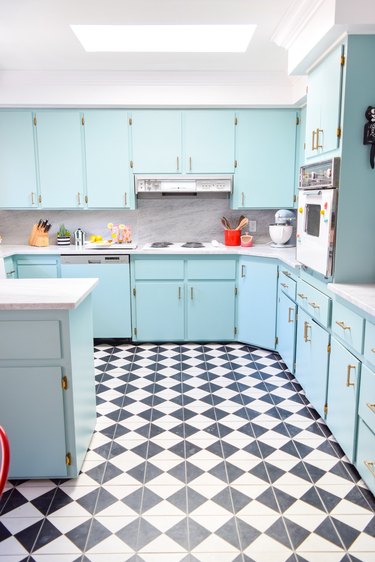 With granny chic's undeniable popularity in 2019, we're predicting a lot more retro flooring in 2020. Take for instance this quirky flooring choice by PMQ for Two. It's eye-catching but will also work well with a variety of kitchen cabinet colors and seasonal decor.
5. Rustic Patterns
2020 kicked off with a variety of design events, including the Kitchen & Bath Industry Show. This space from the event shows that rustic kitchen flooring will definitely be a 2020 kitchen flooring trend. Perfect for pairing with some of the earthy, minimalist kitchen products we've seen lately from brands like Zara Home.
Get the look: Arto Brick Tile Artillo Arabesque 11A Normandy Cream, $27 per square foot, check for your local dealer here
6. Cafe Mosaic Flooring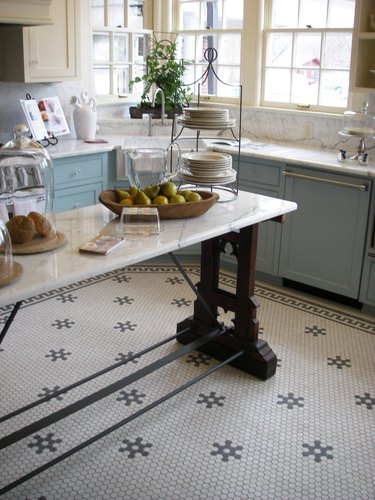 "I see kitchen design opening up to cafe mosaic flooring," Rayman Boozer, Apartment 48 principal designer, tells Hunker. "Reminiscent of the decadent tile in Parisian bistros, this aesthetic builds on a lot of black and white hues, adding small splashes of color as desired. Stark white kitchens have had their day — it's time for a more contemporary-classic approach."