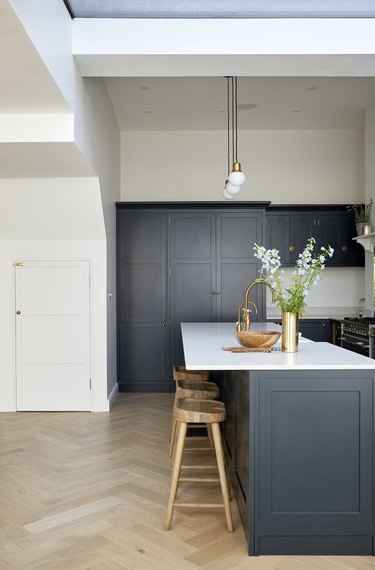 A classic kitchen floor is always a good idea. Whether it's tried-and-true hardwood or ceramic tile, we fully support going the trend-proof route. BUT, we're also fans of kicking things up a notch from time to time — and what better way to do that than with a herringbone kitchen floor?
First off, what is it exactly? Herringbone flooring is composed of rectangular wood planks or tile, and is installed by staggering the pieces so that one side touches the other, resulting in a zig-zag pattern that's oh-so-eye-catching. It's ever-so-slightly different than chevron flooring, which is composed of pieces that meet at the top, creating a V-shaped, arrow-like design.
If you're on the hunt for kitchen flooring ideas, but want something a little different, we recommend going the herringbone route. Here are seven ideas to get you started.
1. Opt for bleached wood floors for a subtle result.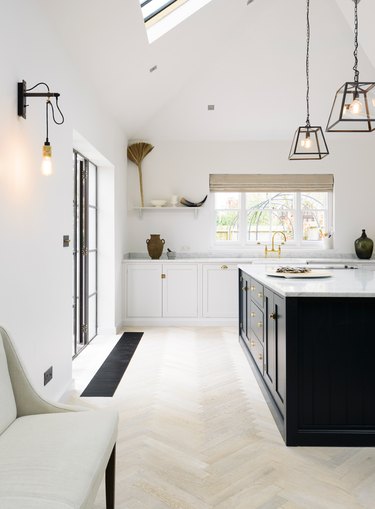 A herringbone kitchen floor doesn't need to showcase dark colors or a strong wood grain in order to be obvious. The repetitive pattern will still make an impact, and be pleasing to the eye, if you use a very light material like bleached wood — a method that's proven by the floor in this deVOL Kitchen.
2. Or, stick with a look that's more traditional.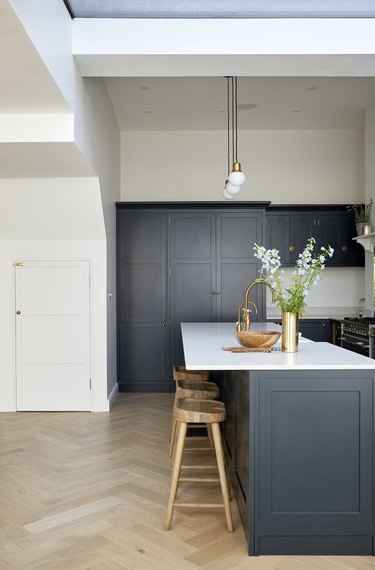 If a subtle approach is not what you're looking for, warm your herringbone kitchen floor up with a golden wood finish instead. Keep the rest of your culinary headquarters simple, sticking with solid colors and simple detailing. For example, in this design by Hannah Portman Studio, navy blue cabinetry and minimal decor blend nicely with the wood flooring.
3. Slate tile is a stunning choice.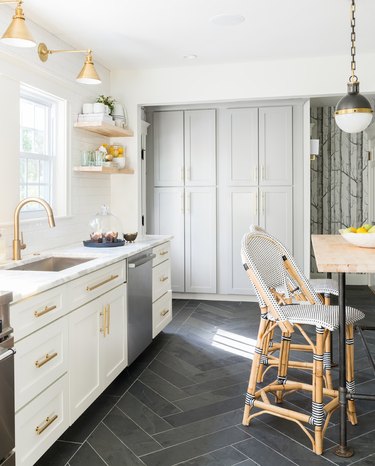 We think that a herringbone kitchen floor looks gorgeous no matter what material you choose, but we're partial to slate tile. It looks cool, sleek, and modern and juxtaposes well with an airy kitchen, a look perfected in this cook space designed by Jennifer of Jennifer Cavorsi Design.
4. Terra cotta looks classic yet unexpected.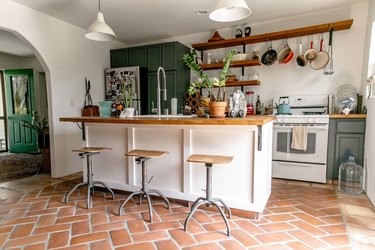 Terra cotta is another material that looks particularly eye-catching when it's arranged in a herringbone pattern, and it happens to be one of our favorite options among kitchen flooring ideas. In this cook space, it adds visual interest and a warm, rustic quality to the floor.
5. Choose a grout that makes the pattern stand out.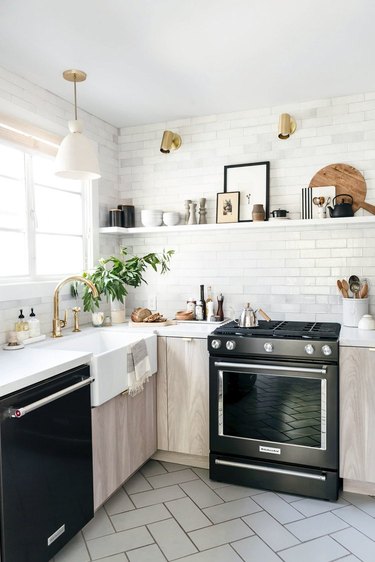 To make herringbone kitchen floor pop, choose a grout color that's lighter or darker from your tile choice. For instance, if you pick white tile, give the pattern a boost with black grout. Or, in the case of Anne Sage's kitchen designed by Shea from Studio McGee, light gray tile stands out when paired with a darker gray grout.
6. Opt for a surprising hue.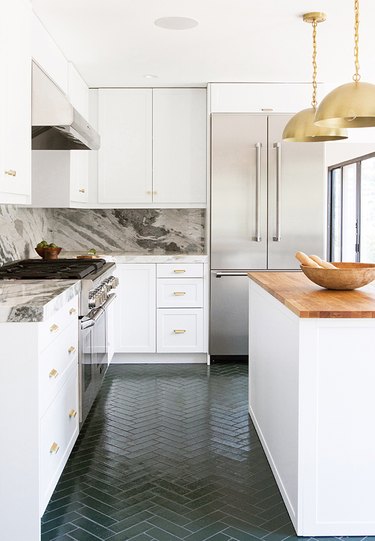 7. Go all white — except for the floor.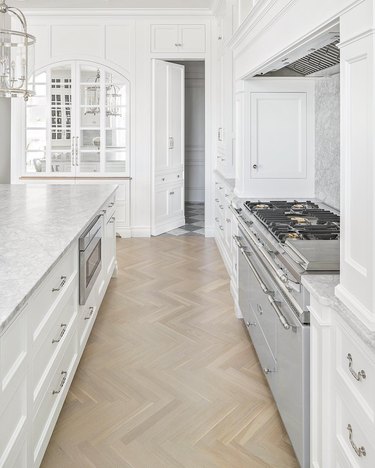 Does a simple, minimal kitchen sound just right to you? If the answer is yes, then consider a herringbone kitchen floor in an otherwise all-white space. In a light material, the flooring pattern will offer a hint of visual interest without being too busy or distracting, something that's seen in this culinary design by Cara and Tom of The Fox Group.