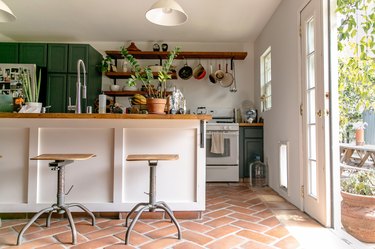 In many families, the kitchen is the epicenter of the home, and floor tile can either make the kitchen inviting or a place to avoid. It's where people come together to cook, eat, pack lunches and make memories that last a lifetime. For home buyers, kitchens have become one of the most important features of a house, and for those who already own their home, the kitchen may be the one room where a tight budget for a home renovation goes toward the most.
Depending on how you look at it, the tiles you have on your kitchen floor — or hope to install for your kitchen flooring — can set the dynamic for the rest of the room, if not the entire home. This is because many people today have open-plan layouts in their homes. However, kitchen tiles aren't as black and white as they may seem. Understanding a little bit more about this aspect of home improvement can help you make better decisions regarding your kitchen and your budget.
About Floor Tiles for Your Kitchen
Kitchen tiles are a great way to harness your inner interior decorating skills. When other areas of the home are more set in stone, being able to choose your kitchen tiles allows you the creative freedom to do what you want, which is important if it's a room where you typically spend a lot of time or where your family and guests spend a lot of time. Kitchen tiles offer versatility, with their many styles, textures, designs, sizes, materials and colors from which to choose. It's easy to find tiles that fit not only your preferences but the needs of those living in your home.
With so many options come a lot of decisions to make. Choosing the right kitchen floor tiles can truly add or take away from the overall presentation of your kitchen and thus your entire home. Kitchen floor tiles can make your kitchen look bigger or smaller, outdated or more modern. Once you have a better idea of what tiles you'd like to see in your kitchen, you can consider cost and installation options, both of which are entirely manageable if you're not up for calling in a professional to help.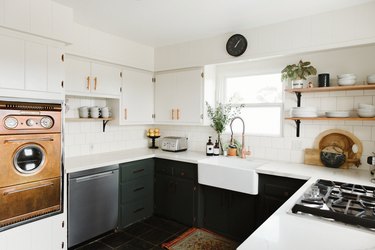 Kitchen Floor Tile Options
When choosing your kitchen floor tiles, there's a chance you may be overwhelmed by all of the options available. To help eliminate some options, it's helpful to decide on one aspect of floor tiling at a time. First, think about what type of material you would want. Kitchen tiles are available in many different types of materials. According to Home Stratosphere, some of the most common are:
Porcelain
Ceramic
Travertine
Slate
Marble
Granite
Onyx
Quartzite
Terracotta
Sandstone
Cement
Pebble
Glass
Typically, it's easy to summarize all of these types into three categories — porcelain tile, ceramic tile and natural stone tile — or a combination of these. What you choose depends a lot on what you're trying to match with your flooring, such as if you already have a certain tile backsplash. It also depends on how long you want your kitchen tiles to hold up.
When choosing a material, it's important to consider the PEI rating, which is from the Porcelain Enamel Institute and rates a tile based on the hardiness of its glaze. This does not just apply to porcelain floors. The rating is from group one to group five, with group one representing tile that's suitable for wall tile and no foot traffic, and group five being for heavy to extra-high traffic. Group three tiles would generally be durable enough for most kitchen floors.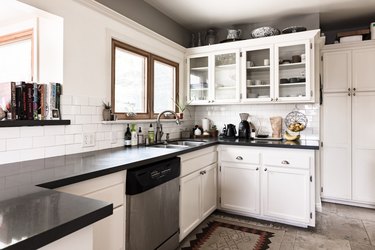 Different Styles of Kitchen Floor Tiles
Assuming that you've picked the material you want and then determined the PEI level you'll need (or vice versa), you can start looking at a more intricate design — for instance, a hexagon design or mosaic tile design — along with other considerations.
Now, it's time to pick the size, tile color, texture and finish. These days, it's easy to find tiles that meet all your needs. To start, most tiles range from 3 x 3 inches up to 24 x 24 inches. If you have a smaller kitchen, it's advisable to use smaller tiles or elongated tiles to give your kitchen a larger appearance; otherwise, the room may look disproportionate. On average, most people go for the 12 x 12-inch tiles, according to Rubi Tools.
If size is not as important or if you'd rather pick your design, color and texture first, then you can. Tile size can give your kitchen a certain look, as can different colors. Darker colors tend to make your kitchen look smaller, whereas lighter colors make it look bigger. Sometimes, people choose their color and then choose a design based on that color or the other way around.
You can take whatever tile you choose to the next level by selecting a finish style, like a glazed finish, a glossy finish, a matte finish or a polished finish. For any style you have in mind, bring an example of tile ideas with you when you shop. Otherwise, they will usually have brochures and examples from which to pick.
Pros and Cons of Kitchen Floor Tiles
Kitchen tiles can be a great asset to any home, and choosing the right tiles can have the potential to give your kitchen the emphasis that it needs. It's the one feature of your home over which you can have the most control in terms of design. In addition to this, kitchen floor tiles also have many other benefits, according to Tile Wizards:
Easy to clean
Can usually withstand a lot of foot traffic
Handles messes and spills well
Durable and lasts a long time
Heat- and moisture-resistant
Can be environmentally friendly and lasts for decades
Often very affordable
As with any flooring material, there are also some downsides to consider before deciding whether or not kitchen floor tiling is the best option for you:
Things can break easily if they fall on the floor, which can also introduce scratches to your tiles.
Grout lines can become dingy and stained, especially those with lighter hues.
If you have a very unique design, it may be harder to match other aspects of your kitchen. If you eventually want to update your kitchen in the future, it may mean you have to choose new tiling again.
Cost and Other Factors to Consider
Unless budget isn't an issue for you, you'll probably want to have an idea of how much kitchen tile flooring will cost, along with the cost of installation (whether or not you DIY).
According to HomeAdvisor, tiles range from about $1.30 per square foot for ceramic tile to $7.50 per square foot for marble tile, with different tile options falling in between these. The entire cost of installing tile starts at around $1,588 on average. This number will likely be higher depending on the square footage of your room, the amount of tiles you'll need and the quality of those tiles. Of course, to bring down costs, consider doing the installation on your own.
Aside from costs, there are some other minor things you'll want to consider. For example, when choosing the texture or finish of your kitchen floor tiles, you'll want to check for how slippery the overall flooring will be. If the tile is too slippery, this could be an issue for young children, elderly family members and pets, and may be dangerous in a wet room such as the kitchen or bathroom. If you have young children in your house, you'll also want to be careful about getting a tile that is too light, as stains may not come off so easily.
There's a lot to know about kitchen floor tiles before going forward with installation. Having background knowledge on any home renovation project is essential if you want to save money and time and be sure you love the finished product.
---
Hana LaRock is a freelance content writer from New York, currently living in Mexico City. She has written home advice articles, gardening articles, and real estate articles for websites like Apartment Therapy, Lab Coat Agents, SFGate, and Next Stop Magazine. To learn more, visit her website at www.hanalarockwriting.com.
View Work