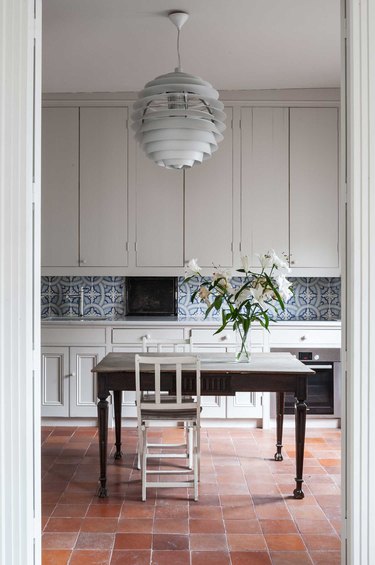 Trends may come and go faster than you can say "midcentury modernism," but the resurgence of some fads still catch us off guard.
Take terra cotta floors, for example. With humble beginnings dating back to ancient civilizations, the rust-hued tile is closely associated with Mediterranean-styled villas and sweet country cottages. As much as we love the material, it seemingly clashes with today's millennial pink, terrazzo-infused, Scandinavian-chic decor. Or so we thought.
Recently, we've noticed that terra cotta has been popping up in kitchens everywhere. Curious about the design comeback? Get ready for an up close and personal look at the material that's taking over kitchen flooring.
What Is Terra Cotta?
No, terra cotta isn't just another term for a reddish-orange crayon. Pulled from the Italian translation of "baked earth," terra cotta is a porous, clay-based ceramic. What makes it stand out from other clay is the way the iron content reacts to oxygen, resulting in a beautiful warm and rich color.
You might remember hearing about China's Terracotta Army — a collection of over 8,000 soldier figurines and 520 horses, all made out of terra cotta — as a child in your history class. Today, terra cotta can be used for anything from pottery, to pipes, to, yes, even flooring. Not only is it extremely versatile, but it's also relatively affordable. On average, terra cotta tile can cost up to $6-per-square-foot, which is considerably cheaper than most tile.
What are the Pros of Terra Cotta Kitchen Flooring?
Sourced from Mother Nature herself, terra cotta can readily combat all of the elements. Not only is it remarkably durable, but it's also suitable for both interior and exterior environments. So whether you place terra cotta in your kitchen or your backyard, it's bound to be a home run in any room of the house.
What are the Cons of Terra Cotta Kitchen Flooring?
Of course, that doesn't mean terra cotta is free from flaws. While you can technically opt for glazed or unglazed, it's an extremely porous material. So unless you apply a protective seal — and do it right — your terra cotta will get stained or, even worse, ruined.
The catch? Adding a protective layer to your terra cotta kitchen flooring (let alone installing it in the first place) is easier said than done. While we love a DIY project as much as the next design enthusiast, when it comes to terra cotta, we recommend enlisting some professional help.
How to Care for Terra Cotta Kitchen Flooring
Once you seal the tile, caring for your terra cotta kitchen flooring is pretty easy. All you really need is warm water, mild soap, and a mop to wipe away any excess dirt. As for dust along the grout lines? Using a microfiber cloth in between each tile should get the job done.
Terra Cotta Kitchen Flooring Idea #1: Boho-Chic Texture
You don't need a villa off of the Amalfi Coast to have a space that's oozing with coastal vibes. Justina Blakeney from the Jungalow infused bohemian vibes into her parents' home with the help of hexagonal terra cotta floor tile. To complete the look, she complemented the warm kitchen flooring with woven accents, a green backsplash, and plenty of plants.
Terra Cotta Kitchen Flooring Idea #2: Opposites Attract
Want to make your terra cotta kitchen flooring pop? Pair it with a hue on the opposite side of the color wheel. In this cook space designed by deVOL, the purple-tinged gray cabinets contrast nicely against the warm tile without overpowering the rest of the space. The white walls, pendants, and farmhouse sink allow the cabinetry and, yes, the terra cotta kitchen floors, to take center stage.
Terra Cotta Kitchen Flooring Idea #3: Floor to Ceiling Style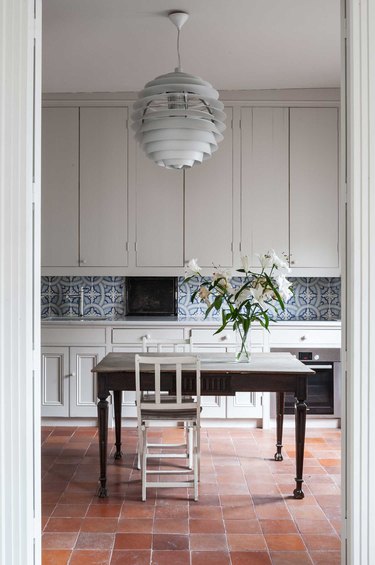 Good lighting has the power to make or break any room in the house, and that's especially true in the kitchen. A sculptural pendant draws the eye up in this cook space designed by Erico Navazo, but the blue and white patterned backsplash and warm terra cotta kitchen flooring add just the right amount of visual interest to keep things interesting from top to bottom, without being distracting.
Terra Cotta Kitchen Flooring Idea #4: A Mixed Bag
This just in: Terra cotta kitchen flooring can look great with any style. Australian-based firm Atticus & Milo juxtaposed the material's earthiness with a high-gloss, modern island. A light wood countertop helps to bridge the gap between styles.
Terra Cotta Kitchen Flooring Idea #5: Eye on the Prize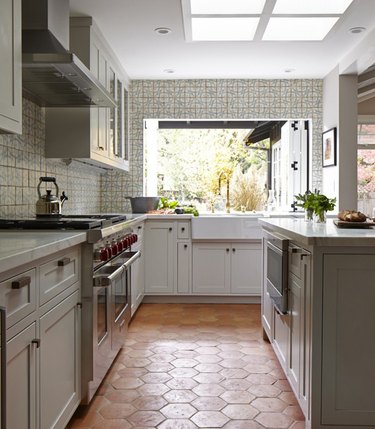 Take a cue from Cecy J. Interiors and let your terra cotta kitchen flooring be the star of the show. Here, white cabinets and marble countertops shift attention down to the floor. The whimsical backsplash comes in at a close second.
Terra Cotta Kitchen Flooring Idea #6: Dinner al Fresco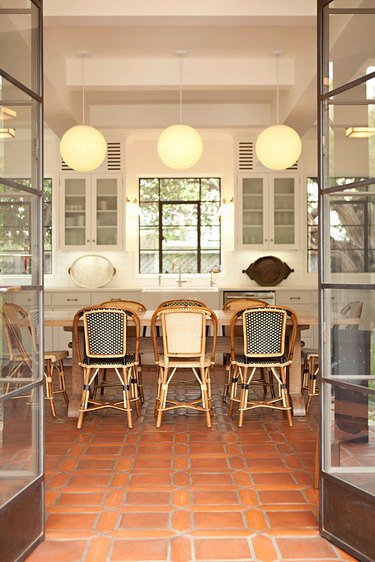 One of the best things about terra cotta flooring is that it can work indoors as well as out. So why not bring a slice of the great outdoors into your kitchen? Give your kitchen Mother Nature's seal of approval by adding some woven bistro chairs and airy pendant lights to the mix. Let Tim Barber show you how it's done.
Where to Buy Terra Cotta Kitchen Flooring:
Ready to bring the terra cotta look into your own home? Here are three fantastic places to shop.
Anyone who prefers a colorful take on terra cotta should head over to Wayfair. With plenty of pretty colors to choose from — as well as the traditional reddish-orange hue — there's bound to be something for everyone.
The Home Depot has been your one-stop-shop for years. While you're there to select paint swatches or blinds for your bathroom, go ahead and pick out some terra cotta tile for the kitchen. Trust us, there are plenty of options to go around.
Admittedly, Etsy may not be the first place you think of when it comes to buying items for your kitchen reno; however, it has a pretty impressive selection of terra cotta. From hexagons to a sweet, San Felipe style, it's a top destination for anyone who wants to think outside of the tile box.