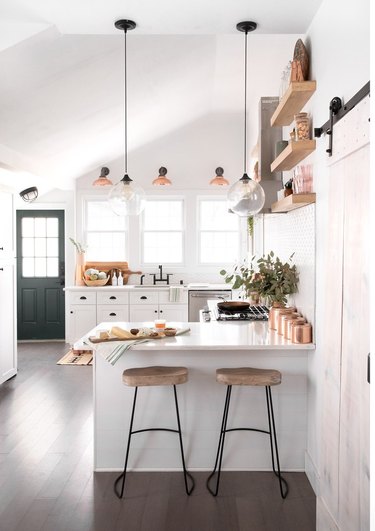 The products we write about are recommended by our editorial team. Hunker may earn compensation through affiliate links in this story.
If you are looking for ways to introduce a more eco-friendly angle to your kitchen, don't overlook one major element: your flooring. Bamboo flooring offers an alternative to wood flooring — and it turns out that it can look stylish, too. Here's what you should know about bamboo flooring and how you can incorporate it into your kitchen.
An Overview of Bamboo
Let's start with the basics. Bamboo is a type of grass that generally grows in tropical parts of the world; there are approximately more than 1,400 species of it. Bamboo gets used in a variety of ways, especially within home decor. You can find everything from bamboo utensils to bamboo furniture.
Bamboo kitchen flooring is another way to incorporate the material in your space. It normally gets manufactured as vertical-grain flooring, flat-grain flooring, and strand-woven flooring. Vertical-grain means that each strip of the flooring gets glued together by its edges; flat-grain is the same thing, but the strips get piled on top of each other instead. Strand-woven refers to the way that the materials get processed; bamboo gets stripped and its fibers are then turned into a new material. The resulting floorboards are also meant to be more durable. Because bamboo is a natural material, the coloration of each plank will look slightly different in color.
Installing Bamboo Flooring
Take stock of your current kitchen flooring before you start the installation process. Gluing, for example, works best when you've got a blank canvas to work on. Stapling can be a good option when you have existing surfaces underneath, like sub-flooring.
During installation, your space should be at around 60 to 80 degrees, with a relative humidity of 40% to 55%, according to The Home Depot. The bamboo will need some time to acclimate to the environment before you can begin installation. The retailer suggests at least 72 hours as the ideal acclimation time.
If you're working with a sub-floor, install the underlayment first. Once you set down your first layer around the perimeter of the space, the "click" part comes into play. Basically, the tongue of each plank will fit into the groove of the plank next to it. You'll need to apply pressure to lock each plank.
Other options include glue-down installation, which means you'll be putting glue on your sub-flooring. You'll need to read the installation instructions to make sure you use the proper amount of glue and the correct drying time. It's also important to make sure the glue doesn't get applied to the tongue or the groove of the plank. Like with "engineering click" flooring, the tongue and groove will guide how you put each plank in place.
Cost of Bamboo Flooring
You might consider getting a quote first to weigh your options in terms of cost. You can also find bamboo flooring at retailers like The Home Depot and Floor & Decor, where most styles cost a little more than $2 per square foot. You can also order samples from certain retailers to see the material before you commit.
Pros of Bamboo Kitchen Flooring
Even though visitors to your home might not notice the difference right away, bamboo kitchen flooring definitely acts differently than wood flooring. It can prove easier to install; it usually costs less than hardwood kitchen flooring. In addition, bamboo can resists bugs (especially termites) — which is important since kitchen floors can naturally attract bugs — and mold more than wood flooring.
Cons of Bamboo Kitchen Flooring
When it comes to bamboo kitchen flooring, you need to pay attention to moisture. As we mentioned earlier, humidity levels need to be consistent when it comes to installation — but also throughout the year. In order to prevent damage from moisture, you should clean up any kitchen spills quickly.
Pay closer attention to dining furniture that might scratch your flooring, since bamboo can sometimes show this damage more easily. Another consideration comes down to aesthetics, so make sure that you like the tone of the bamboo flooring before you commit — it won't always look exactly like wood kitchen flooring equivalents that you've used in the past.
And while it's eco-friendly in a sense, some argue that the process of transporting the material and of turning it into planks for flooring cancels this out. When you start shopping, see if you can find out more about the shipping and processing of the flooring.
Bamboo Kitchen Flooring Inspiration
If you need inspiration or want to see how the bamboo flooring can work with different kitchen styles, we gathered some spaces for inspiration.
If you're into warmer tones, consider pairing a deeper wood color with a lighter ceiling. We could see this setup working with cabinets in both natural materials or bold colors for a chic kitchen look.
For a more sophisticated look, try pairing a lighter shade bamboo flooring with white cabinets. This kitchen creates a bright and airy vibe complete with a row of white and wood stools.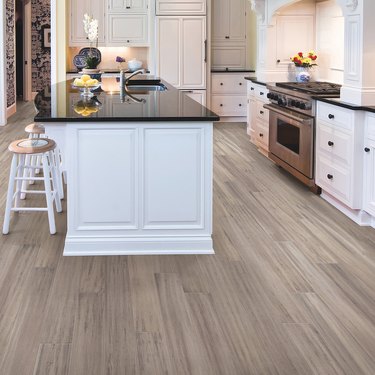 Experiment with different color combinations when it comes to furniture. Pair dark bamboo flooring with both black and white dining chairs for a chic vibe. For small kitchens, use the floor in both the dining and kitchen space. Bonus if you add a pop of color, like the vase of yellow flowers in this space.
For a relaxing yet upscale look, pair a lighter shade of bamboo with bronze accessories and wooden kitchen stools. Use wooden shelves to keep spices and utensils organized.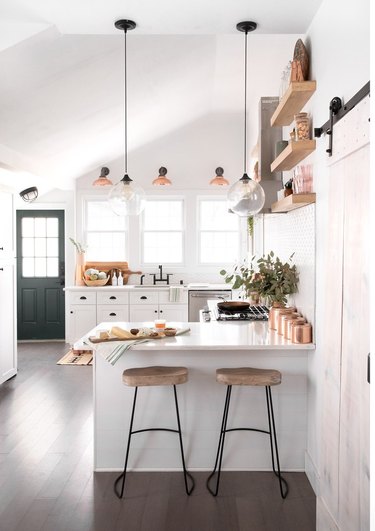 Where to Buy Bamboo Flooring:
This big-league home retailer carries a variety of bamboo flooring options, sold by square foot or by the case. You can choose from a range of finishes, too — like Natural Golden or Seasoned Brown.
You can find a range of options from Floor & Decor, including water-resistant options. If you want to test the flooring before purchasing, you can order a sample for $3.
Browse everything from Antique Hazel to Distressed Honey finishes in Lumber Liquidators's bamboo flooring section. You can even upload a photo of your space to see what the floor might look like in any given room.
Lowe's carries a few different types of bamboo flooring, including ones specifically designed to resist damage from pets.