There's a reason hardwood floors are considered the gold standard for so many homeowners and house-hunters: They're beautiful, durable, and incredibly versatile. Plus, they work with just about any design and color scheme.
"Hardwood floors connect the homeowner to nature and the outdoors," says Cate Vanegas, Director of Marketing for Bona, which produces top-quality hardwood floor system and care products. Plus, she adds, they're easy to clean and care for, hypoallergenic, and sustainable.
If you're new to the subject, there are many reasons to invest in wood floors—and lots to know about how best to maintain and clean them.
Hardwood Floor for Every Lifestyle
Families with kids and pets benefit greatly from hardwood floors' durability. For new parents, especially, the non-toxic flooring is a plus. "Both families and pet owners prefer hardwood flooring because of the durability features, ease of cleaning, and, most importantly, the non-toxic material," Vanegas says. She points out that as babies spend a huge portion of their lives crawling and playing on the floor, it's imperative to minimize allergens and toxins.
Versatility and Style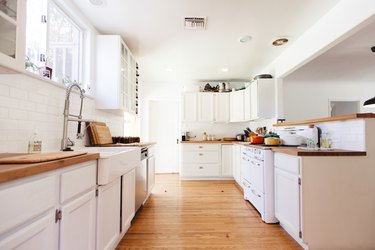 You've likely seen hardwood floors in just about every style of home, from traditional to midcentury to contemporary. "It's the little black dress" of flooring, Vanegas says, "that you can style however you want depending on your mood."
With the varieties of stains and finishes available, it's easy to find a floor that suits your style. In fact, these days, you can even custom-blend a color to suit your taste and aesthetic. Products like Bona's DriFast Stain Collection, Water-Based Sealers, or Bona Craft Oil paired with a Bona High Durability Finish® allow you to customize the look of your uniquely diverse floors.
Wood Floors for Modern Homes
For a sophisticated, urban feel, Vanegas suggests rich neutrals for the hardwood floor, citing "deep saturated reds, smoked greys, and ebony stains," which bestows a modern, uniform look.
To bring a modern touch to a farmhouse or Zen-style townhouse, Vanegas suggests soft whites and blonde hues. "The stains in this collection allow the natural characteristics of the wood planks to shine through, and are easy to live with."
Rustic and Traditional Homes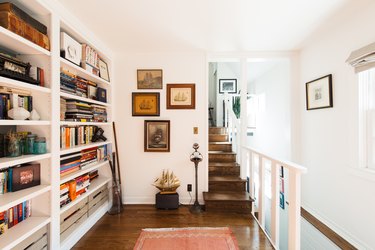 For a rustic look, Vanegas recommends warm, light colors for your hardwood floors, which feature "the earthy, simple ease of amber rays in the wood grain and warm spice accents." She also recommends wire-brushed or hand-scraped floors for an extra touch of rusticity.
For a traditional home, opt for warm browns and auburns, which Vanegas says can be dressed up or down easily.
Cleaning and Maintenance
Your hardwood floors can last lifetimes, but the key to ensuring their longevity and beauty is regular cleaning and maintenance. "Knowing how often to clean your floors will further aid in preventing major damage," says Vanegas.
Vanegas suggests the following routine:
Daily Schedule – Dust/Sweep
You should ideally dust your hardwood floors daily, says Vanegas, who recommends using a microfiber mop or cloth. "Microfiber cleaning pads often use static electricity to trap dirt, particles, and other household allergens," she says. "When you want to clean your floors without damaging them, avoid lifting your microfiber mop up off the floor when you clean—this way you keep the dirt trapped on the pad."
Weekly Schedule – Vacuum/Mop
For a deeper, more thorough clean, vacuum and mop once a week—but use caution. "When you're using a mop, remember that water and wood don't mix!" Vanegas warns. She recommends misting your floor lightly with a hardwood floor cleaner, rather than applying vinegar, water, soap-based cleaners, or waxes. "Vinegar and water actually dull the floor's finish over time, while soap and wax leave residue," she says. Always use a cleaner that's been specifically formulated for hardwood floors, and they'll look great for years to come.
Bona Tips
Remember that staying active with a daily maintenance routine is the first line of defense, but daily cleaning alone will not protect your floor's finish forever. A floor's finish will go through normal wear and tear over the years and will need attention. Reviving, restoring, and refinishing your floors with the help of a professional are great ways to increase the longevity of your floors and protect your investment beyond regular cleaning.